EPF PIN member Randy Heyn-Lamb reports on Rise Against Racism: #CounterCUFI in Washington DC.
Sunday 7 July 2019
I have been in Washington, DC, for a little over 24 hours. I'm here together with FOSNA LA co-chair Joe Roos to participate in an action protesting a conference on "christian" Zionism.
As some of you know, the leaders of Friends of Sabeel, together with counterparts from Jewish Voice for Peace, American Muslims for Palestine, and the US Campaign for Palestinian Rights, have called on supporters to gather in our nation's capital to stand in witness against, and suggest an alternative to, the racist agenda and false teachings of "christian" Zionism espoused by John Hagee and Christians United for Israel.
It's been a busy day. Early this morning we gathered for worship at the Plymouth United Church of Christ, an historic African American congregation in Northeast DC, fast approaching its 140th anniversary of proclaiming good news to the poor. The welcome was even warmer than the weather, the summer choir was small but mighty, the preaching by Pastor Hagler (on Jesus sending out his disciples, Luke 13) was affirming, and the pianist's postlude – a medley of America the Beautiful, My Country tis of Thee, This Little Light of Mine and We Shall Overcome – brought tears to my eyes.
We spent the afternoon at a different DC church location where more than 100 of us participated in a 4 hour long training session to better prepare ourselves for the actions we might take to make our presence known at the conference.
One action is to engage attendees in conversations about how the ongoing military occupation of Palestine, or the siege of Gaza, affects Palestinian children. I am wearing a lanyard around my neck, and that lanyard holds photo and the brief story of Bara, a little girl from Gaza, who died 7 days after her birth from a treatable heart defect because her parents couldn't get the necessary permits to seek medical care in a neighboring country. And how "christian" Zionist beliefs, which approves seizure of all of the land without regard for the Palestinians who also inhabit it, is complicit in baby Bara's death. I am protesting here today because her voice is silenced.
Other actions – including what Representative John Lewis, the civil right activist and voice of conscience in the House of Representatives, calls "getting in the way" – could involve civil disobedience. And while the DC police are notoriously tolerant, there is some risk that members of our group could be arrested. So, we prepared for what that might also mean, and how far we are willing to take the opportunity to give witness. It is certainly NOT my goal to get arrested, but if it happens, I cant think of a better reason than giving my voice to those who have no voice; a few hours of freedom for those who want it so desperately.
Monday 8 July 2019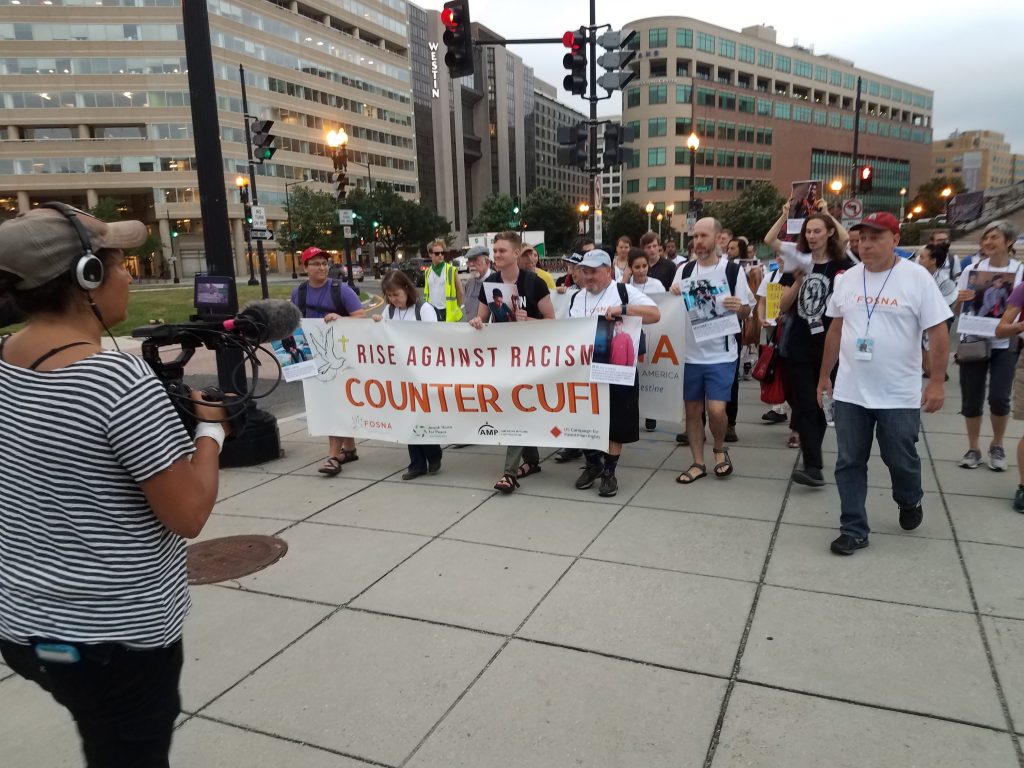 As we march from our starting point to the convention center, the group took over Massachusetts Avenue for some blocks, walking in the middle of the street chanting, singing and carrying our banners.
When we arrived at the entrance, security tried to keep us out. A few of us made it inside the doors. Tarek Abuata, the executive director of FOSNA, was one of those who made it inside. Security immediately restrained him and carried him outside. We were able to stop people from coming in and forcing them to go to another entrance in the pouring rain of a flood alert here in DC. Since that time we have been chanting and pounding on the windows demanding entrance 'Hey Hey, Ho Ho, Apartheid has got to go!'
I picked up another badge this morning. Sama is a two year old who was severely injured by an air-to-surface missile in the pre-dawn hours at her home in a residential section of Gaza City. I am wearing her badge on your behalf this morning. Pray for her parents, her siblings, and all those who continue to endure the longest siege in modern history.
In addition to the outside action, we had several insiders who had registered for the conference and planned internal disruptions at (in)opportune moments. The first of those moments came during John Hagee's address when several of our group stood to give witness. They were soon shouted down but refused to be escorted out. Going limp, they had to be carried from the assembly. One of the group, who is Jewish, related her extended conversation with a man sitting next to her, about how much they loved Jews. She also noted the surprised look on his face when she stood up to object to the way they demonstrated their "love".
Our second group of insiders waited until some point in the address by Mike Pence, certainly the most high profile of the elected officials attending the conference. Once again, their protest was quickly shouted down and they were hustled from the auditorium. But at least they were aware that not ALL the Christians present agreed with their racist theology.
Earlier we were pounding on the doors (knock, and the door shall be opened!). The police came and warned us to stop. The encounter ended without arrest when one of our ministers, Chad, prayed with Sargeant Taylor of the DC Metro police. Later we marched in two groups around the Convention Center. We took apart the barriers and occupied the steps leading to the south entrance. We have been warned we are on private property and risk arrest. We responded that Israel steals private land ever day. We will not be moved.
We finished our action about an hour ago. In the pouring rain.
There was a slight drizzle when we stepped off the curb on to Mt Vernon, blocking traffic on the westbound side. That expanded to take up the entire intersection at Massachusetts and Mt Vernon, blocking traffic in all 4 directions as we linked arms/held hands and read the names of the Palestinian children we were representing.
The pouring rain, and the disappearance of the media with the intensification of the storm, led Tarek and the other action leaders to call an end to our demonstration, which ended with sopping hugs and promises to see each other "next time". So no arrests, but in a small way we made our presence known to those attending the Conference. We also may pick up a few column inches in the papers or in a someone's blog. Most importantly, we hope it will raise the level of consciousness and conversation about Christian Zionism in our churches.