I once listened to a priest preach on searching for God by likening this to the search for a restaurant in an unfamiliar city: when you're looking for a restaurant, you tend to see restaurants everywhere; if you intentionally look for God, you will see God everywhere. On this my tenth trip to Palestine (from March 4 to 21) since 2003, I found—as I had expected—that the situation on the ground for Palestinians, the realities of oppression, have never been worse. But something else I saw this time, only because I was looking for it, was Palestinian resistance. It is everywhere, and never have I been as aware as I was this time of the truth of Italian Marxist Antonio Gramsci's much-quoted statement about the need to have optimism of the will even if one feels the pessimism of the intellect. Palestinians talk about this explicitly: they have no optimism about achieving freedom or receiving justice from Israel, certainly not for the near term, but they have hope, they live on hope, for the long term. One Palestinian told me that he had no optimism but he had hope, because without it he would not be able to get up every day. This hope is resistance.
RESISTANCE: BURNING TIRES, GRAFFITI, LIBERATION THEOLOGY
Resistance for the Palestinians fundamentally involves struggling against erasure, the denial of their very existence. On my trip, I saw this everywhere. For Palestinians, because Israel is bent on their removal, sumud, or steadfastness, is the governing philosophy. Sumud means remaining on the land, in Palestine, and not fleeing or surrendering to expulsion as occurred in 1948; rebuilding when homes are demolished; publicly honoring—with elaborate funeral processions, in graffiti painted on walls, in "martyr posters" plastered on the sides of buildings—any Palestinian, whether militant or activist or civilian, killed by Israel. A "martyr," a shahid, is any Palestinian killed for Palestine.
Resistance takes many forms. There were terrorist attacks in the past, but today it comes in largely non-violent ways. In March, while I was in Palestine, the Israeli military assassinated a 33-year-old Palestinian activist, Basel al-Araj, whose story is a classic one of resistance by someone who was a Palestinian patriot, a resister, a nurturer and sustainer of community, and a visionary and intellectual whose optimism of the will overrode his pessimism of the intellect. He knew that the work he was doing would not bring liberation for his own generation but would lay the groundwork for the next generation's successful resistance. He was described in various tributes as a lover of Palestine, of the "land, its details, every single stone," and he had studied its history, particularly the history of past Palestinian revolutions. He knew the writings of other intellectuals and resisters such as Antonio Gramsci and Frantz Fanon. His own resistance was nurtured by his grandfather in the village outside Jerusalem where he grew up; his grandfather taught him that Palestinians needed to reclaim their history, and as he grew up and continued to study, he worked to make knowledge accessible to everyone, teaching people through stories of Palestinian revolutionaries and intellectuals. One friend, who regards Basel as a model of resistance, writes that Basel taught him that to be part of a genuine liberation movement, you must love and respect your people, treat them as equals, and think beyond your own individual salvation. In this way, al-Araj has been an inspiration to others. Graffiti portraits and printed posters of him dot many walls in East Jerusalem and Ramallah, and his funeral brought out a large protest demonstration in Ramallah—not only against Israel but against the Palestinian Authority, which had tortured and imprisoned him for months because of past protests. His friend, writing on ElectronicIntifada.net, pointedly noted that "[e]very Palestinian martyr leaves us with an added sense of responsibility."
Perhaps the most obvious sign of resistance is in graffiti, some of it quite artistic. I visited the refugee camp Aida in Bethlehem on this trip and found graffiti and other symbols of Palestine everywhere. Entering the camp, you walk through an archway topped by a large facsimile of an old-fashioned key symbolizing the front-door keys that refugees took with them in 1948, expecting to be able to use them upon their return. This photo  shows a large piece of graffiti depicting the Separation Wall being broken down by an olive tree, a universal symbol of Palestine, growing through it. A hand from the tree grasps another hand meant to symbolize the Palestinian people, and together they hold a key. In the background are the Dome of the Rock in Jerusalem, as well as a church steeple topped by a cross and several tents, the first habitation of many refugees in 1948.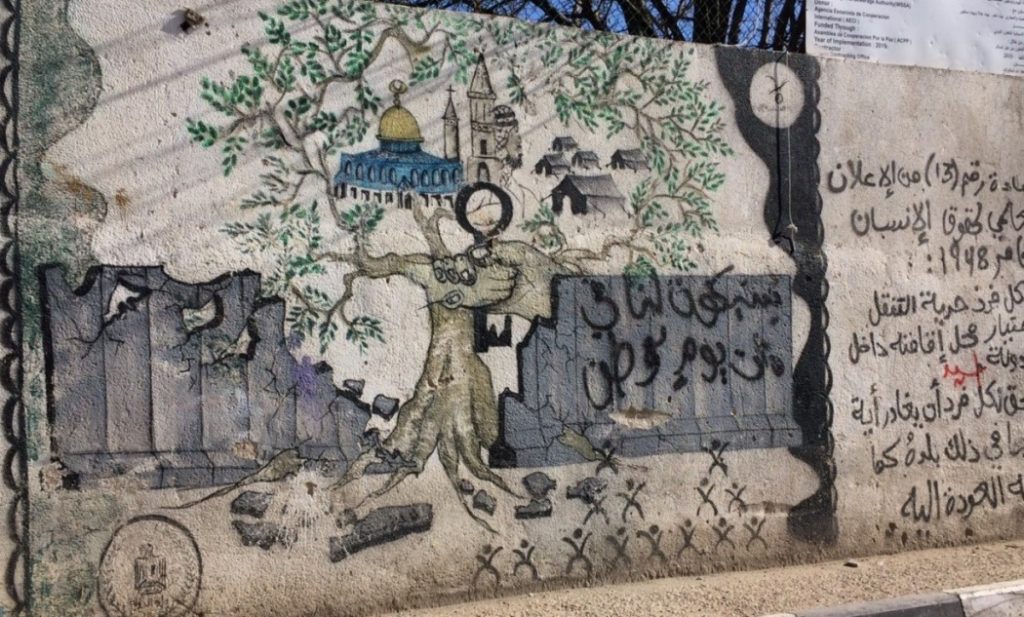 Graffiti also appears, in several layers painted one over the other, everywhere on the Separation Wall built by Israel deep inside the West Bank—a 25-foot high concrete structure that tramples on Palestinian land, separates Palestinian villages from their agricultural lands, and cuts off Palestinian students from their schools, businesspeople from their businesses, and often one side of the street in a Palestinian neighborhood from the other. The graffiti symbolizes not only Palestinian resistance, but also the solidarity of some few Israeli sympathizers and of visiting international activists. The photos below demonstrate that graffiti and protests are not always, or even usually, violent. A picture from Aida camp is of a dove of peace chained to an olive tree but offering a symbol of love as a heart emerges from its scroll. Another shows a Palestinian girl preparing to join in the weekly protest against the Wall in the village of Bil'in, where a large section of village land has been lost to an Israeli settlement on the other side, carries a photo of Rachel Corrie, whom the village was commemorating on the fourteenth anniversary of her death. Another shows a Palestinian man who had unsuccessfully tried to throw a picture of Corrie over the wall toward Israeli soldiers tries here to throw a bouquet of wild poppies over.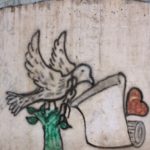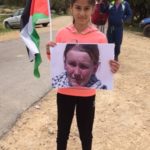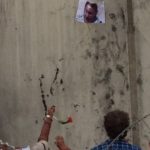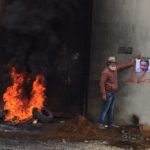 The same man poses next to Corrie's picture, behind which he has put more poppies, the first batch having failed to clear the Wall. The burning tires were intended to rouse the Israeli soldiers on the other side of the Wall. This protest in Bil'in has been going on every Friday since February 2005, and the Academy Award-nominated film 5 Broken Cameras was filmed here. Although in the early years the protest was usually joined by hundreds of international activists and sympathetic Israelis, in recent years the protest has been smaller and Israeli soldiers sometimes do not respond. They did not on this day, despite stones thrown over, loud banging on the gate, and the heavy plume of black smoke from the tires. The usual response now is teargas and occasional rubber bullets, and the Israelis are more frequently employing night raids on villagers' homes. A few years ago, one Palestinian protester, a favorite in the village, was killed by a high-velocity teargas canister that hit him in the chest. A few months later, his sister died of teargas inhalation. Just recently, one son of a village leader was shot in the leg with a rubber bullet and is permanently injured. A second son was shot in the head a few weeks later but only lightly injured. During a subsequent night raid on the village, this 16-year-old boy was arrested and briefly detained by Israeli soldiers.
The persistence of the protest, despite and indeed probably in considerable measure because of the deaths and injuries, has been an inspiration and a spur to further resistance for the community in Bil'in and throughout Palestine. Other villages affected by the Wall also stage regular protests, which serve to nurture more resistance. As so often occurs, resistance spawns more resistance. And resistance has on rare occasions brought some results. Several years ago, the protests in Bil'in induced the Israeli Supreme Court to order the Wall moved back closer to Israel, restoring some, although by no means all, of Bil'in's agricultural land to the village. Even small successes resonate loudly.
The kind of Palestinian resistance that most fascinates and inspires me is actually the least well known and probably the most limited. Palestinian Liberation Theology, formulated under the guidance of Palestinian Episcopal priest Rev. Naim Ateek, is a beautiful, fulfilling, reassuring theology that unites and inspires the small Christian community in Palestine. Christians once made up twenty percent or more—some say as much as 25 percent—of the Palestinian population, but the numbers have dwindled dramatically, to about two percent or less, in the decades since 1948 and 1967, when Israel captured the occupied territories, where large concentrations of Christians lived, particularly in East Jerusalem and West Bank cities such as Bethlehem.
For many Palestinian Christians, that inner peace and sense of divinely-inspired determination come precisely from remaining in the land that is the birthplace of their faith. The knowledge that they are descended from the Christians of Jesus' time and that God is with them in their struggle for justice is of surpassing importance. One Palestinian woman told those at the Sabeel conference held in Bethlehem March 6-13 that she remains in Palestine because this is "where Jesus was and where Jesus wants me." In a similar vein, the Christian mayor of Bethlehem, Vera Baboun, addressing the conference, spoke of the Christians' link to Palestine in vivid personal terms, declaring that Jesus brought "us"—the Palestinians—"a legacy of justice." Being in Bethlehem is liberating, she said, because Bethlehem "is all about liberation, the liberation of mind and heart."
The Sabeel Ecumenical Liberation Theology Center in Jerusalem was founded in the early 1990s to study and preach a theology of liberation for Palestinians. The Arabic word sabeel means "the way" and was adopted because the very early Christians called themselves "people of the Way." Sabeel co-founder Naim Ateek is the leading Palestinian liberation theologian, having authored or co-authored a number of books of biblical interpretation about justice and Christian liberation. He declares forthrightly that the Palestinians "are up against evil" in the Israeli occupation, and they must resist. Although Ateek's writings are directed toward and primarily intended for Christians, he told me that he envisions and works for liberation for everyone in their own particular context. His own context is Christ-centered, but he says that Christ calls on him to work for liberation not only for his people, the Palestinians, but for everyone, even the Israelis. Describing the evolution of his own thinking and his faith, he says that he is first a Christian who recognizes that "in Christ I've been liberated from sin, from evil. Then when I look at the context, I recognize that I have a responsibility to others." Although he doesn't put it in these words, he essentially sees this responsibility as nurturing a community of resistance among Christians. His liberation theology is comforting and reassures Christians, through such promises as appear in Romans 10:13: "Everyone who calls on the name of the Lord shall be saved." Ateek is leading a spiritual resistance. He is leading Christians to resist any biblical interpretation, by Israel and by Christian Zionists, that diminishes Christian equality by claiming Jewish supremacy, Jewish chosenness, Jewish exclusivity in the land.
Below: Graffiti in Aida camp. The Arabic label on the left says "There is still hope."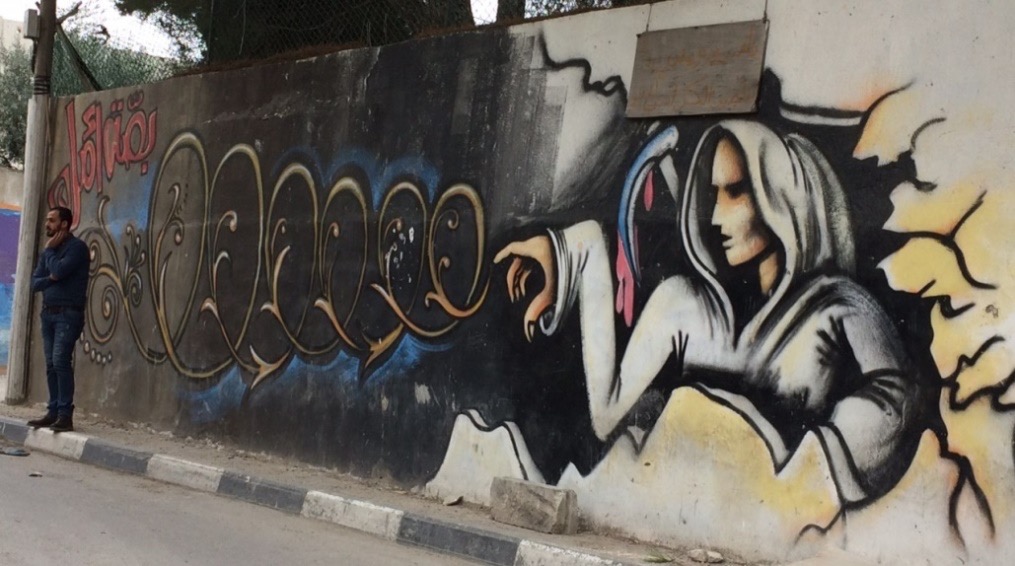 Palestine, the oppression visited on the Palestinian people, is a haunting problem. Haunting because it is so morally reprehensible on its face; Palestinians are being squeezed and ethnically cleansed only because they are not of the "right" ethnicity and religion, not Jews, not of the Jewish faith. Haunting also because the perpetrators of this oppression are Jews who themselves suffered so horribly in pogroms through the centuries, culminating in the genocide of the Holocaust. Haunting because the oppression of Palestinians is paid for by our US government; the United States gives Israel, as grant aid, $3.8 billion a year in military equipment, a cynical process that not only enables Israel's oppression but also directly benefits US arms manufacturers and the predatory military-industrial complex, since Israel is required by the aid agreement to spend all of the annual $3.8 billion to purchase US-manufactured military equipment. Haunting finally because Israel's oppression and its exclusively Jewish motivation depict God as a God of injustice, an evil God who would murder and dispossess and steal from one segment of humanity solely for the benefit of another. In his first book on Liberation Theology almost thirty years ago, Naim Ateek wondered on behalf of Palestinian Christians what, in light of Israel's creation and Palestine's oppression, God is really like. Palestinian Christians, he wrote, are questioning the very nature and character of God. "Is God partial only to the Jews? Is this a God of justice and peace?….The focus of these questions is the very person of God. God's character is at stake. God's integrity has been questioned."
This is serious, fundamental resistance—resistance that goes to the heart, the root, of the Palestinian-Israeli issue and that, for that reason, speaks to all Palestinians, Muslim as well as Christian. This is resistance to Zionist thought and founding principles, resistance to Protestant theological support for Jewish supremacy put forth in the aftermath of the Holocaust out of guilt over Christian complicity with centuries of anti-Semitism, resistance to the widespread Christian Zionism in the United States that preaches the Jewish right to supremacy from a distortion of biblical texts. Naim Ateek calls on us to see God not as the instrument of any government's injustice but as a just God who loves humanity equally and gives no special rights to anyone.
Ateek's is a prescription for building hope from resistance—telling the oppressed that they do not struggle alone. This is a huge assurance. The mere act of resistance, even in the absence of any reason for hope, nurtures and builds hope, for without resistance there is only surrender. My trip to Palestine shows this to be very true.