A Reflection from EPF PIN Member Kathy Christison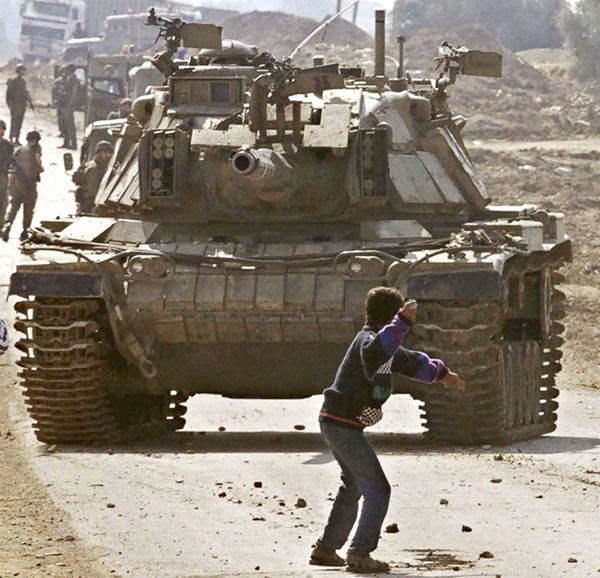 A propaganda war centering on indigenous rights—involving Native American solidarity with the Palestinian struggle against Israeli oppression—has lately been raging on public walls and local newspaper columns in Santa Fe, New Mexico.  Although Santa Fe is a mere teapot of a city, the tempest is sizable.  Not only does it involve the Palestinian-Israeli conflict, raising automatic charges from some in the Jewish community that lies and antisemitism are at its core.  The tempest is also becoming a vehicle through which Native Americans are putting forth their own protests against colonialist oppression, in solidarity with the Palestinian struggle, and it is fast becoming an edifying symbol of intersectionality, the 21st century's prevalent sense that each struggle by marginalized, oppressed people is inextricably interlinked with all others.
It all began on a small scale about five years ago, when a long-time Santa Fe resident, who happens to own a large corner lot on a main thoroughfare into the city—a property surrounded, like many Santa Fe-style residences, by a five-foot-high adobe wall—allowed a local Palestine solidarity organization to use his wall to post occasional pro-Palestinian signs.  Santa Feans for Justice in Palestine, a small but persistent group of pro-Palestine activists, began pasting signs on the wall protesting the billions in US military aid given to Israel, lamenting the killing by Israeli sharpshooters of nonviolent protesters in Gaza's Great March of Return, urging support for bills in Congress aimed at preventing Israel's jailing of Palestinian children, and highlighting various other instances of Israeli oppression of Palestinians.
The signs were always vandalized—ripped off the wall, sometimes painted over, even on one occasion side-swiped by a pickup truck driver who either drunkenly or with sober malevolence crashed into the wall in the pre-dawn hours, taking out not only a sign but a small power installation as well, which cost the city $100,000 to replace.  This last act was witnessed by a morning newspaper delivery person, but the culprit was never identified.  The sign activists responded by strengthening the signs' durability, moving gradually from simple wheat paste to display boards mounted on posts buried in the ground.  Even these were taken out.
The city eventually got into the act and, because the wall is in a designated historical district where the city's public face is controlled by a set of architectural standards, imposed restrictions on the signage.  The property owner was required to obtain a city permit, to confine the display to one sign, and to limit the dimensions to just 3' x 4'.  The vandals nonetheless persisted.
Then, suddenly one Sunday in early January, a Navajo artist from Arizona named Remy stepped up and literally plastered the entire long wall with multiple large digitized images of Israeli soldiers aiming weapons at Palestinian women and children, soldiers arresting Palestinian boys, Israeli tanks, and one sign saying simply "Stop Military Aid to Israel."
Remy's wall images appear on his website, along with a brief video showing overhead footage of the full extent of the wall and the art.  This site in turn links to Remy's story, "In the Spirit of Faris," of how he came to know Palestine and Palestinians and why he began this project, as well as to his defiant reaction to the criticism and vandalization of his art, "Here's Why You Can't Exterminate Us."
"Faris" is Faris Odeh, a 14-year-old Palestinian shown in one of the wall images throwing a stone at an Israeli tank.  Faris was shot to death by Israeli soldiers several days after the photo was taken.  With this story in mind, Remy brings in the intersection of Native American with Palestinian struggles.  He writes that "What the average American does not understand is that Indigenous children in cages have been normalized on our continent since ships landed on our shores….Not much has changed for us in over 520 years of continued genocide, but we still exist and in the spirit of many Indigenous warriors like Faris, we still resist.  [Faris] did what he did for the love of his people and he was not afraid and we shouldn't be either."
Not surprisingly, there has been both criticism and vandalization.  The image of Faris standing in front of a tank has been torn off totally; another iconic image of a blindfolded teenage boy surrounded by 20 Israeli soldiers is in shreds.  But—and this is something always to be hoped for with the oft-silenced Palestinian struggle and the even more thoroughly suppressed story of our colonialist oppression of Native Americans—there has also been wide publicity.  Prominent articles about the wall art have appeared in both Santa Fe and Albuquerque newspapers, on local television newscasts, on Palestinian websites, and on Hyperallergic, a national site that describes itself as a "forum for serious, playful, and radical thinking about art in the world today."
The brouhaha continues.  Santa Fe city authorities (no doubt less interested in being playful or radical than in dealing with criticism from irritated Jewish community members) ruled that the art violates city codes, not because of the location or the subject matter but, oddly, because of the medium, papier maché.  The ruling has been appealed, and the city has another two weeks to decide what to do.  In the meantime, local Native Americans, led by The Red Nation, a New Mexico-based but nationally known Native rights organization, is sponsoring a rally at the wall in a few days, to demonstrate solidarity with "our Palestinian relatives," to protest the fact that all of Santa Fe sits on original Native land, and to proclaim that "You Can't Exterminate Us."
Important aspects of Native-Palestinian intersectionality have played out at Standing Rock, where several social justice activists and lawyers from Santa Fe, including members of Santa Feans for Justice in Palestine, participated actively in that long-running protest.  Members of The Red Nation have in turn been particularly active in Palestine, sending individuals and small groups there to assist, to be educated, and to be in solidarity with fellow indigenous strugglers.  This is a heartfelt solidarity struggle: Remy speaks of how emotionally draining his project has been: "As hard as this project was physically, mentally and spiritually to endure," he asserts, "this is nothing compared to what our Indigenous brothers and sisters go through in Gaza and other settlement prisons on a daily basis."  He and his Native relatives have been there.
All public criticism has come from the Jewish community, and most critics take the breast-beating stance of the victim: all the images are lies, all are antisemitic, and all are likely to ignite further antisemitism.  The latest op-ed, by a local academic, laments, not unreasonably, that Jews in the US today feel under siege as they have not felt since the 1930s.  But he goes on to liken the appearance of the wall images at least implicitly to recent attacks at synagogues, labeling the artwork incendiary and provocative of greater antisemitism.  Blaming Israelis in general, who are Jews, for Netanyahu's policies, however execrable, he says, amounts to blaming Jews in general—and "once it becomes a Jew problem, the match is lit."  This author's contorted reasoning would mean that no people are ever responsible for their government's actions.
Another myopic criticism came from a local orthodox rabbi interviewed for the initial newspaper report.  His objection is to Remy's comparison of the Palestinian struggle to the Native Americans' anti-colonialist struggle.  There can be no comparison, the rabbi declared, because Jews are a native population returning to their original homeland, the implication being that Palestinians are not native to Palestine.  Even were this good history (it is not), his suggestion that indigeneity gives permission to oppress the "other" is most un-rabbinical.
The power of intersectionality and the inspiration oppressed peoples today take from each other  are beautifully spiritual and empowering: "This was for you Faris," Remy writes, "and as long as I live, so will you because you are me and I am you."