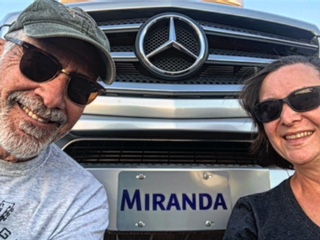 From Melanie Merkle Atha, Executive Director of Episcopal Peace Fellowship:
The EPF pilgrimage will resume! Steven and I will both be Covid-vaccinated by early May, so, as in-person worship begins to open up, we plan to resume being with you for worship by May 25! We are in Colorado at the moment, but will be heading east towards New England to spend the the summer. Along the path, we hope to visit with our peace partners in Minneapolis-St. Paul, MN; Ft. Wayne, IN: Cleveland, OH; and Rochester, NY. Once we get to New England, we will be with EPF-ers in Vermont, New Hampshire, and Maine, and by late summer, down to the Cape and Rhode Island. We plan to be in Baltimore in November for EPF PIN activity and a General Convention scouting expedition. Want a visit? Just let me know! epfactnow@gmail.com.
The EPF National Executive Committee met earlier this month, and we are pleased to announce the following:
Our leadership transitioned from the Rev. Bob Davidson as chair to the Rt. Rev. Dan Edwards as chair; from the Rev. Will Mebane to Kathy McGregor as vice chair. Rob Burgess will continue to serve as treasurer and Bob Lotz as secretary. We are indebted to Bob and Will for their years of selfless dedication to EPF, and look forward to our bright future with Dan and Kathy at the helm.
We passed a deficit budget back in October, which we did not modify at this April meeting. To contribute to EPF to help us keep the lights on, click here. We spend about $1,000 per month more than we are able to raise. In case you have forgotten, EPF is not supported financially by The Episcopal Church -- that is to say, we are not a line item in TEC budget. We have raised just over $3,600 (with goal of $20,000) with our recent and ongoing Peacebuilding Initiatives Campaign (see below), and we would love for you to participate in that campaign.
Our Peacebuilding Online Project will begin in late summer. This will be a monthly series of presentations which we will share with congregations and dioceses across the Church. The several presenters are from groups which teach peacebuilding skills and spirituality. The goals are to (1) impart the values of building relationships across the divides of race, religion and political ideology and (2) to introduce Episcopalians to programs where they can go deeper, actually learning peacebuilding skills with the potential to make a difference in the world.
As soon as we are well past the pandemic, we will begin participating in the Rio Grande Borderland Ministries Pilgrimages. We'd also like to encourage members to attend the Jonathan Myrick Daniels Pilgrimage in Lowndes County, Alabama, which will happen in August, and will include a visit to the Legacy Museum and the National Memorial for Peace and Justice in Montgomery.
Our Racial Justice Action Group (led by Paul Ricketts) and Palestine Israel Network (led by Linda Gaither and Harry Gunkel) hope to host a virtual reading circle for all interested in issues of racial justice.
We have decided to launch a Preachers' Bureau. We are organizing clergy and lay witnesses who can preach or speak to your congregation or peace partner chapter on issues of social justice, either virtually or in person. Watch future editions of Peace Out! to learn more.
The NEC endorsed the Racial Justice Action Group's initiative on racial reparations. One of our goals is to support passage of resolutions aimed at reparations during General Convention (July, 2022 in Baltimore, MD), and between now and then to help educate and empower dioceses across the Church to adopt their own resolutions, creating awareness of the deep need for conciliation in our country.
The NEC heard reports from our Action Groups, including Gun Violence Prevention, Death Penalty Abolition, Racial Justice (formerly Anti-Racism), Welcoming the Neighbor, Peacebuilding (formerly NonViolence), Palestine Israel Network, and Anti-War/Conscientious Objectors. Watch this space for reports from each of these groups in the near future, and follow their work and look for opportunities on our website: www.epfnational.org.
In 2021, we have revived the tradition of holding an annual every member meeting, which we had back in January over Zoom. Once every month, we are holding EPF Peace Partner Chapter Support calls to stay connected with our members (see below to join this week's call). We plan to publish an Annual Report (with EPF PIN) in July in anticipation of General Convention and our advocacy there. We continue to work closely with our colleagues in The Consultation (www.theconsultation.org). We will begin to recruit young adults (18-30) to be our delegation to General Convention this summer, so please keep your eyes peeled for social justice advocates we need to consider.
We've got big ambitions to help drive us towards justice, and the peace which will surely follow. Join us with your prayers, your advocacy, and your support!