Communications Membership Programming Sustainability
What are these EPF committees, and why are they important?
If you were driving in a rural part of your state and saw a car with an EPF bumper sticker, what would it tell you about the driver's beliefs or actions?
This is the question we were asked at the EPF Annual Meeting last Saturday as an introduction to a presentation on the Standing Board Committees of our National Executive Council (NEC.) Some of the responses were:
Solidarity! Leaven! Resistance! I'm not alone in this.
How can I track this car down and find a fellow Peacebuilder!
There's someone putting their Sunday church listening into action.
I would blow my horn, wave, and pull over... and be thankful that we're all in a FELLOWSHIP together!
Someone has read the Gospel and is following the Jesus Way.
An excellent and hopeful witness.
I'd wonder why isn't my church parking lot filled with cars with this message!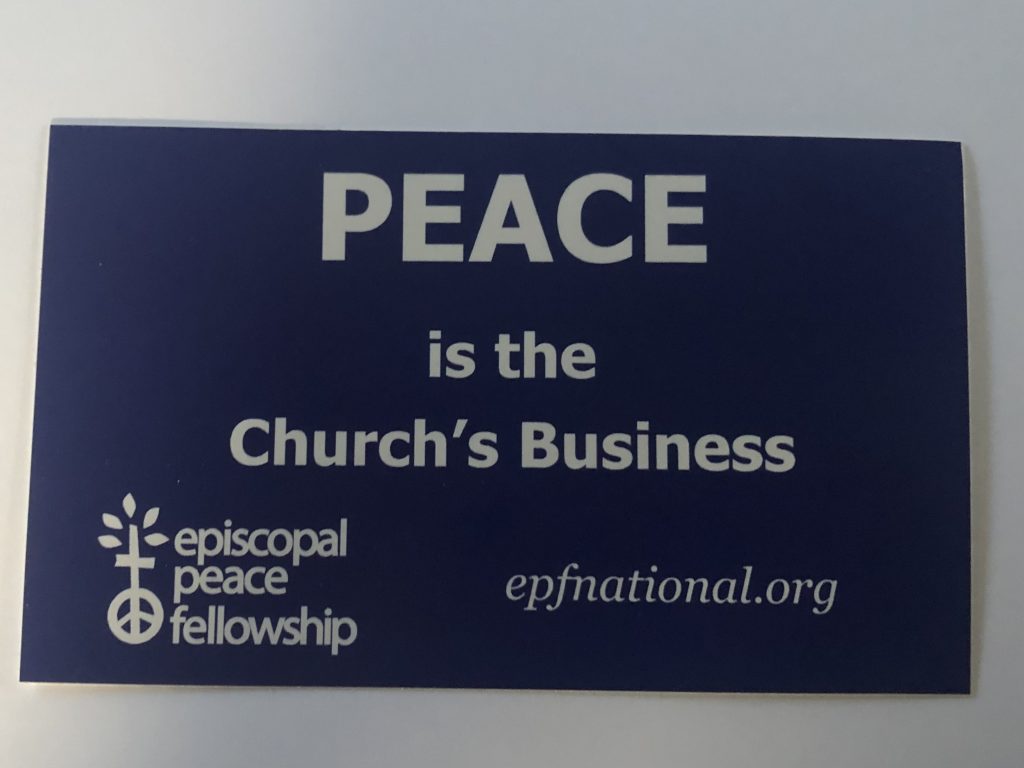 Our standing committees are the infrastructure of the NEC and they are in place to support our fellowship made up of you, our members. We do this work so that our members can do the hard work of justice and peace advocacy and being non-violent peacemakers in our world.
Your Board has worked hard this year to begin to get clearer on what our core competencies are and how these committees need to work together to support each other and strengthen EPF. This involves our branding and messaging. Questions like: Who are we? What does it mean to be part of EPF? What do we offer our members? Why is it important to be a member?
This brings us full circle, as some of the answers to these questions can be found in our thoughts above about someone seeing an EPF bumper sticker. Perhaps an answer to the last question becomes our hope for the future. Then we do start to see EPF everywhere in words and actions, as EPF becomes the "heartbeat of the Episcopal Church" calling us all to be non-violent peacemakers striving for and insisting on justice and peace in our world.
.
What are the primary tasks of these committees and the desired skills that we are looking for? Take a look at the list below and see how you might want to get involved. We are at an exciting time and we need your help! We need your gifts, connectedness, relationships and your time to help us with this work. Sometimes it's hard to recognize these gifts or desired skills in ourselves so let's help each other. As you think about where and how you might get involved, encourage one another as well. There's a job for everyone and we will help you find where your gifts best fit. In this way, our Fellowship will be strengthened and sustained for the ongoing gospel work of advocating for justice, peace and non-violence in the public square.
EPF Committees
Communications
Primary Tasks: Establish a communications strategy for EPF; provide ED content for website, social media, and Constant Contact communications; look at website for adequacy for our needs; manage social medial platforms and "comments"; blogging; volunteer to help with virtual office details.
Desired Skills: Web design & management; Social networking proficiency; Content solicitation and copy production; Copy editing; Digital, print, and merchandise design; Experience with on-line giving platforms; Collaboration.
Current NEC leadership: Rob Burgess, MI; Bruce Freeman, OH: Randy Heyn-Lamb, CA; Cody Maynus, SD
Sustainability
Primary Tasks: Develop a multi-year diversified development plan and goals for EPF; help with fundraising, budgeting, determining long range financial needs and campaigns; help consider how EPF money should be managed; determine electronic banking needs and look at bank investments to determine suitability for managing EPF's money.
Desired Skills: Creating an energized culture of generosity; Ability to communicate connection between mission and money; Ability to plan and implement an annual giving campaign; Experience with on-line giving platforms; Major gift solicitation; Ability to utilize social media for viral fundraising campaigns; Collaboration.
Current NEC leadership: Jackie Lynn, IL (Chair); Kathy McGregor, AR; Chris Sabas, MD
Membership
Primary Tasks: Create the requirements and commitments for EPF membership for individuals; recruiting member initiatives; help look at donor and contact database management; chapter and peace partner recruiting.
Desired Skills: Ability to invite, welcome, orient, and incorporate new members into the life of EPF; Strong written and verbal communication skills; Comfort with direct constituent contact to facilitate understanding and engagement; Creative use of membership and giving incentives; Assist with brand design and use; Collaboration.
Current NEC leadership: Christy Close Erskine, OR (Chair); Paul Lebens-Englund, MN; Richard Wineland, TN
Programming
Primary Tasks: Identify and coordinate all resources related to member prayer, study, and action; Help with resources for missions of EPF (curriculum, materials, speakers' bureau, etc.) and pilgrimages (Year of Action and urban pilgrimages); consult on management of EPF virtual store; support Compline and other prayer initiatives; help plan for 2022 General Convention; review and expand partnership with other peace organizations.
Desired Skills: Ability to create on-line prayer and learning communities; Ability to develop and/or identify on-line curriculum; Ability to plan and coordinate IRL service learning and pilgrimage opportunities; Collaboration.
Current NEC leadership: Maureen-Elizabeth Hagen, OR (Chair); Bob Lotz, MI; Paul Ricketts, IN; Mike Wallens, TX