Regarding the events in Washington, D.C. on the Feast of the Epiphany, it is wrong to say of the terrorism that transpired that "This is not America." While we cherish the words that we "strive for a more perfect union," we must also acknowledge and repent the reality of American violence, racial injustice and Christian nationalism.
White supremacist violence, cloaked in faith, from indigenous genocide, the slave patrols of the 1700 and 1800s, the Civil War, the Tulsa massacre and the wave of unpunished lynchings, up to and including the recent shootings of Jacob Blake in Kenosha, and Casey Goodson, Jr. in Columbus, has been the hammer that shaped America on the anvil of this rich continent.
The Trumpist anti-democracy movement, stirred up by a failed demagogue, took to the streets to follow a path too commonly taken in America. We must stop pretending to be horrified and face the complicity of all parties in shaping this America.
We call upon all of our elected officials to repent of the sin of white supremacy. We recognize that the police force has targeted people of color, while white violence and lawlessness is condoned and met with a soft response that perpetuates the systemic racism of all institutions in our society. We call for a movement for justice, the only basis for peace; and we look to the Gospel to guide us in bringing forth the Kingdom of God.
We pray that each of us may be instruments inspiring the coming of the beloved Kingdom, from a strong, confident place of nonviolence. Join us in praying for our country and our leaders, then act with us to be a catalyst for the bringing of a new era of justice and peace.
Class of 2019-2021
The Rt. Rev. Dan Edwards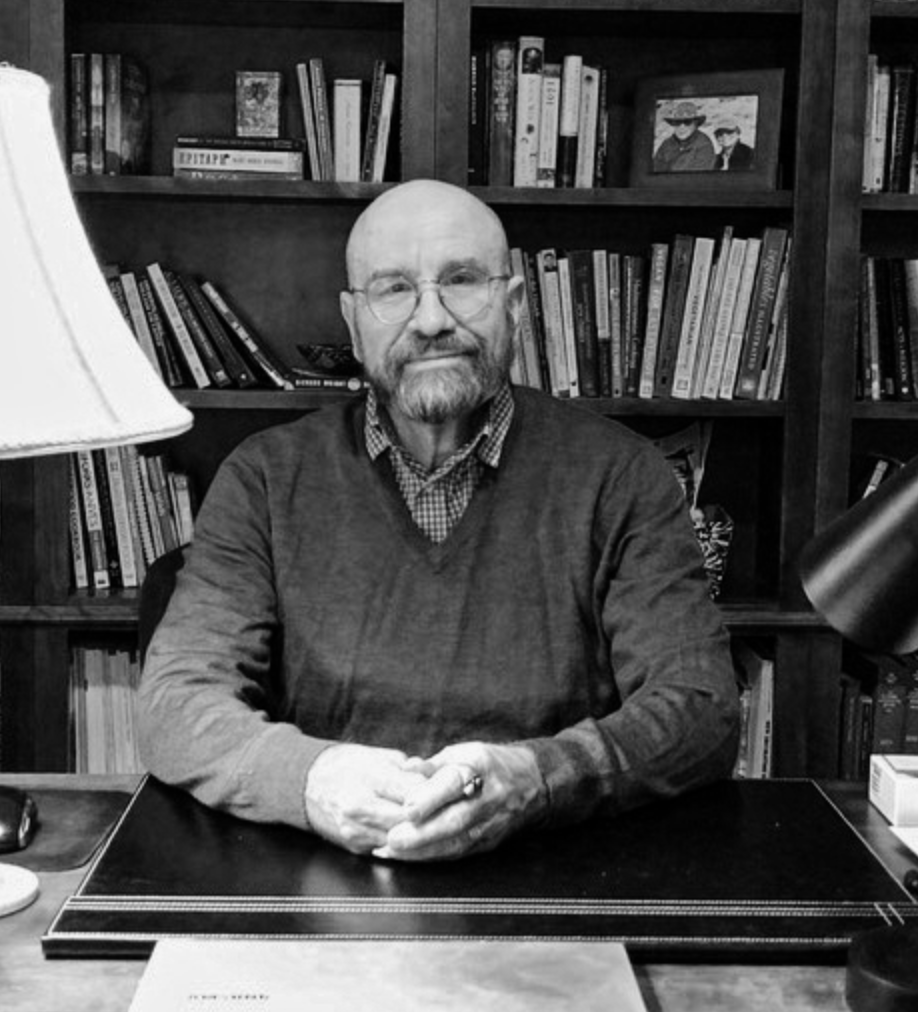 Dan Edwards divides his time between Colorado and Ohio. He served 11 years as Bishop of Nevada, following 18 years as a parish priest in Macon, Georgia. He has long been a supporter of EPF but has only been active with EPF this past year. He is also involved with Bishops United Against Gun Violence, Bread for the World, and several Colorado gun violence prevention and hunger advocacy groups. Up to now his social justice work has focused on broad based community organizing. He is a reader and supporter of the non-violence work of the Lombard Mennonite Peace Center and Eastern Mennonite University's Conflict Transformation Program.
The Most Rev. Paul Lebens-Englund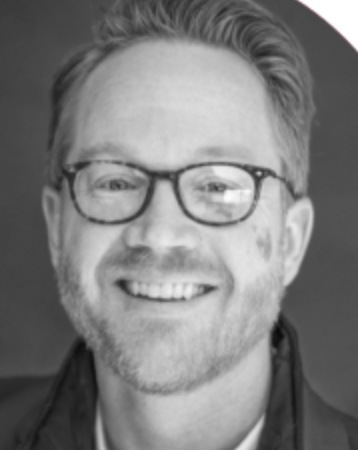 Paul Lebens-Englund lives in Minneapolis, MN where he has served as the Seventh Dean of Saint Mark's Episcopal Cathedral since 2014. Paul is a GenXer from the Pacific Northwest, so identifies both generationally and culturally as a proud product of 'The Nones.' Paul graduated from The Evergreen State College in 1997 with a Bachelor of Arts degree, emphasizing political economy and theology. Following a brief first career in community mental health and addiction work, Paul and his wife, Erica, moved to Berkeley, CA with their five-month-old son, Isaac, to begin seminary studies at The Church Divinity School of the Pacific, from which Paul graduated with an MDiv. in 2004. Paul was ordained to the Diaconate in June 2004 and to the Priesthood in January 2005, both at The Cathedral of Saint John the Evangelist in Spokane, WA where he served as Priest Associate from 2004-2007. Serving at the local, diocesan, and church-wide levels, Paul has given particular focus to ministry development, congregational development, and sustainable community engagement. Convinced that a primary function of the Church is to leaven social justice work with healthy human beings, Paul's pastoral ministry emphasizes personal spiritual wholeness as the basis for deep community wellness – managing the divisions within us as an essential pre-requisite to tending the division among and around us – addressing both symptoms and sources of the violence that afflicts us.
The Rev. Cody Maynus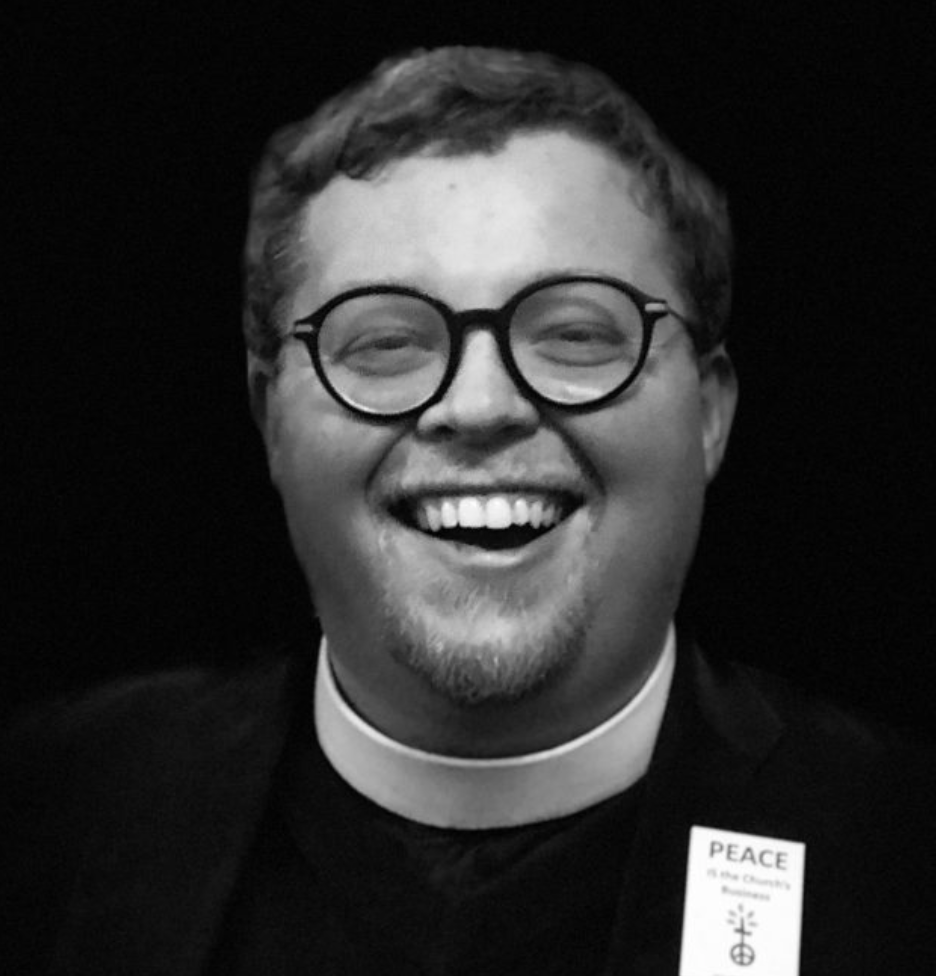 Cody Maynus (he/him/his) is a priest of the Episcopal Diocese of South Dakota. He serves as the Rector of St. Andrew's Church in Rapid City, SD and as the Program Director and Chaplain of Thunderhead Episcopal Center. Cody is a founding editor and serves on the board of Earth & Altar and was just appointed to the Rapid City Human Rights Commission. Cody had the privilege of serving on the EPF Young Adult Delegation to the 79th General Convention in 2018. He is most passionate about racial justice and anti-militarism.
The Rev. Richard Wineland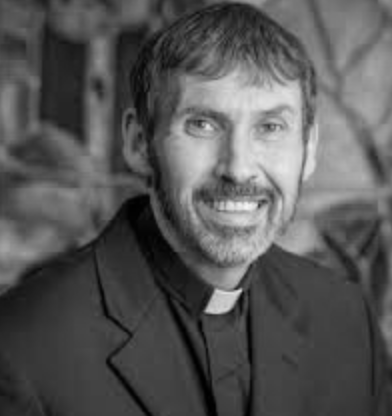 I grew up in the Allegheny Mountains of Central Pennsylvania, near the railroad city of Altoona. I studied at both Penn State University and Goshen College in Indiana, graduating with a bachelor's degree in Music. I received a Master of Divinity degree from Mennonite Theological Seminary in Indiana in 1993 and am celebrating 27 years in ordained ministry this year. I have also studied at the Lutheran School of Theology in Chicago and Lutheran Theological Seminary at Gettysburg, and am completing a Doctor of Ministry at Bexley Seabury Episcopal Seminary. I served as a Mennonite and ELCA Lutheran pastor for 10 years prior to becoming an Episcopal priest, leading Mennonite and Lutheran congregations in Pennsylvania, Indiana and Tennessee, as well as Episcopal parishes in Indiana and Tennessee. My canonical residency is in the Episcopal Diocese of Northern Indiana.
As a Mennonite pastor I was inspired by the Peace Church tradition, and over the course of my ministry I have been involved in a number of social change and nonprofit organizations, serving on a variety of boards of directors and in executive leadership. Currently I serve on the Board of Directors of the Nashville Peace and Justice Center, the Executive Committee of NAACP Nashville, and on the Boards of two church-wide organizations, Recovery Ministries of the Episcopal Church, and the Episcopal Peace Fellowship.
I am a lifelong singer and musician, a published composer, and have performed at the Grand Ole Opry House and on national television. For several seasons I've also been a member of the Nashville Symphony Chorus. I've been blessed to have had some success as a writer, with a number of articles published in both academic journals and denomination-wide publications (including the Anglican Digest and The Living Church) over the course of my ministry.
I am also blessed to be serving three parishes here in Nashville: I oversee the recovery ministry at St. Augustine's Chapel at Vanderbilt University, coordinate a mission outreach at Christ Church Cathedral, and am interim priest at St. Philip's Episcopal Church. I am married to Lee Armstrong, a musician, poet, and registered nurse at Vanderbilt Children's Hospital. Together we have seven adult children, scattered from Texas to Indiana. We make our home in Nashville.
Rob Burgess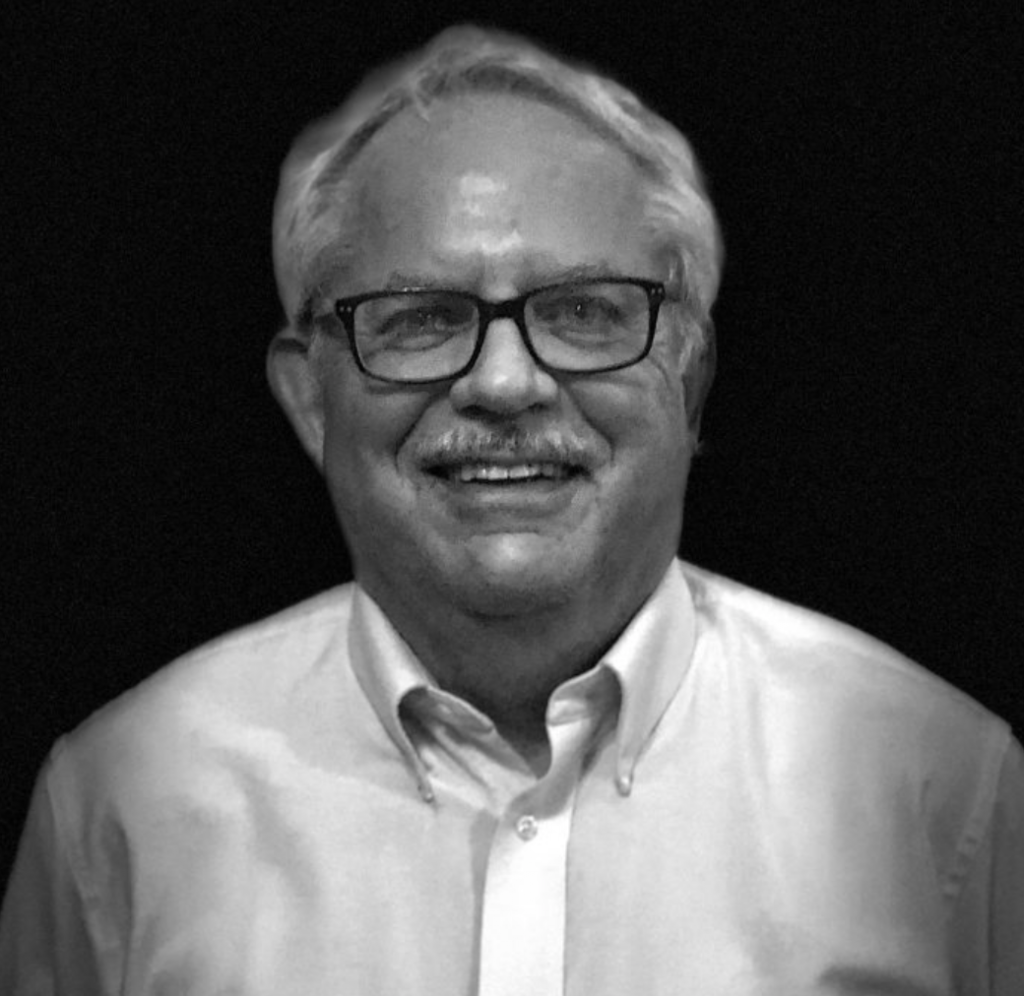 Rob Burgess is a retired CPA with 40 years of experience in accounting and finance. Rob retired from a position as Chief Financial Officer for a local school district in Southwest Michigan. He is also a Past President of the Michigan School Business Officials. He is the coordinator for a Volunteer Income Tax Assistance program in two counties. He serves on the Boards of the Benton Harbor Soup Kitchen and Emergency Shelter Services, which operates a homeless shelter. He is active with SW Michigan Interfaith Action No Longer a Stranger and the secular Berrien Immigrant Solidarity Network. He is a member of St. Augustine of Canterbury in the diocese of Western Michigan. He has served as Treasurer of EPF the last several years.
Bruce Freeman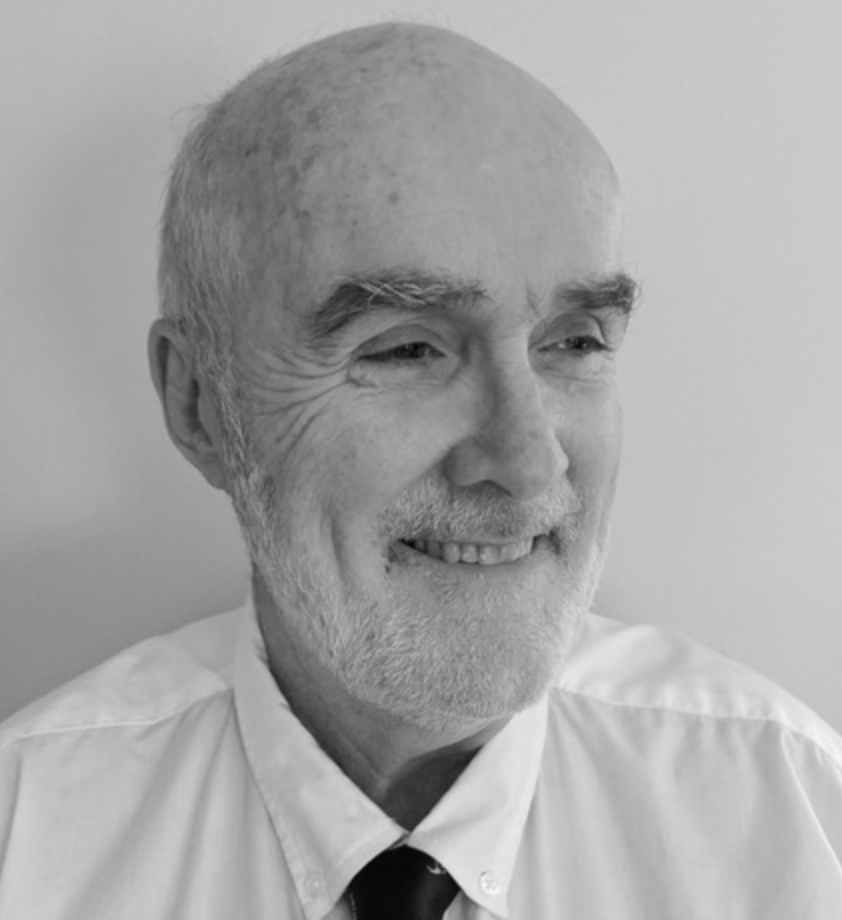 I am a life-long Episcopalian, originally from Worcester, Massachusetts, presently living in Akron Ohio with my wife Janie, a social worker, and our year-old black lab Barry. We are members of Trinity Cathedral in the Diocese of Ohio, an inner-city parish.
Jane and I graduated from the University of Vermont in 1971, and soon joined V.I.S.T.A., being assigned to Warren Ohio, where we were assigned as Juvenile Court Probation Officers. We instituted an alternative to incarceration for young persons who had been sent to the Ohio Youth Commission for minor offenses or being a runaway and began a community-led recreation program for underprivileged kids on the schools.
Trained in urban planning at University of Akron, I had worked for regional economic development in an impoverished Appalachian area in southwest New York State. Our Appalachian Regional Commission (ARC) agency was on land owned by the Seneca Nation. My planning career also included being Assistant Planning Director for Neighborhood Development for the City of Cleveland.
Having been a member of several Episcopal parishes in Massachusetts, New York and Ohio, I have been fortunate to have been involved in numerous ministries, including Habitat for Humanity (Common Mission Coalition), Family Promise emergency overnight shelter for Akron families, youth mission trips to Monessen/Charleroi in southwest Pennsylvania. I was a co-chair of St. Paul's Episcopal Church's Mission and Outreach effort. Also, I was a Trinity Cathedral co-leader with the 40-parish Greater Cleveland Congregations (GCC) initiative, an affiliate of the international Industrial Areas Foundation (IAF). Our parish efforts are focused on criminal justice, education and gun violence prevention. Most recently, I am currently co-leader at Trinity Cathedral of our Chapter of the Episcopal Peace Fellowship, focusing on 1/ the humanitarian tragedy in Yemen, 2/ ending Ohio's death penalty, and 3/ ending the scourge of human trafficking in NE Ohio and beyond.
My spiritual commitment to help those in need has been greatly reinforced by Presiding Bishop Curry's faithful call to action and the clergy leadership at Trinity Cathedral, who every Sunday preached to us for social action and would always close the service with a clarion call to service beyond the walls of the Cathedral. The spirit stayed with us well past the Sunday services.
"Truly I tell you, whatever you did for one of the least of these brothers and sisters of mine, you did for me." (Mathew 25:40)
Bob Lotz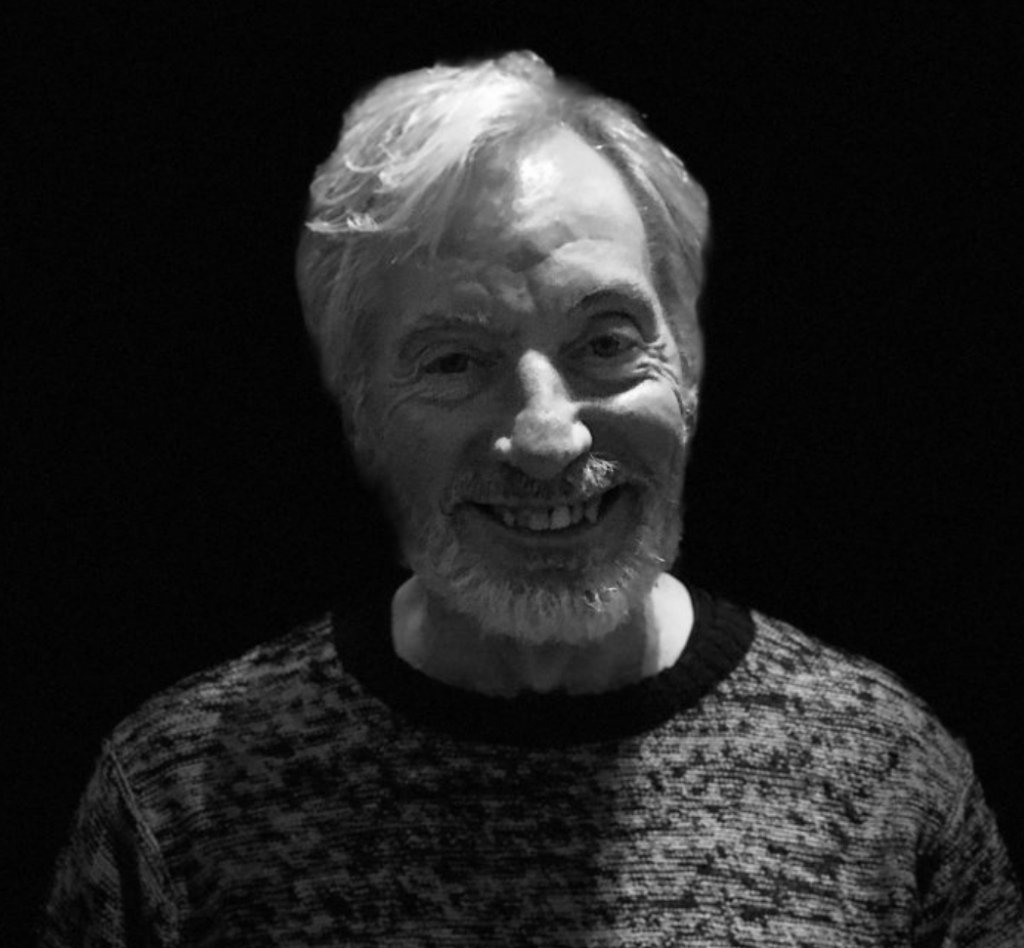 I fled Catholicism after high school. In college, in the late 1960s, I joined Students for a Democratic Society, participated in the anti-Vietnam War movement, the civil rights movement (including the BPP's Free Huey/Free Bobby campaigns), helped out a union on strike against GE, and learned from my friends who were part of what's now called second wave feminism. I graduated into Trotskyism.
As I started a family and a small business I moved out of activism; but years later I found the local Episcopal church at the soup kitchen in town. I joined and started learning a little theology. I discovered that the Gospel provided a way to seek justice without being tied to the two parties managing our racialized capitalism, but also without the sectarianism of the left. However, apart from the priest-in charge, most of the people in this congregation didn't seem to share my excitement over the Gospel's revelation; one told me, "You know we're all conservatives here."
But my diocese asked me to go off to Bishops United's first national gathering to end gun violence. I was amazed! Here were perhaps 250 Episcopalians, and all were excited for "Reclaiming the Gospel of Peace," as the gathering was entitled. I first met the EPF at that gathering and signed up.
I'm a privileged old white man with a lot of movement history, not a lot of church background. I'm still trying to dig myself out from under the racism and misogyny that my social location bestows upon me. I try to do justice, love mercy, and walk humbly as a member of the Jesus movement, knowing that I can only be a place-holder for the youth, women and people of color we so desperately need in EPF's leadership.
Kathy McGregor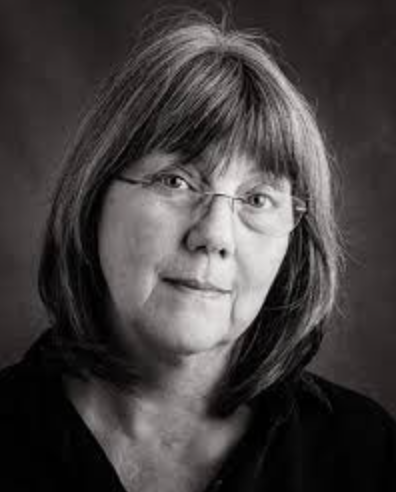 I founded and am the project director for The Prison Story Project, a non-profit ministry of St. Paul's Episcopal Church in Fayetteville, Arkansas in 2012. This ministry benefits incarcerated women and men as they explore their truths through creative writing and storytelling. Their writing is curated into a staged reading and shared first, inside the prison, and then outside for communities. The goal of this ministry is to enable those whose voices have been locked away to tell their stories, allowing communities to witness the humanity of the incarcerated through their own words.
I also provide a harm reduction ministry (needle exchange, HIV testing, free condoms, Naloxone kits, and Fentanyl test kits) at St. Paul's Community Meals ministry to folks in need who come to share a meal every Wednesday.
I am also a postulant for Holy Orders for eventual ordination to the diaconate. I graduated from the Iona Collaborative in Arkansas in June of 2020 and hope to ordain sometime in 2021.
The Rev. Christy Close Erskine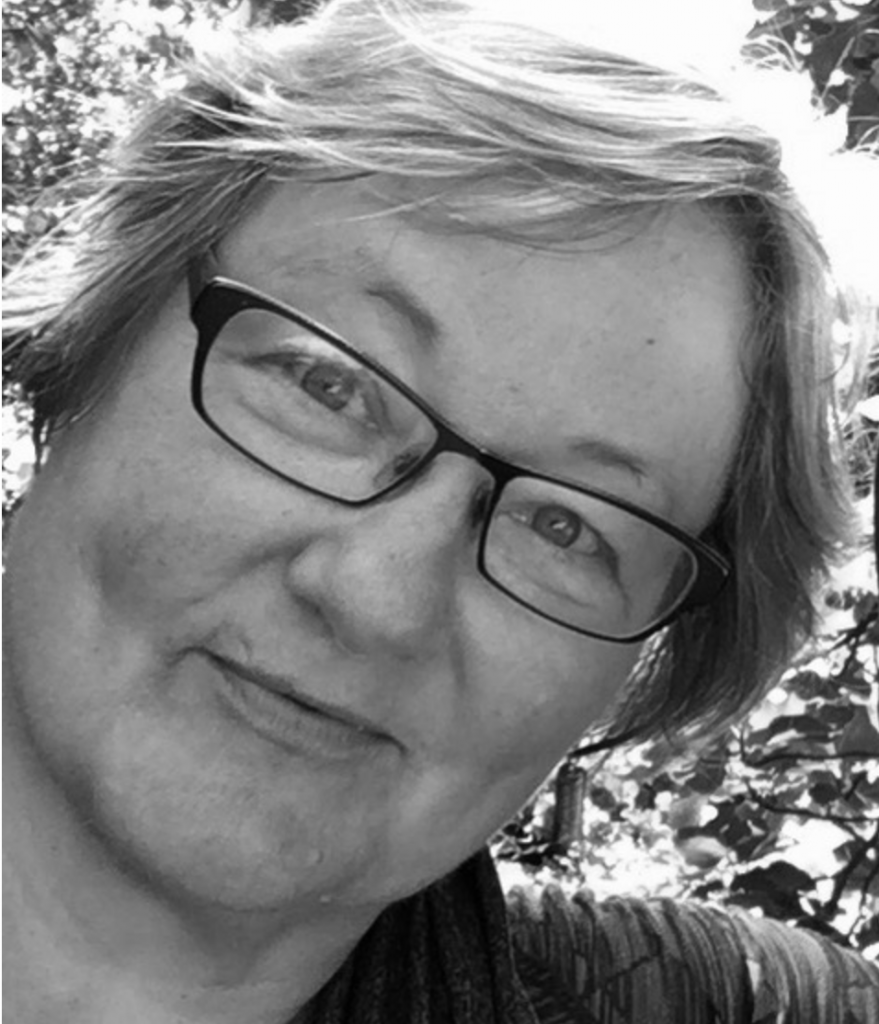 My name is Christy Close Erskine and I currently live with my husband, Jack in Sisters, Oregon, having retired from parish ministry in January 2018. We have three grown children, two in NYC and one in Illinois.
I'm a lifelong Episcopalian, who grew up in the Seattle area. I served the first 15 years of my vocational life in health care as an Occupational Therapist and later in health care management. I was ordained in the Diocese of Olympia in 1994 after attending Yale Divinity School and have served in parishes in Vancouver, WA, Bend, OR and Coos Bay, OR.
I have always loved the church and been active in it. From a young age my baptismal covenant had a claim on my life and it continues to tug on my heart and guide the ministries that I'm drawn to as a new retiree. This is especially true of the question, "Will you strive for peace and justice and respect the dignity of every human being?" My answer continues to be a resounding, "I will with God's help!"
I'm currently active in statewide interfaith immigration work, anti-racism education and reflection through facilitating Sacred Ground Circles, participating in the weekly BLM protest in our small rural town of Sisters and actively working to fight voter suppression. All of these areas can be found under the umbrella of EPF and I'm excited to offer my gifts to serve on the National Executive Committee.
The Rt. Rev. Dr. Shannon MacVean-Brown
The Rt. Rev. Dr. Shannon MacVean-Brown was elected bishop by the people of the Episcopal Church in Vermont on May 18, 2019 and was ordained and consecrated bishop on September 28, 2019. She is the 11th bishop of the Diocese of Vermont.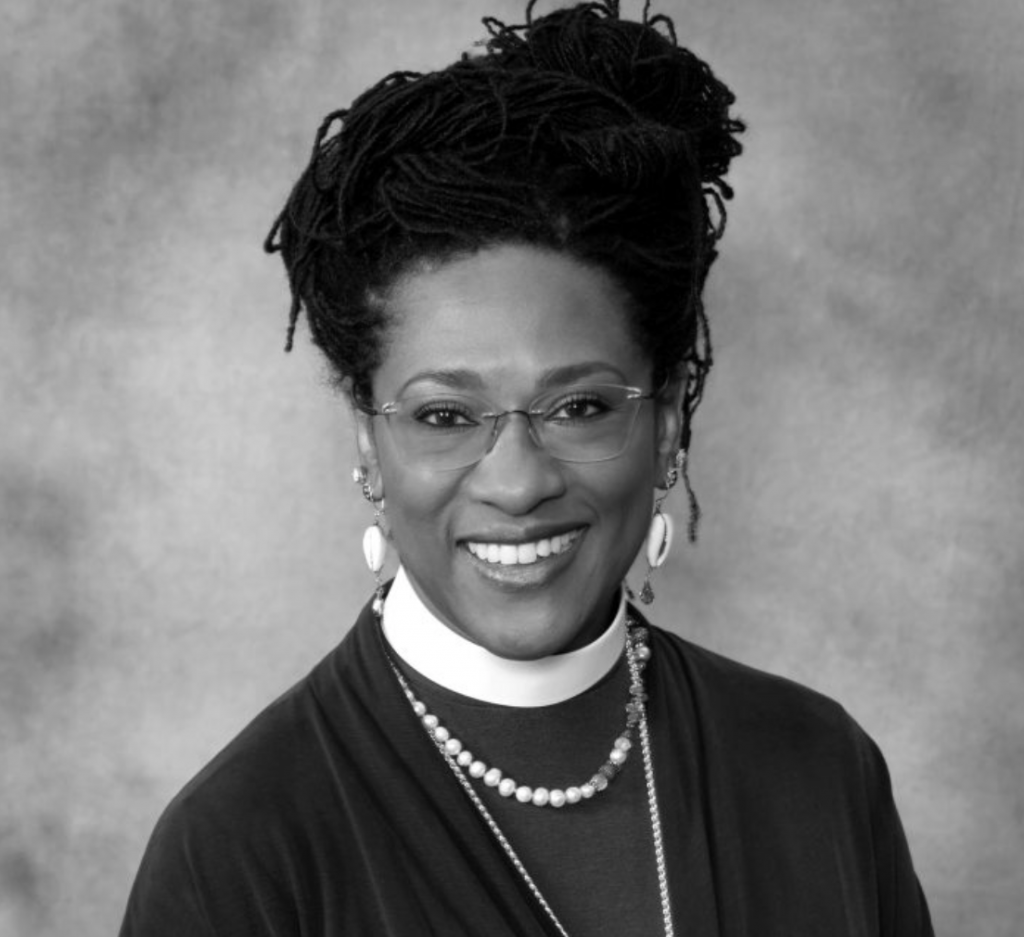 Ordained a priest in 2005, Bishop Shannon is particularly committed to community engagement, social justice, and leading in multigenerational and multicultural communities through formation, liturgy, pastoral care, and the arts. "I am always at heart an artist," she said after her election as bishop. "I express this in the liturgies I create, my poetry and icon writing, and in other creative endeavors that nourish my spirituality."
Prior to her election as the 11th Bishop of Vermont, Bishop Shannon served as interim rector of St. Thomas Episcopal Church in Franklin, Indiana, a rural congregation committed to radical welcome and service to the community. She has also served at Christ Church Cathedral in Indianapolis and St. John's, Speedway in the Diocese of Indianapolis and several parishes in the Diocese of Michigan, including St. Matthew's & St. Joseph's in Detroit, where she was rector from 2006 to 2013. Bishop Shannon has led diocesan initiatives in both Michigan and Indianapolis and served the wider Episcopal Church in a variety of ways. She is currently a member of the Episcopal Church Taskforce on Women, Justice, and Reconciliation.
An experienced leader and community organizer, Bishop Shannon has held national leadership roles with Faith in Action, a national community organizing network, and has led Faith in Indiana and Act Indiana, partner organizations working on innovative, multi-faith solutions to statewide issues including immigration, mass incarceration, and access to healthcare and childcare. During her time in Detroit, she founded and led the Greater Woodward Community Development Corporation, which advances economic opportunities and well-being of underserved residents of Detroit's North End.
Bishop Shannon holds a B.F.A. from Kendall College of Art & Design in Grand Rapids, an M.Div. from Seabury-Western Theological Seminary, and a D.Min. from Ecumenical Theological Seminary in Detroit, where her dissertation was titled "Womanist Theory: An Appreciative Agenda for the Episcopal Church." Before entering seminary, she worked as a commercial interior designer and jewelry designer.
Bishop Shannon and her husband, Phil, have been married for 27 years. Together they have a teenage daughter and a chihuahua named Detroit.
The Rev. Deacon Chris Sabas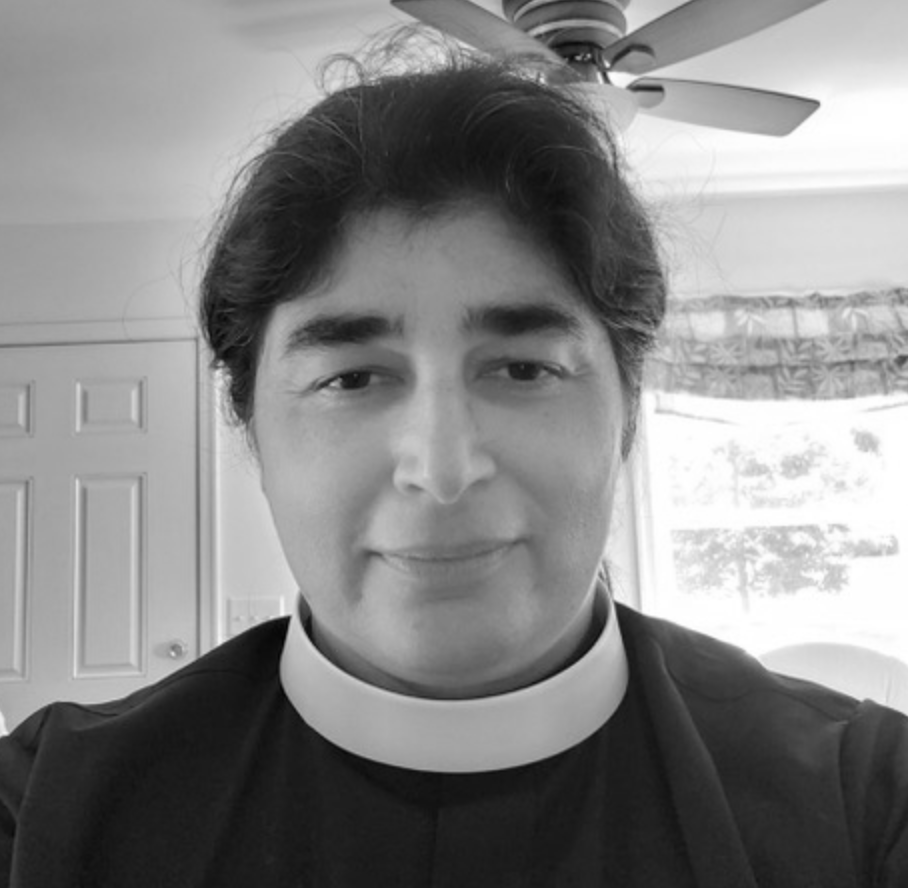 The Reverend Deacon Christine ('Chris') Sabas: I currently serve as the 'deacon in residence' at St. Andrews, Princess Anne, Maryland, Diocese of Easton. I am the primary pastoral presence and will help guide the community to call its next rector. While still discerning priesthood, I was part of a historic group. Eight of us were ordained to the diaconate after completing a two-year program, with two being the first African-American women to be ordained, and me as the first Iranian-American to be ordained.

Born in Shiraz, Iran, I arrived in the U.S. in mid-1975 becoming a naturalized citizen. I am a 'retired' immigration attorney, with nearly ten years of litigation experience. I closed my practice and joined Christian Peacemaker Teams, serving for approximately five years in a variety of capacities: full time team member, reservist, corps representative and Steering Committee Member. I spent a brief period of time in Hebron, Palestine, Colombia and the US Borderlands. I served primarily with the Aboriginal Justice Team (now the Indigenous Peoples' Solidarity Team) and was a part of CPT's nearly five-month presence with the Elsipogtog First Nation (Mi'kmaq band) and their nonviolent pushback against proposed shale fracking, which received international attention.
The Rev. Mike Wallens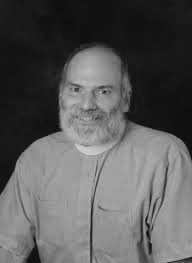 Originally from Chicago, I was raised in the Jewish tradition. I took a detour along the way and has been an Episcopal priest since 1978. I have served in seven Episcopal schools in four states. I have also served in diocesan staff positions in Chicago and served in long-time supply and Interim positions in many churches. In addition, I have served as chaplain at Kennedy Airport, worked with youth in juvenile detention and various specialty camps. Additionally I have served as spiritual director, and provided spiritual mentoring for those who feel called to ordained ministry. I met my wife Susan in college (Sewanee) and we have been married for over 40 years. They have two grown sons who currently live in Austin, Texas and have two dogs named Waffles and Obadiah to fill their empty nest.
Currently, I am the Vicar of St. Paul's Episcopal church in Marfa, Texas and serve four other churches in the Big Bend region of Far West Texas. I currently serves as Co-chair of the Rio Grande Borderland Ministries for the Diocese of the Rio Grande which covers all of New Mexico and Far West Texas. This ministry includes working with the Anglican Diocese of Northern Mexico and providing shelters in Ojinaga, Juarez and Palomas Mexico as well as shelters on the U.S. side. I help coordinate responses to the humanitarian crisis along the Southern Border of the United States. I maintain open communication with the Border Patrol in the Big Bend Sector.
Dlaczego nasze automaty do gry przynoszą Ci wygraną? Ponieważ w odróżnieniu od klasycznych automatów do gry lub najnowszych automatów wideo w zwykłych kasynach (wypłacalność 50%-70%), w przypadku automatów do gry internetowych, które przynoszą Ci wygraną, wypłacalność wynosi 95%-99%. Oprócz tego, regularnie obserwujemy każde kasyno internetowe, ich rankingi najlepszych graczy w poszczególnych grach i nowe automaty do gry, które oferują w swoich kasynach.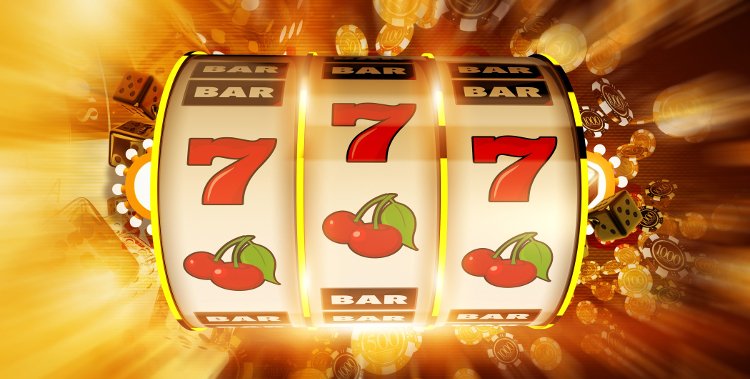 Wszystkie automaty do gry na tej stronie wybieramy starannie na podstawie własnych doświadczeń. Znajdziesz tu tylko te najlepsze i najnowsze jednoręcy bandyci, jakie są na obecnym rynku gamingu internetowego. Większość z nich już na pewno znasz z kasyn klasycznych. Na tej stronie jednak znajdziesz automaty do gry, które przyniosą Ci wygraną. Możesz w nie grać tylko przez Internet, oferują więcej możliwości co do zakładów, kombinacji linii zwycięskich i, co ważne, mnóstwo gier bonusowych. Te, które należą we współczesności do Top gier na rynku, dają szansę graczom zdobyć świetne Mega Jackpoty w wysokości kilku 100 000 € aż milionów EURO! Przykładem jest gra Mega Fortune, w której w 2011 r. został zdobyty Jackpot w wysokości powyżej 11 milionów EURO, dzięki któremu szczęśliwemu Norwegowi kompletnie zmieniło się życie. Kiedy to się wreszcie uda komuś z Polski? Jackpoty bowiem nieustannie rosną.
Najlepsze automaty do gry jednoręki bandyta za darmo http://jednorekibandyta777.net/, które przynoszą Ci wygraną, są bardzo dobrze zaprojektowane od strony graficznej, czyli doświadczenie z gry będzie maksymalne. Ucieszą Cię też świetnie zrobione i pomysłowe gry bonusowe. Tematy poszczególnych gier są skupione wokół znanych i popularnych filmów, komiksów lub postaci, więc miłośników Gladiatora, Iron Mana czy kultowego filmu Victorious oferta ta na pewno zaspokoi.
EPF will hold its annual All Member Meeting on Saturday, January 30, 2021 at 11:00 a.m. Eastern time via Zoom. A slate of candidates to be elected to the National Executive Committee will be announced on November 30, 2020, for elections to be held at our annual meeting. Voting "in person" via Zoom or by email ballot permitted by members of EPF. Mark your calendars to join us!
By Rev. Bob Davidson, EPF National Chair
The Episcopal Peace Fellowship (EPF) began as The Episcopal Pacifist Fellowship on November 11, 1939, Armistice Day.  Founders among others were William Appleton Lawrence, Bishop of Western Massachusetts, Mrs. Henry Hill Pierce of New York, and John Nevin Sayre, also of New York.  It is to Rev. Sayre that today's EPF owes a debt of gratitude for his visionary and tireless leadership to convene the early founders of this organization.  Each three years the John Nevin Sayre Award is given to nominees who demonstrate this same passion for peacemaking and justice.
Another icon of the Episcopal Peace Fellowship, for whom a legacy society is named, is the Rt. Rev. Paul Jones (1880-1941). Bishop Jones was ordained and served a mission church in Logan, Utah. In 1914 he was made Bishop of the Missionary District of Utah. He was an outspoken pacifist, and when World War I began in 1914, he spoke against it. As the war progressed, and when the United States entered the war in 1917, many Americans were vehement in holding that pursuing the war was a moral duty, and opposition to the war was immoral. In the spring of 1918, yielding to pressure, Bishop Jones resigned as Bishop of Utah. He continued to speak out within the Church as an advocate of peace and the Christian renunciation of war.
An early statement of commitment to the purposes of EPF read, "In loyalty to the person, teachings and Lordship of Jesus Christ, my conscience commits me to His way of redemptive love; to pray, study and work for peace, and to renounce, so far as is possible, participation in war, militarism and all other forms of violence."
The early years were occupied by building the organization, relating to the interdenominational Fellowship of Reconciliation (FOR), and developing an annual conference (first at Bucksteep in the Berkshires, and later at Seabury House, Greenwich, Connecticut). Efforts were begun to get resolutions passed by General Convention, the triennial legislative assembly of the Episcopal Church, and Lambeth Conference, the every-ten-years meeting of all Anglican Bishops from around the world. The Lambeth Conference had already passed in 1930 a rather famous statement which included the phrase: "War as a means of settling international disputes is incompatible with the teaching and principle of our Savior Jesus Christ" which EPF has built upon in advocating for similar statements from the General Convention. The publication of Cross Before Flag outlines over sixty years of statements and resolutions of the General Convention and Lambeth Conference.
This statement has been reiterated by Lambeth every ten years since l948. A Pilgrimage to Canterbury, England, at the time of the Lambeth Conference, in cooperation with the Anglican Pacifist Fellowship has taken place at the last three Lambeth Conferences. The Episcopal Peace Fellowship is considered the American branch of the Anglican Peace Fellowship (as it is now known) along with the Anglican Peace and Justice Network (APJN).
In 1966 EPF established a full-time staff person as Executive Director, and in the same year, on the eve of the Vietnam War, changed its name to Episcopal Peace Fellowship and altered its commitment statement to accommodate peacemakers who were not necessarily pacifists. Under leadership of a National Executive Committee (NEC) and the Executive Director, EPF has continued with its program and activities to the present, working with various commissions of the General Convention and with ecumenical and other peace partners. In more recent times, efforts have been made to establish local Chapters of EPF throughout the Church and to have Action Groups on a national basis to learn and discuss such topics as Conscientious Objection, Death Penalty Abolition, Drone Warfare, Gun Violence Prevention and Young Adults.
The NEC is elected by the membership, meets twice annually, elects officers, and administers program and maintain contacts with the official Episcopal Church structure, the Anglican Church Networks, and ecumenical peace efforts. The current national Chair of the National Executive Committee is the Rev. Bob Davidson. Melanie Atha is the current Executive Director.
A more extensive history of EPF is to be found in "The Voice of Conscience: A Loud and Unusual Noise?" by Nathaniel W. Pierce and Paul L. Ward, published by Charles River Publishing, Charlestown, Massachusetts in 1989.  "Bishop Paul Jones: Witness for Peace" by John Howard Melish, published by Forward Movement, Cincinnati, Ohio is another useful resource.

Are you dedicated to striving for justice and peace among all people, and respecting the dignity of every human being? If so, EPF would love to have your energy and vision for putting that dedication into action. Between now and November 30, 2020, we are accepting applications for service on our NEC.   This is a three year obligation.   After three years of service, you would be eligible to be re-elected to serve for another three year term.   Your term would begin in 2021. Accepting this nomination means that you would be responsible for the following, should you be elected to serve by the current members of the NEC.
+  Pray, study, act.  You agree to follow and exemplify EPFs mission through living into your baptismal covenant to strive for justice and peace and to respect the dignity of every person.
 + Committees.  EPF and the NEC have four committees:  membership, sustainability, programming and communications.   You will agree to serve on one committee and to be in regular contact with other committee members to accomplish the purposes of the committee and EPF. 
+  Development.  You will agree to promote EPF's financial, membership and organizational development, on local, regional and national level.  You agree to contribute money to EPF every month at a level which is compatible with your personal financial situation.
+ Nonviolence.  You agree to seek ways of resolving conflict in nonviolent ways, and to promote peace, justice and nonviolence in your personal, professional and spiritual life
+ Stewardship.  You will be a good steward of EPF through careful decisions about programs, finances and policy.  
Interested? Please let EPF Executive Director Melanie Atha know: epfactnow@gmail.com.
Offered by Rev. Dr. Gayle Fisher-Stewart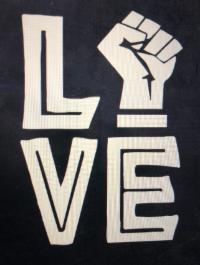 I've had to truly re-think what it means to be Black and Episcopal, particularly in these times of civil uprising, racial unrest, and falsehoods coming from the President of this country being accepted as truth. What is the role of the Church, the Episcopal Church in speaking out, advocating for the humanity of her Black members? Where is the church on the conflict that continues between the police and African Americans those who are Episcopalians and those who are not? There are times, most times, when I find myself conflicted, particularly when it comes to the issue of policing and its role in maintaining a racist society. I am conflicted because I spent twenty years as a police officer in Washington, DC, and the next thirty, studying, teaching, and consulting on police and race. I am conflicted because I am Black and get nervous when I see a police car behind me. I am conflicted because I have a Black son and nephews with whom I have had "The Talk." You know, "the talk," how to be Black in America and survive an encounter with the police. The talk, a conversation the majority of white parents never have with their children. And so, while I speak out against policing as it was created and continues to function—to surveil and control black and brown bodies-- I must also face my role – knowingly and unknowingly -- in maintaining that system – a system that has disproportionately and continues to negatively affect the life chances of people who look like me. I must ask how my faith now guides any discussion of what must be done.
"Respect the dignity of every human being"—Book of Common Prayer
Respecting the dignity of Black people and seeing Black people as human beings has never been part of the mission and goal of American policing. From slave patrols to Minneapolis police officer Derek Chauvin (who murdered George Floyd) to mass incarceration, black people have been the fodder of the American criminal justice system. From what was considered a crime (running away from the plantation was theft), to initial contacts with the police (driving, walking, breathing, sleeping while black), to processing (sentencing disparities for Blacks and whites), to mass incarceration (slavery has just evolved according to Equal Justice Initiative Bryan Stevenson), the aim of the criminal justice system has been to maintain white supremacy, to keep white space white (President Trump's not-so-veiled attempt to garner support from white suburban housewives by poorly hinting that he will keep those suburbs white), to ensure that Blacks were not (are not) seen as human beings and therefore have "no rights a white man is bound to respect." And, yet, we as Episcopalians are called to "respect the dignity of every human being" and perhaps therein lies the problem. Do the mass of Episcopalians see Blacks as human beings, the carriers and reflectors of God's image? Somehow, we must see each other as fully human and live in a way that makes God truly visible. It is more than going to church; it is more than beautiful liturgies. To respect the dignity of every human being, we must eliminate any and all barriers that keep God's people from being all they can be; break down all barriers that keep God's children of ebony grace from being fully human. We are called to destroy any barriers that keep any of God's children from being able to live full lives and to be free to love others as Jesus loves us. Retired bishop John Shelby Spong offers, "I experience God as life. The God who is the source of life causes me to worship God by living – by living fully. The more fully I can live, the more I make God visible and I experience God as the source of love calling me to love, freeing me to love. The more fully, the more gracefully I can give my love away, I believe I can make God visible." The Church is being called to be make God visible by destroying a system that denies humanity to God's black and brown children; that keeps them from living fully, from loving fully.
There have been calls for the abolition and/or defunding of American policing. American policing denies the humanity of God's black and brown children. American policing is a barrier to living fully; to being fully human; therefore, it must be abolished. The problem with either word -- abolition or defunding is that people jump to their own conclusions and/or definitions of what the terms mean. To abolish the police does not mean the elimination of policing. There are people who make decisions not to play by the rules society has established and when those rules are broken, they must be stopped; that's what arrest means – to stop. Abolition in this context means to abolish the police as they were created (to surveil and control black and brown bodies) and continue to act (to surveil and control black and brown bodies) and establish a system that serves and protects all. It is difficult to change direction if you keep going in a straight line and that is what has occurred over the years under the mantra of police reform. The decision must be made to "stop" and then create a system that is truly based on justice. It is not easy; however, it can be done. Community policing was an attempt to do this; however, community policing was overlaid on a diseased system and became diseased itself.
Part of abolition and re-creating American policing is de-funding, although a better term would be re-allocation of funds. Defunding, like abolition frightens people because it has either not been defined or applied in a manner that invites failure. There are any number of tasks or functions the police perform that do not require law enforcement authority. The problem is that for most cities, the police are the only agency available 24/7. As we look at re-creating the police in a manner that serves all, an analysis of the functions of the police is undertaken and those tasks that do not require law enforcement authority are diverted to agencies or organizations that are better prepared to handle them. Once those tasks have been identified and the agencies/organizations prepared to assume those functions (to include possible 24/7 response), the police department budget is then adjusted and those monies identified with the tasks transferred are re-allocated to the receiving agencies/organizations. Is it easy? No. Can it be done? Yes. What is usually missing is the will to change and that pressure must come from outside policing because police departments are not change agents – they are to maintain the status quo and, in this country, it is a racist status quo.
As a person of faith, who truly believes in what I promised to do – to respect the dignity of every human being -- -is it imperative that we dismantle a system that has at its core the dehumanization of black and brown people; that denies the imago Dei. This must be a priority for the church. In addition to marching, praying, and preaching; we must be engaged in dismantling a system of oppression. Whenever God's justice is being denied to God's people, whenever it is being perverted, the church, the Body of Christ, must be in the forefront of changing that system and the time to start is now.
Offered by Gun Violence Prevention Action Group Convener, Bob Lotz
The potential for political gun violence in the next days and perhaps weeks is palpable.
The EPF Gun Violence Prevention Group is usually witnessing, praying and advocating for an end to the violence that derives from the vast quantity of firearms sloshing around in this country, and for whatever sensible limits can be placed on the availability of these things.
Not this week, however. In the run-up to the election, we call on everyone to be prepared to oppose any attempt to stop the vote count or prematurely call the results. We may need to ask our congregations, friends and colleagues to speak and act to prevent armed militia groups from blocking access to the polis. We may need to pray and seek ways to prevent armed men from using their weapons to disrupt the nation and prevent a new President from taking office.
In Michigan last week, President Trump "joked" about a President-elect Biden being shot within 3 weeks To whom was he calling?
The police murder in Philadelphia this past weekend shows that law enforcement has learned nothing and changed not at all through this summer's protests against extrajudicial killings. We saw in Kenosha that the police were friendly to the armed right-wing men who came ready to kill, but violent toward the unarmed protesters. The Oath Keepers militia brags that their membership includes sworn law enforcement officers. We cannot rely on police to ensure a peaceful transition of power. We must pray now, and be prepared to witness, advocate and act in defense of democracy.
Our friends at Waging Nonviolence have prepared a plan, Seven Tactics to Stop a Coup. We offer it for your consideration. Another organization, which includes EPF participation, is organizing rallies for Nov. 4 to Protect the Results. Find an event near you.
Help us, O God, in the middle of our struggles for justice and peace, to confront without hatred or bitterness those who are intent upon violence. May we all see the vision of Your kingdom coming near, and cast aside our divisions. We pray this in the name and spirit of Jesus, who brought and still brings this vision among us.