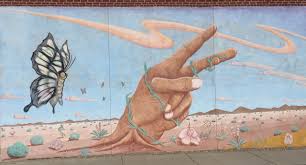 EPF's series of free, one-hour online presentations kicks off on August 1 at 4:00 pm Eastern with the Rev. Rosalind Hughes, priest in the Diocese of Ohio and author of "Whom Shall I Fear?" Register HERE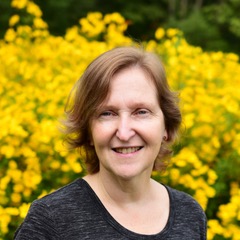 BEING THE CHURCH IN A FEARFUL TIME
Panic buttons, locked doors, security teams in the aisles. If we can't feel safe in Church, what does that say about our community? There may be more to the fear/violence connection than first meets the eye.The Rev. Rosalind C. Hughes, author of Whom Shall I Fear? will lead us in considering lessons from Scripture and experience as we reflect together on the fears that shape our lives today.
Rev. Hughes was naturalized as a US citizen and ordained an Episcopal priest on either shoulder of a busy weekend in January 2012. Both vocations have called upon her to work for peace, and particularly for an end to gun violence. Her latest book, Whom Shall I Fear? Urgent Questions for Christians in an Age of Violence, examines how the landscape of violence and fear affects our ability to proclaim the gospel of love and grounds itself in scripture to look for paths toward peace within and beyond the congregation.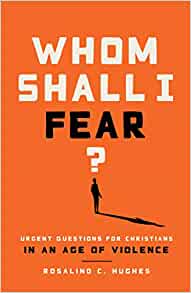 Whom Shall I Fear? Urgent Questions for Christians in an Age of Violence is designed to help church leaders open and guide gospel-based conversations in a fear-infested world. It assumes that, with God's help, we can do better than to accept the landscape of violence that surrounds us and build up barriers to protect ourselves. It takes seriously the advice of Paul: "Do not be conformed to this world, but be transformed by the renewing of your minds, so that you may discern what is the will of God – what is good and acceptable and perfect" (Romans 12:2).
In this presentation, Rosalind Hughes addresses the fear that would divide us and the Gospel that would unite us, and suggests a Bible-based approach to raising difficult and anxious topics in congregational-type settings to promote courageous conversation and build confidence in the possibilities of peacemaking in an unpeaceful world.

"No passion so effectually robs the mind of all its powers of acting and reasoning as fear." -- Edmund Burke
"There is no passion more contagious than fear . . . or doth furiously possess all parts of a (person)." --Michel de Mongaigne
"Ultimately, we have just one moral duty: to reclaim large areas of peace in ourselves, more and more peace, and to reflect it toward others. And the more peace there is in us, the more peace there will also be in our troubled world."
Richard Rohr

Please consider supporting EPF's Peacebuilding Online Project. Contribute HERE today!
Join us on Sunday, August 1, 2021 at 4:00 pm for the first of our monthly Peacebuilding Online series. Video promotion, below.
Sermon for Sunday, June 13, 3rd Sunday after Pentecost, offered by NEC Treasurer Rob Burgess
The parable of the mustard seed which Mark tells in today's gospel is one of the most memorable of Jesus's parables. Maybe because all three of the synoptic gospels, Mark, Matthew, and Luke retell very similar versions of the parable. Maybe because Jesus frequently references the Kingdom of God in his teaching through parables.
Or maybe it is because of the image it provides: that the Kingdom of God on earth starts with something very small, perhaps like a rag-tag group of disciples in a backwater region of the Roman Empire and can grow into something much bigger, the Jesus movement.
At my house, we have two large trees in our front yard. They are of the locust family. Unlike my neighbors' majestic maples or oaks, locust leaves are tiny. I am grateful for the shade they provide in the summer. At the same time their tiny leaves allow grass to grow underneath. But certain times of year, like now, the locust trees are a nuisance. They shed their seed pods daily covering the lawn. They attach to our shoes in the driveway and we track them into the house. A nuisance. I wonder is that what the Roman emperors thought of the nascent Jesus movement? That it was a nuisance?
In those first centuries, the Jesus movement may have been considered a nuisance by the Roman Emperors nonetheless like the tiny mustard seed it sprouted and grew.
As I was pondering this, I wondered how other social justice movements started out small and grew into something much bigger.
In looking for answers, I ended up looking outside the church where I found something that brought me right back to the church. I am thankful for websites like the History Channel, the NAACP, and Wikipedia for some of the details in my words this morning.
Today, is June 13. According to the Satucket calendar of Episcopal feast days, there is no one who is commemorated today. So, I Googled "Today in History". That's where I found a proverbial mustard seed, an inspiration for the Kingdom of God on Earth.
June 13, 1967, 54 years ago today, arguably one of the most influential jurists in the 20th Century was nominated to the Supreme Court by President Lyndon Baines Johnson. Thurgood Marshall would later that fall be appointed an Associate Justice of the Supreme Court. Just so you know, the Episcopal Church celebrates a feast day for blessed Thurgood Marshall annually on May 17.
Marshall was an advocate for social justice and change. He once said:
"When you see wrong or inequality or injustice, speak out, because this is your country. This is your democracy. Make it. Protect it. Pass it on."
Marshall also seemed to understand the mutuality of us all as he is quoted as saying:
"In recognizing the humanity of our fellow beings, we pay ourselves the highest tribute."
The first African American to be confirmed by the Senate to the highest court in the land. Marshall grew from simple beginnings to a powerful voice for social and legal justice.
Like a mustard seed's inconspicuous start, Marshall had humble beginnings. His father had been a railroad porter and then a steward at a segregated, all-white country club in Baltimore. His mother was an elementary teacher in the segregated Baltimore school system. Baltimore Schools were not integrated until 1954.
It seems very appropriate that Marshall graduated from a school named after another civil rights ikon: Frederick Douglas High School. I normally think of historically Black colleges and universities being in the south, I guess it is some of my northern hubris and denial that segregation and bigotry existed and still exists today in the north. Unfortunately, the nearby metro areas of Detroit and Chicago are in the top 5 most segregated municipal areas in the country, per USA Today.
Marshall did go on to attend an historically Black college, Lincoln College in Pennsylvania. Lincoln College seems to be a place that nurtured mustard seeds to grow in to something, someone much more influential.
Marshall's classmates at Lincoln included the great American poet Langston Hughes. Arguably, one of the greatest American poets of the 20th Century.
Hughes once wrote:
"At the feet o' Jesus,
Sorrow like a sea.
Lordy, let yo' mercy
Come driftin' down on me."

In addition to Hughes, the multi-talented jazz musician, dancer, and big band leader Cab Calloway was also a classmate at Lincoln.  Calloway was decades later re-introduced to younger generations in a movie called the Blues Brothers.
I am not sure if Marshall, Hughes, and Calloway ever enrolled in the same class together at Lincoln. But I must admit, and I chuckle to myself, if there was a professor who had THAT diversity of genius in his classroom, he must have had his hands full.
In 2021, I find it challenges me greatly that a Big Ten university was a segregated institution decades ago. But as an undergraduate, the mustard seed that was planted by Thurgood Marshall was just beginning to sprout into someone bigger than the little kid who grew up in Baltimore. For law school, Marshall wanted to become a Maryland Terrapin and desired to attend that university's law school near his home. But he was denied enrollment into Maryland which was a segregated university in those days. So, instead he enrolled in another historically Black school: Howard University. He graduated Howard first in his class.
Marshall went on to found the NAACP's legal defense fund. In his capacity as an attorney, Marshall represented clients 32 times in front of the Supreme Court. No other attorney has argued or presented as many cases before that court. A truly gifted advocate, Marshall's clients won their cases an astonishing 29 of those 32 times.
In my graduate school of Educational Leadership, we learned about Marshall's most famous case. Legal scholars often suggest that it is the most important and influential Supreme Court decision of the 20th century. The church celebrates Thurgood Marshall annually on May 17 because that is the day the Supreme Court announced its unanimous decision in the case Brown vs. the Board of Education of Topeka, Kansas. In that case, a group of Black parents filed a class action suit because their children were forced to attend a segregated school.
Some 90 years earlier, the Supreme Court in Plessy v. Ferguson had ruled that segregation could be the law of the land. In Plessy vs. Ferguson, the court ruled that separate could be equal which put a stamp of legality on decades of segregation.
Marshall argued in Brown vs. the Board of Education that Separate was inherently unequal and the court agreed. Nine justices agreed in a unanimous decision. It certainly was not the end of segregation, but now civil rights leaders had the rule of law on their side. As a result, a few years later President Eisenhower sent federal troops to Little Rock when the Little Rock Board of Education refused to allow the Little Rock 9 to attend Little Rock Central High School.
Brown vs. the Board of Education was a mustard seed that helped to sprout the civil rights movement. Obviously, a Supreme Court case by itself could not end decades, perhaps centuries, of racial bigotry and institutional racism. Certainly, images of the Little Rock 9 who were protected by federal troops as they entered Little Rock Central High School while being ringed by white students and parents screaming and spitting obscenities, proved that racial hatred runs much deeper than a single Supreme Court decision could overcome.
Marshall was also a consistent foe of the death penalty. Having voted and argued forcefully with former Chief Justice Warren to permanently abolish it.
I don't recall Jesus ever saying: "It's easy. Just do this and the Kingdom of God on earth will be immediate." What Jesus did say was that the Kingdom of God was like a mustard seed which when planted becomes rooted in the soil and grows into something bigger. "Blessed are the poor for theirs is the Kingdom" and we hope on earth as it is in heaven.
There is only one Thurgood Marshall. One individual whose jurisprudence branched out in many directions and helped bend the arc of the universe toward justice. Marshall who faithfully attended services even as a Supreme Court Justice and was simply called "the Judge" by his fellow parishioners at his church, St Augustine's Episcopal in the District of Columbia.
Marshall once said:
"A child born to a Black mother in a state like Mississippi has exactly the same rights as a white baby born to the wealthiest person in the United States. It's not true, but I challenge anyone to say it is not a goal worth working for."
Let us always remember those words of Thurgood Marshall as we too are called to a goal of bending the arc of our universe toward racial justice, if only a little, and bring the Kingdom of God just a tad closer to THIS present reality.
Amen.
By Rev. Dr. Yolanda Pierce
(Thanks to Natalie Devine for making us aware of this litany)
Let us not rush to the language of healing, before understanding the fullness of the injury and the depth of the wound.
Let us not rush to offer a band-aid, when the gaping wound requires surgery and complete reconstruction.
Let us not offer false equivalencies, thereby diminishing the particular pain being felt in a particular circumstance in a particular historical moment.
Let us not speak of reconciliation without speaking of reparations and restoration, or how we can repair the breach and how we can restore the loss.
Let us not rush past the loss of this mother's child, this father's child…someone's beloved son.
Let us not value property over people; let us not protect material objects while human lives hang in the balance.
Let us not value a false peace over a righteous justice.
Let us not be afraid to sit with the ugliness, the messiness, and the pain that is life in community together.
Let us not offer clichés to the grieving, those whose hearts are being torn asunder.
Instead…
Let us mourn black and brown men and women, those killed extrajudicially every 28 hours.
Let us lament the loss of a man, dead at the hands of a police officer who described him as a demon.
Let us weep at a criminal justice system, which is neither blind nor just.
Let us call for the mourning men and the wailing women, those willing to rend their garments of privilege and ease, and sit in the ashes of this nation's original sin.
Let us be silent when we don't know what to say.
Let us be humble and listen to the pain, rage, and grief pouring from the lips of our neighbors and friends.
Let us decrease, so that our brothers and sisters who live on the underside of history may increase.
Let us pray with our eyes open and our feet firmly planted on the ground
Let us listen to the shattering glass and let us smell the purifying fires, for it is the language of the unheard.
God, in your mercy…
Show me my own complicity in injustice.
Convict me for my indifference.
Forgive me when I have remained silent.
Equip me with a zeal for righteousness.
Never let me grow accustomed or acclimated to unrighteousness.
Originally posted on Kinetics Live, November 28, 2014.

Read, listen, or view this sermon using the links below:
Read, listen, or view this sermon using the links below:
Siblings in Christ: God commands us through Jesus Christ to love one another. In baptism, we promise to seek and serve Christ in all persons, loving our neighbors as ourselves and to strive for justice and peace, and respect the dignity of every human being. Let us now honor those vows and pray for our nation in this season of crisis of pandemic and racial oppression, for wise and just leaders, and for the needs of others throughout our country and the world.
We pray for your guidance on all peacemakers, on leaders who value peace, and on everyone who promotes nonviolent solutions to conflict. We pray for a speedy end to all violence and conflict around the world.
God of peace and gentleness,
Hear our prayer.
We pray for the strength of heart and mind to look beyond ourselves and address the needs of our siblings throughout the world; for the rural and urban poor; for the rebuilding of
our communities; and for an end to the cycles of violence that threaten our future.
God of generosity and compassion,
Hear our prayer.
We pray for all nations, that they may live in unity, peace, and concord; and that all people may know justice and enjoy the perfect freedom that only God can give.
God of liberty and freedom,
Hear our prayer.
We pray that the Holy Spirit may embrace the most vulnerable members of our society; we pray also for an end to the growing disparity between the rich and poor; and for the grace and courage to strive for economic justice.
God of all gifts and blessings,
Hear our prayer.
We pray for an end to prejudice throughout our country and the world; that we will respect all people as precious children of God; and that racism, sexism, and all other forms of discrimination will be forever banished from our hearts, our society, and our laws.
God of fellowship and equality,
Hear our prayer.
We pray for a reverence of creation; that we will have the tools and the will to conserve it; that we will use its bountiful resources in the service of others; and that we will become better stewards of all that has been entrusted to us.
God of nature and the universe,
Hear our prayer.
We pray for all immigrants, refugees, and pilgrims from around the world, that they may be welcomed in our midst and be treated with fairness, dignity, and respect.
God of outcasts and wanderers,
Hear our prayer.
We pray for the sick, especially in this COVID-19 pandemic, for all you are suffering, the aged and the infirm; for those with physical or mental disabilities; that all may have access to proper health care; and that God's loving embrace may be felt by all who suffer.
God of comfort and healing,
Hear our prayer.
We pray for all prisoners and captives; that a spirit of forgiveness may replace vengeance and retribution; and that we, with all the destitute, lonely, and oppressed, may be restored to the fullness of God's grace.
God of absolution and mercy,
Hear our prayer.
We pray for all children and families, and particularly for the orphaned, neglected, abused, and those who live in fear of violence or disease; that they may be relieved and protected.
God of children and families,
Hear our prayer.
We pray for the reconciliation of all people, and for the Church throughout the world, that it may be an instrument of your healing love.
God of outreach and restoration,
Hear our prayer.
We pray for all who have died as a result of violence, war, disease or famine, especially those who died because of human blindness, neglect, or hardness of heart.
God of eternal life and resurrecting love,
Hear our prayer.
Almighty God, you have promised to hear what we ask in the name of your Son. Watch over our world now and in the days ahead, guide our leaders and all leaders, guide them in all knowledge and truth and make your ways known among all people. In the passion of protest and reform, give us all open and receptive spirits; in the complexities of the issues we face, give us courageous hearts. Accept and fulfill our petitions, we pray, not as we ask in our ignorance, nor as we deserve in our sinfulness, but as you know and love us in your Son Jesus Christ.
AMEN.
Adapted from the Episcopal Litany for Social Justice (https://episcopalchurch.org/library/article/episcopal- litany-social-justice) 
Liturgist's Notes: If this vigil is to be offered via Zoom or a similar online platform, rather than in person, the instructions to sit, stand, and so forth, which are in brackets, may be ignored, and each person may remain seated in front of his or her camera for the duration of the service. However, it is still preferable to have lay people as readers and a deacon to read the Gospel and lead the prayers if possible, rather than the officiant filling every role.
If the service is to be held in person, it may be held either indoors or outdoors, weather permitting. In either case, care should be taken to ensure that any open flames are used safely and extinguished fully.
Because this intentionally pared-down liturgy makes no provision for a sermon, a Eucharist, or any music, it is ready to use as-is. This Google document may be downloaded and shared with participants via email, or you may simply share the link that will bring them directly here.
I hope you find it to be a helpful resource as you shepherd your flocks through this difficult time. Know that I am praying for each and every one of you.
---
[All stand as they are able.] The officiant begins:
Dear People of God,
In the days following an unprecedented armed insurrection at our nation's Capitol Building, many voices spoke of the need for unity and peace. Unity and peace are fine goals, but those words must not be weaponized. Unity is not about being agreeable and getting over it; peace is not a synonym for silence. Yes, unity is important, but it comes with a cost of admission. That cost is fearless truth-telling, sincere repentance, and commitment to a new way forward.
Likewise, the peace of God which passes understanding is not a peace which demands that we brush aside our outrage, sugar-coat our anger, dismiss our grief, and simply move on, relinquishing our right to cry out for justice. It is a peace which calls those who would take up arms to lay down their swords and shields, their guns and their tear gas, and study war no more.
Others have been quick to proclaim in the wake of these horrific events, "This is not who we are." Such sentiments may seem comforting, but they are not truthful, and without truth, there can be no peace. If we are to be a people seeking after peace, a people seeking after righteousness, a people seeking after God, then we must be willing to say, "This is not who You have made us to be, but it is who we have become. Have mercy on us, Lord, and forgive us."
My sisters and brothers, in that spirit of humility, repentance, and truth, let us pray.
A brief silence may be kept.
Almighty and merciful God, whose only-begotten Son came to preach peace to the nations: Hear us, we beseech you, and comfort us with Your steady Hand, as we come before You in the wake of unspeakable violence. In a world that seems hopeless, help us to remember that our hope rests always in you, and in the resurrection of your Son our Lord Jesus Christ, who lives and reigns with you and the Holy Spirit, one God, forever and ever. Amen.
[The people may be seated.] The following readings are read by a lector (or more than one lector, if it is the parish's custom to have each reading done by a different lector) and the Psalm is to be read either in unison or responsively by half-verse, followed by the Gloria Patri in unison.
A Reading from the Prophet Ezekiel:
I will sprinkle clean water upon you, and you shall be clean from all your uncleannesses, and from all your idols I will cleanse you. A new heart I will give you, and a new spirit I will put within you; and I will remove from your body the heart of stone and give you a heart of flesh. I will put my spirit within you, and make you follow my statutes and be careful to observe my ordinances. Then you shall live in the land that I gave to your ancestors; and you shall be my people, and I will be your God. I will save you from all your uncleannesses, and I will summon the grain and make it abundant and lay no famine upon you. I will make the fruit of the tree and the produce of the field abundant, so that you may never again suffer the disgrace of famine among the nations. Then you shall remember your evil ways, and your dealings that were not good; and you shall loathe yourselves for your iniquities and your abominable deeds. It is not for your sake that I will act, says the Lord God; let that be known to you. Be ashamed and dismayed for your ways, O house of Israel.
The Word of the Lord.
Thanks be to God.
The reading of Psalm 130 is then announced, either to be read in unison or responsively by half-verse.
Out of the depths have I called to you, O LORD;
LORD, hear my voice; *
let your ears consider well the voice of my supplication.
If you, LORD, were to note what is done amiss, *
O LORD, who could stand?
For there is forgiveness with you; *
therefore you shall be feared.
I wait for the LORD; my soul waits for him; *
in his word is my hope.
My soul waits for the LORD,
more than watchmen for the morning, *
more than watchmen for the morning.
O Israel, wait for the LORD, *
for with the LORD there is mercy;
With him there is plenteous redemption, *
and he shall redeem Israel from all their sins.
Glory to the Father and to the Son and to the Holy Spirit:
As it was in the beginning, is now, and will be forever; Amen.
A Reading from the First Epistle of St. John
This is the message we have heard from him and proclaim to you, that God is light and in him there is no darkness at all. If we say that we have fellowship with him while we are walking in darkness, we lie and do not do what is true; but if we walk in the light as he himself is in the light, we have fellowship with one another, and the blood of Jesus his Son cleanses us from all sin. If we say that we have no sin, we deceive ourselves, and the truth is not in us. If we confess our sins, he who is faithful and just will forgive us our sins and cleanse us from all unrighteousness. If we say that we have not sinned, we make him a liar, and his word is not in us.
The Word of the Lord.
Thanks be to God.
A Reading from the Gospel according to St. Luke
But I say to you who listen: Love your enemies, do good to those who hate you, bless those who curse you, pray for those who abuse you. If anyone strikes you on the cheek, offer the other also; and from anyone who takes away your coat do not withhold even your shirt. Give to everyone who begs from you; and if anyone takes away your goods, do not ask for them again. Do to others as you would have them do to you.
If you love those who love you, what credit is that to you? For even sinners love those who love them. If you do good to those who do good to you, what credit is that to you? For even sinners do the same. If you lend to those from whom you hope to receive, what credit is that to you? Even sinners lend to sinners, to receive as much again. But love your enemies, do good, and lend, expecting nothing in return Your reward will be great, and you will be children of the Most High; for he is kind to the ungrateful and the wicked. Be merciful, just as your Father is merciful.
The Word of the Lord.
Thanks be to God.
Silence is kept for a moment. The officiant then [stands and] says:
Recalling our shared identity as God's people, let us stand and renew the Baptismal Covenant by which we once renounced Satan and all his works and promised to serve God faithfully in His holy Catholic Church.
[All stand as able.]
Do you reaffirm your renunciation of evil and renew your commitment to Jesus Christ?
I do.
Do you believe in God the Father?
I believe in God, the Father almighty, creator of heaven and earth.
Do you believe in Jesus Christ, the Son of God?
I believe in Jesus Christ, his only Son, our Lord.
He was conceived by the power of the Holy Spirit
and born of the Virgin Mary.
He suffered under Pontius Pilate,
was crucified, died, and was buried.
He descended to the dead.
On the third day he rose again.
He ascended into heaven,
and is seated at the right hand of the Father.
He will come again to judge the living and the dead.
Do you believe in the Holy Spirit?
I believe in the Holy Spirit,
the holy catholic Church,
the communion of saints,
the forgiveness of sins,
the resurrection of the body,
and the life everlasting.
Will you continue in the apostles' teaching and fellowship, in the breaking of bread, and in the prayers?
I will, with God's help.
Will you persevere in resisting evil, and whenever you fall into sin, repent and return to the Lord?
I will, with God's help.
Will you proclaim by word and example the Good News of God in Christ?
I will, with God's help.
Will you seek and serve Christ in all persons, loving your neighbor as yourself?
I will, with God's help.
Will you strive for justice and peace on the earth, and respect the dignity of every human being?
I will, with God's help.
May Almighty God, the Father of our Lord Jesus Christ, who has given us a new birth by water and the Holy Spirit, and bestowed upon us the forgiveness of sins, keep us in eternal life by His grace, in Christ Jesus our Lord. Amen.
The following prayers are led by a deacon, or, if one is not available, a layperson. If desired, a deacon or lay intercessor may lead the responsorial prayers, and then each collect may be read by a different assigned layperson. Alternately, the collects may all be read by the same person, whether the deacon/intercessor or someone else. At the culmination of the prayers, the Prayer attributed to St. Francis is said by all in unison.
[The people stand or kneel.]
Let us pray for the soul of our nation, and for peace on the earth.
God the Father, you gave the Law that Your people might live in peace,
Have mercy upon us.
God the Son, you suffered violence for the sake of the world,
Have mercy upon us.
God the Holy Spirit, you bind us together in a community of love,
Have mercy upon us.
Holy Trinity, One God, you model for us the perfect and holy relationship to which we aspire.
Have mercy upon us.
For Donald, our President,
Michael, our Vice President,
Joseph, our President-Elect,
and Kamala, our Vice President-Elect,
for all members of the Senate and the House of Representatives
and of the state legislatures,
that they may have wisdom and grace during this time of great turmoil,
and that they may be kept safe from violence, we pray.
Lord, hear our prayer.
For those charged with defending the Capitol Building in Washington, DC, and the Capitol Buildings of every State and Commonwealth, that no harm may come to them or to those whom they have sworn to protect, we pray.
Lord, hear our prayer.
For the persons responsible, whether directly or complicitly, for the insurrection, that they may sincerely repent and truly amend their lives, we pray.
Lord, hear our prayer.
For the removal of all hatred, ill will, bitterness, and violence in our own hearts, we pray.
Lord, hear our prayer.
For our country, that its deep rifts of fear and prejudice may be healed, we pray.
Lord, hear our prayer.
For those who are distressed, grieving, angry, afraid, or brokenhearted, that the yoke of Christ may make their burdens light, we pray.
Lord, hear our prayer.
For all who have died, that their souls may find peace with the Saints in light, we pray.
Lord, hear our prayer.
For the petitions and intentions which we now offer, either silently or aloud, we pray.
Silence is kept for a moment to allow for such intentions to be offered.
Lord, hear our prayer.
Lord God Almighty, you have made all the peoples of the earth for your glory, to serve you in freedom and in peace: Give to the people of our country a zeal for justice and the strength of forbearance, that we may use our liberty in accordance with your gracious will; through Jesus Christ our Lord, who lives and reigns with you and the Holy Spirit, one God, for ever and ever.
Amen.
Almighty God, kindle, we pray, in every heart the true love of peace, and guide with your wisdom those who take counsel for the nations of the earth, that in tranquility your dominion may increase until the earth is filled with the knowledge of your love; through Jesus Christ our Lord, who lives and reigns with you, in the unity of the Holy Spirit, one God, now and for ever.
Amen.
Almighty God, who created us in your image: Grant us grace fearlessly to contend against evil and to make no peace with oppression; and, that we may reverently use our freedom, help us to employ it in the maintenance of justice in our communities and among the nations, to the glory of your holy Name; through Jesus Christ our Lord, who lives and reigns with you and the Holy Spirit, one God, now and for ever.
Amen.
O God, the fountain of wisdom, whose will is good and gracious, and whose law is truth: We beseech you so to guide and bless our Senators and Representatives in Congress
assembled (or in the Legislature of this State, or Commonwealth), that they may enact such laws as shall please you, to the glory of your Name and the welfare of this people; through Jesus Christ our Lord.
Amen.
O God, you made us in your own image and redeemed us through Jesus your Son: Look with compassion on the whole human family; take away the arrogance and hatred which infect our hearts; break down the walls that separate us; unite us in bonds of love; and work through our struggle and confusion to accomplish your purposes on earth; that, in your good time, all nations and races may serve you in harmony around your heavenly throne; through Jesus Christ our Lord.
Amen.
Let us say together the Prayer of St. Francis of Assisi.
O Lord, make us instruments of your peace.
Where there is hatred, let us sow love;
where there is injury, pardon;
where there is doubt, faith;
where there is despair, hope;
where there is darkness, light;
and where there is sadness, joy.
O Divine Master, grant that we may not so much seek
to be consoled as to console;
to be understood as to understand;
to be loved as to love.
For it is in giving that we receive;
it is in pardoning that we are pardoned;
and it is in dying that we are born to eternal life.
Amen.
Silence is kept for the space of a few minutes.
When ready, the officiant shall [stand and] bless the people. If a deacon or layperson is officiating, substitute "us" and "our" for "you" and "yours."
Life is short, and we do not have much time to gladden the hearts of those who walk this way with us. Be swift to love, make haste to be kind, and the blessing of God Almighty, the Father, the Son, and the Holy Spirit, be upon you and remain with you always.
Amen.
Those who wish to do so may remain in silent prayer for as long as they would like. When ready, the officiant and other vested ministers exit the worship space in silence after candles are quietly extinguished.
Liturgist: Anna Katherine Lenaghan
Read, listen, or view this sermon using the links below: