Members of EPF in Dallas, Texas, gather every month to write to elected officials concerning vital issues of the day. EPF National was able to drop in to work with them, virtually, on Sunday, October 10. Special thanks to Ron Damholt, convener of both the Chapter and the Peace Post, for pulling this information together. This effort is easy to replicate!
Below you'll find several paragraphs describing each of three topics about which you might choose to write this weekend.  The first two relate to specific, proposed legislation named in the paragraphs: human trafficking in the United States, and conditions faced by Palestinian children under Israeli occupation.   Concerns about these issues should be addressed to your members of Congress. The third, the increasing use of drones in warfare, relates directly to policies of the Administration, making President Biden the appropriate recipient of letters and/or emails.
Also below is a list of officials' physical addresses (along with electronic addresses when I could find them).  (I've also sneaked in a fourth writing suggestion in a P.S., below.)   And whether or not you join us on Sunday, I wish you good, concise writing, in our common effort to "strive for justice and peace among all people."
Ron Damholt

Human Trafficking
Human traffickers deny nearly 25 million people their fundamental right to freedom. The State Department reports that trafficking victims are regularly exploited for sex, labor, criminal activity, and forced marriages. . . In the U.S. in 2019 alone, the National Human Trafficking Hotline received 11,500 human trafficking reports and identified 22,326 victims and survivors. Furthermore, the State Department estimates that 14,500 to 17,500 foreign nationals are trafficked into the United States each year.
A recent United Nations report found that for every 10 trafficked individuals identified, seven are female, and about a third are children. In low-income countries, children account for half of trafficking survivors. The State Department notes that the pandemic has exacerbated marginalized communities' vulnerability to exploitation by traffickers - highlighting systemic racial and generational inequality in the United States and the world at large.
That's why we strongly support H.R. 5150, the Frederick Douglass Trafficking Victims Prevention and Protection Reauthorization Act of 2021. [This act] undergirds all federal efforts to prosecute and address human trafficking. The TVPA has been reauthorized five times in the last twenty years. Vital programs authorized through the TVPA will expire soon; now is the time to push Congress to reauthorize this critical bipartisan legislation.
As Episcopalians, we believe all victims of human trafficking must be protected and support legislation that uplifts these vulnerable children of God.
- excerpted from the online site of the Episcopal Public Policy Network
[And if you're interested in supporting some of those working with survivors of human trafficking in Texas, Yulise Waters recommends a gift to the Lone Star Justice Alliance, with whom she works. <lonestarjusticealliance.com>]
Palestinian Children Detained under Israeli Occupation
Israel's new government is in place and the Prime Minister, Neftali Bennett, visited President Biden in the White House late last month, attempting to reset Israeli-US relations. Bennett has voiced his opposition to the creation of a Palestinian state and his support for settlement expansion in the West Bank, both of which are in contradiction of international laws and conventions, and conflict with Biden's own approach.
Even so, Biden asserted the "unshakable" nature of the US-Israel relationship, and pledged that the "US will always be there for Israel." As Bennett and Biden seek to establish an amicable rapport, [neither leader seems] intent on engaging the core issues.
With next year's federal budget due, it is an opportune time to consider allocations to advance foreign policy priorities. President Biden has made clear that human rights, equality, and democracy are, for him, guiding principles in US foreign policy, and he has demonstrated some willingness to do so, holding up arms sales to Saudi Arabia and the United Arab Emirates over their involvement in the Yemen civil war. It is time to hold Israel accountable to human rights standards and adopt legislation that addresses Israeli violations as well.
In May, Rep Betty McCollum introduced HR 2590, the "Defending the Human Rights of Palestinian Children and Families Living Under Israeli Military Occupation." [This resolution] would prohibit Israeli use of US aid to detain, abuse, or ill-treat Palestinian children in Israeli detention; to seize or destroy Palestinian homes and property; and to annex Palestinian land and territory, all of which violate international humanitarian law. To date, the resolution has 29 co-sponsors in the House of Representatives.
In the first week of school in Bethlehem, four Palestinian youth were arrested in a night raid. Information was withheld about those detentions - in violation of Article 9 of the UN Convention on the Rights of the Child, to which Israel and the US are both signatories. Already in September, Israel has continued to demolish at least three Palestinian homes and properties in Silwan and in the Bethlehem area. And PM Bennett's intention to continue settlement expansion is the kind of de facto annexation of Palestinian land that Israel has undertaken for decades.
Israel must be held accountable for these human rights violations. And, the US has the leverage to do so given the Administration's stated commitment to human rights, existing US foreign assistance laws, and the aid that the US sends to Israel. Urge your Congressional representative to support H. R. 2590 to prevent using your taxes to support violations of international human rights law.
- excerpted from the online site of the Presbyterian Office of Public Witness
The Widespread Use of Drones, and their Indiscriminate Victims
Drones have a certain logical appeal. They allow for the long-term monitoring and precise targeting of enemy threats, while making war safer for both civilians and the drone's soldier-operators. Unfortunately, much of this "progress" in fighting via drones remains unrealized.
The very first U.S. drone strike in Afghanistan just weeks after 9/11 missed its intended target. And the record hasn't improved much since. The Bureau of Investigative Journalism analyzed more than 14,000 drone strikes from 2010-2020. They found hundreds of children killed in these strikes and perhaps as many as 2,200 civilians (the U.S. government's data on strikes often leaves people unidentified and sometimes attempts to redefine who counts as a civilian to downplay the number).
"Drone strikes have been sold to the American public on the claim that they're 'precise.' But they are only as precise as the intelligence that feeds them," Jennifer Gibson of Reprieve, an organization in the United Kingdom working to expose human rights abuses, told The Guardian in 2014 as the Obama administration utilized drone warfare. "There is nothing precise about intelligence that results in the deaths of 28 unknown people, including women and children, for every 'bad guy' the US goes after."
Reporting by The Intercept found that during a five-month period, "nearly 90 percent of the people killed in airstrikes were not the intended targets." The numerous civilian deaths led Amnesty International to denounce the U.S.'s drone strikes for having "resulted in unlawful killings that may constitute extrajudicial executions or war crimes."
Additionally, highlighting the PTSD and other health issues facing drone pilots, the New York Times referenced a study conducted by the U.S. Air Force detailing how drone operators are exposed to more "graphic violence," "destroyed homes," and "dead bodies" than deployed Special Forces units. The work of other journalists and scholars offer similar warnings.
Such psychological struggles are not surprising to Alan Ogle, an Air Force psychologist who told NPR's Sarah McCammon back in 2017: "[Drone operators] are going literally from combat to cul-de-sac in a short drive. Ten minutes, 15 minutes, [they] drive home. They've gone from being eyes, head in the fight, and making critical life and death decisions, to then being involved in all the normal ... responsibilities that we have, where they're a spouse, they're a parent."
As Vivek Wadhwa and Alex Salkever wrote in Foreign Policy, "The burgeoning availability and rapidly expanding capabilities of drones pose urgent challenges to all of humanity. First, unless we agree to halt their development and distribution, autonomous killer drones . . . will soon be affordable and operable by anyone — from rogue states all the way down to minor criminal gangs and individual psychopaths. Second, swarms of killer drones may, through sheer numbers, render irrelevant the defenses against terrorist threats deployed by technologically advanced nations."
We suspect most American Christians are largely unaware of these developments. The world is growing scarier, humans are assuming more power, the ability to take the life of another is getting easier, and few are talking about the moral conundrums. The distractions of our lives allow us to ignore these alarming developments as technology outpaces ethical debates.
- excerpted from Bryan Kaylor and Beau Underwood, "As War Drones On,", published online by A Public Witness
P.S. In the unlikely case that you need a fourth topic, you might consider urging both Congress and the Biden Administration to provide significant money in our 2022 budget to help provide vaccines to the world outside of our borders. For example, according to the BBC, only 4.4% of Africans have been fully vaccinated, and very few of their countries have the resources needed for widespread vaccination campaigns.
Below you'll find contact information, both physical addresses and (when available) email or web-based addresses, for selected government officials.  Letters, postcards, phone calls and other personal communications are widely considered more effective in reaching and influencing politicians than adding ones name to a large-group email – though when time's short, I too sometimes do the latter.
Federal Officials:
President of the United States President's comment line: 202.456.1111
President Joe Biden Web contact: whitehouse.gov
The White House
1600 Pennsylvania Avenue
Washington, DC 20500
Texas's two U.S. Senators:
The Honorable Senator John Cornyn Washington, DC office: 202.224.2934
517 Hart Senate Office Building Web contact: www.cornyn.senate.gov/contact
Washington, DC 20510
The Honorable Senator Ted Cruz Washington, DC office: 202.224.5922
404 Russell Senate Office Building Web contact: www.cruz.senate.gov
Washington, DC 20510
Representative from the 32nd congressional district, covering northeast Dallas:
The Honorable Colin Allred Washington, DC office: 202.224.2231
328 Cannon House Office Building Web contact: allred.house.gov
Washington, DC 20515
U.S. Secretary of State:
The Honorable Anthony Blinken Washington, DC office: 202.647.6575
2201 C St NW Web contact: register.state.gov
Washington, DC 20520
Administrator of the Environmental Protection Agency
The Honorable Michael S. Regan Washington, DC office: 202.564-4700
Environmental Protection Agency Email: Regan.Michael@epa.gov
1200 Pennsylvania Avenue, NW
Washington, DC 20460
Secretary of Defense
The Lloyd J. Austin III Web contact: www.defense.gov/contact/
1400 Defense
Pentagon
Washington, DC 20301
Acting Director of the US Customs and Immigration Services Agency
The Honorable Tracy Renaud
Acting Director, USCIS
5900 Capital Gateway Drive #2040
Camp Springs, MD 20746
Secretary of Homeland Security
The Honorable Alejandro Mayorkas Comment Line: 202.282.8495
Secretary of Homeland Security
Washington, DC 20528
State of Texas Officials:
Governor:
The Honorable Greg Abbott Comment Line: 512.463.1782
P.O. Box 12887 Web contact: gov.texas.gov
Austin TX 78711
Lieutenant Governor:
The Honorable Dan Patrick Office: 512.463.5342
P.O. Box 12068 Web contact: ltgov.state.tx.us
Austin, TX 78711
Representative for House District 102:
Representative Ana-Marie Ramos Office: 512.463.0454
P.O. Box 2910, Capitol Station
Austin, TX 78768
Senator for Senate District 16:
Senator Nathan Johnson Office: 512.463.0116
P.O. Box 12068, Capitol Station
Austin, TX 78711
City of Dallas Officials:
Mayor Eric Johnson, City Manager T.C. Broadnax & your local Council member receive mail at:
Dallas City Hall
1500 Marilla Street
Dallas, TX 75201
Note: The two websites USA.gov and advocacy.episcopalchurch.org both work well when searching contact information for elected officials at all levels. Please email rdamholt@att.net with corrections and/or suggested additions!
What do the following compelling titles have in common? We'll be reading and discussing them starting this fall as we launch the Episcopal Peace Fellowship Peacebuilder's Book Club. Join us: learn and connect with other justice-minded disciples as we explore living into non-violence and peace.
Third Saturday each month at 3:00 pm Eastern.
Email epfactnow@gmail.com for the Zoom link.
(Note: this is not the same as our Peacebuilding Online Series!
This is a separate, more informal time for sharing our own wisdom and insight.)
The Schedule:
Rosalind Hughes, Whom Shall I Fear? (led by the author on September 18, 2021)
Martha Nussbaum, The New Religious Intolerance (led by Dan Edwards on October 16, 2021)
Scott Bader-Saye, Following Jesus In A Culture Of Fear (led by Lyndon Shakespeare on November 20, 2021)
Howard Thurman, Jesus & the Disinherited (led by Bob Lotz in December, 2021)
Isabel Wilkerson, Caste (led by Harry Gunkel in January, 2022)
Arthur C. Brooks, Love Your Enemies (led by Bryan Hinson in February, 2022)
Valarie Kaur, See No Stranger (led by Mike Wallens in March, 2022)
Amanda Henderson, Holy Chaos (led by the author in April, 2022)
Nelson Mandela, Long Walk To Freedom (led by Rob Burgess in May, 2022)
Lisa Schirch, The Little Book of Strategic Peacebuilding (led by Randy Heyn-Lamb in July, 2022)
Resmaa Menakhem, My Grandmother's Hands (led by Shannon MacVean-Brown)
Walter Wink, Jesus & Nonviolence: A Third Way (led by Janet Chisholm)
Krister Stendahl, The Roots of Violence
Michael Nagler, The Third Harmony: Non-Violence and the New Story of Human Nature (led by Chris Sabas)
Patricia Raybon, My First White Friend
Mohandas Gandhi, Pathways to Nonviolent Resistance
John Dear, The Nonviolent Life (led by Cody Maynus)
John Lederach, The Moral Imagination (led by Richard Wineland)
Michael Battle, Reconciliation: The Ubuntu Theology Of Desmund Tutu (led by Kathy McGregor)
Joyce Penfield, Before you Die, Plant a Tree (led by the author)
Vandana Shiva, One Earth, One Humanity Vs The 1%
Arlie Russell Hochschild, Strangers In Their Own Land (Christy Close Erskine)
Coline Covington, For Goodness Sake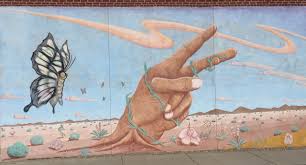 EPF's series of free, one-hour online presentations kicks off on August 1 at 4:00 pm Eastern with the Rev. Rosalind Hughes, priest in the Diocese of Ohio and author of "Whom Shall I Fear?" Register HERE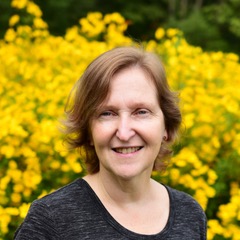 BEING THE CHURCH IN A FEARFUL TIME
Panic buttons, locked doors, security teams in the aisles. If we can't feel safe in Church, what does that say about our community? There may be more to the fear/violence connection than first meets the eye.The Rev. Rosalind C. Hughes, author of Whom Shall I Fear? will lead us in considering lessons from Scripture and experience as we reflect together on the fears that shape our lives today.
Rev. Hughes was naturalized as a US citizen and ordained an Episcopal priest on either shoulder of a busy weekend in January 2012. Both vocations have called upon her to work for peace, and particularly for an end to gun violence. Her latest book, Whom Shall I Fear? Urgent Questions for Christians in an Age of Violence, examines how the landscape of violence and fear affects our ability to proclaim the gospel of love and grounds itself in scripture to look for paths toward peace within and beyond the congregation.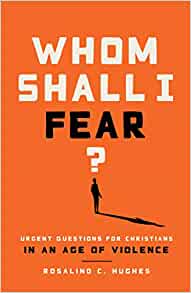 Whom Shall I Fear? Urgent Questions for Christians in an Age of Violence is designed to help church leaders open and guide gospel-based conversations in a fear-infested world. It assumes that, with God's help, we can do better than to accept the landscape of violence that surrounds us and build up barriers to protect ourselves. It takes seriously the advice of Paul: "Do not be conformed to this world, but be transformed by the renewing of your minds, so that you may discern what is the will of God – what is good and acceptable and perfect" (Romans 12:2).
In this presentation, Rosalind Hughes addresses the fear that would divide us and the Gospel that would unite us, and suggests a Bible-based approach to raising difficult and anxious topics in congregational-type settings to promote courageous conversation and build confidence in the possibilities of peacemaking in an unpeaceful world.

"No passion so effectually robs the mind of all its powers of acting and reasoning as fear." -- Edmund Burke
"There is no passion more contagious than fear . . . or doth furiously possess all parts of a (person)." --Michel de Mongaigne
"Ultimately, we have just one moral duty: to reclaim large areas of peace in ourselves, more and more peace, and to reflect it toward others. And the more peace there is in us, the more peace there will also be in our troubled world."
Richard Rohr

Please consider supporting EPF's Peacebuilding Online Project. Contribute HERE today!
Special thanks to our friends in the Service and Justice Coalition of the Diocese of San Diego for compiling this list!

Prayer services and other faith-related resources
Creation Justice Ministries 2021 Earth Day Resources
http://www.creationjustice.org/earth-day-sunday.html
Creation Justice Ministries 2020 and prior Earth Day Resources
http://www.creationjustice.org/educational-resources.html
Interfaith Coalition on Earth Justice Interfaith Zoom Service - Love Letters to Earth, 4/22/21 from 6:30 - 7:45pm To register: https://sandiego350.org/blog/event/civi_event_1193/?instance_id=4554
Includes free viewing of Kiss the Ground, and webinar with the film director.
St Paul's Cathedral April 22 Earth Day Communion in the Courtyard, 6 - 7 pm. Contact carolynglief@gmail.com to register and sign up for reading (if you desire)
Activities
Earth Day cleanups https://cleanup.earthday.org/
And you can always take a hike! https://www.sdnhm.org/education/canyoneer-hikes/
And after your hike, read about our amazing Earth via your local library or Earth Day with San Diego County Library! https://sdcl.overdrive.com/collection/1087422
And late this year: EarthFair 2021 in Balboa Park on Sunday 9/19/21 (sign up to volunteer) http://earthdayweb.org/

Other Green Faith Organizations
Green The Church - GTC is an initiative designed to tap into the power and purpose in the Black Church and will work to develop practical solutions for environmental issues.
https://www.greenthechurch.org/


Glance at the sun. See the moon and the stars. Gaze at the beauty of earth's greening. 
Now, Think. 
-Hildegard of Bingen
If you attended our Annual Member Meeting back in January and are hungry for more connection between your Peace Partner Parish or Chapter and EPF National, Friday is your chance! If you missed that call, and want a chance to share with EPF National how we can help you advance your social justice ministries, plan to join us! If you are new to EPF and wonder about a membership for your parish or community, read this.
Friday will be our first ever Zoom monthly chapter and peace partner parish support forum.  The Executive Director and both our outgoing National Chair, Bob Davidson, and our incoming National Chair, Dan Edwards, will be present to listen to you, and to share how EPF can help. Since this is our first meeting, we will poll all those assembled to find a standing date and time for a monthly session.   Each monthly agenda will vary by the needs of those present and the social justice issue which is being highlighted for action.  Designed to be mostly a listening and sharing session, we will be keen to hear what our members, chapters and peace partner parishes are working on and on which they need support from EPF National.  As well, we will highlight any EPF-wide initiatives in which our members might wish to participate.  Thank you, Kathy McGregor, for having this wonderful idea for us to be able to share our resources and work. Questions? Contact Melanie Atha at epfactnow@gmail.com with any questions or to get the link to the Zoom call. We hope to see you there!
This month, our monthly chapter and peace partner parish support forums begin.   The Executive Director and one or more of our action group conveners, committee chairs or National Executive Council (NEC) members will have "office hours" where members can join us via Zoom.   Our first meeting will be on Friday, February 26 at 2:00 pm Eastern, at which time we will poll all those assembled to find a standing date and time for a monthly session.   Each monthly agenda will vary by the needs of those assembled and the social justice issue which is being highlighted for action.  Designed to be mostly a listening and sharing session, we will be keen to hear what our chapters and peace partner parishes are working on and on which they need support from national.  As well, we will highlight any national initiatives in which our members might wish to participate.  Thank you, Kathy McGregor, for having this wonderful idea for us to be able to share our resources and work. Questions? Contact Melanie Atha at epfactnow@gmail.com
EPF Committees are comprised of volunteers who do the administrative work of EPF. These committees are led by members of the NEC but are open to all.
Communications: Establish a communications strategy for EPF; provide Executive Director (ED) content for website, social media, and Constant Contact communications; look at website for adequacy for our needs; manage social media platforms and "comments"; blogging; volunteer to help with virtual office details. (NEC leadership: Bruce Freeman, OH; Rob Burgess, MI; Cody Maynus, SD; Randy Heyn-Lamb, CA)  
Sustainability: Develop a multi-year diversified development plan and goals for EPF; help with fundraising, budgeting, determining long range financial needs and campaigns; help consider how EPF money should be managed; determine electronic banking needs and look at bank investments to determine suitability for managing EPF's money. (NEC leadership: Kathy McGregor, AR; Chris Sabas, MD) 
Membership:  Create the requirements and commitments for EPF membership for individuals; recruiting member initiatives; help look at donor and contact database management; chapter and peace partner recruiting. (NEC leadership: Rev. Christy Close Erskine, OR: Rev. Richard Wineland, TN)
Programming: Help with resources for missions of EPF (curriculum, materials, speakers' bureau, etc.) and pilgrimages (urban pilgrimages and special events); consult on management of EPF virtual store; help plan for 2022 General Convention, review and expand partnership with other peace organizations. (NEC leadership: Bob Lotz, MI; Rev. Mike Wallens, TX; Rt. Rev. Dan Edwards, CO)