"Pregnant women in the United States die by homicide more often than they die of pregnancy-related causes — and they're frequently killed by a partner, according to a study published last month in Obstetrics & Gynecology." [source here]
This sentence tells us plenty about the intersection of patriarchy and gun violence, and about overturning Roe and its effect on women. Murder, usually by intimate partner, usually by firearm, is the top cause for death in pregnant or post-partum women, NOT medical complications of pregnancy. Overturning Roe will lead to more unwanted pregnancies and more gun violence against women.
Women in abusive relationships are already in great danger from easy access to firearms, and all women (especially women of color, as well as queer and non-binary people) are targets for gender-based gun violence. The Supreme Court's ruling on Roe, especially coupled with its ruling against NY State's regulation of permits for concealed-carry, is a death sentence for women. And we don't simply mean death in attempted abortions, we mean homicide, usually by gun.
The Episcopal Peace Fellowship Gun Violence Prevention Action Group denounces the US Supreme Court and its rulings on Roe and Bruen (NY permits). We all know that they won't save children from death, disease, poverty and other forms of oppression after their birth – they only require women to bear children, whether they want to or not, whether they were raped or not, whether the pregnancy is the result of incest or not. Incest, by the way, is not a one-off event: it's a continuing crime of many instances, so it carries a higher risk of pregnancy, and on a younger group. This ruling is meant to enforce patriarchy, to control women, their sex lives and their bodies.
The Roe ruling, especially coupled with Bruen, is mean-spirited and the product of a society based on patriarchy and death. Perhaps not the death of a fetus, but the death of mothers and children, and of so many of God's children in a society that sacralizes firearms and holds the 2nd Amendment as its holy scripture. It is time for those of us who still have hope, who still have love, to denounce these powers that have shed any connection to the divine, and to recall them to God's purpose. A transformation of this society will require a resurrection, a rising from the ashes. We look forward to the path to reconciliation of all people to God and each other.
Vigil for Uvalde and Buffalo, June 2, 2022
Thanks to the Gettysburg Community, United Lutheran Seminary
Prelude "Melody" C. Gluck
Selected Hymns
Dale Elkiss, - violin; Cathy Elkiss - piano and organ
Welcome & Opening Prayer Rev. Dr. Martin Otto-Zimmann
* Hymn God of Mercy, You Have Shown Us
Text: Copyright © 2009 by Carolyn Winfrey Gillette. All rights reserved. Used by permission of the author.
Moment of Silence, Empty Chairs
"The Prayer of the Children" Kurt Bestor
Paul Freundel - soloist
Litany—Rev. Dr. Herbert Sprouse
Leader: We pray in remembrance of those impacted by gun violence, both those who have been injured and those who have been killed in cities and towns across our country, and close to home. We hold their memories dear. We treasure those lives permanently altered through injury or those taken in senseless acts of violence, and we pray that they might find rest and peace. May their lives continue to make a difference in our world.
Together we pray.
All: God of Mercy, heal our broken hearts.
Leader: We raise our prayers in remembrance of the families and friends of the victims of gun violence in our nation. Comfort those who mourn. Dry the tears of those who weep. Sustain those who feel diminished. Impart courage to the hearts of those who feel helpless.
Together we pray.
All: God of Peace, sustain our broken hearts.
Leader: We pray in remembrance of all communities torn apart by gun violence. We are too familiar with places like Uvalde, Buffalo, Parkland, Columbine, Aurora, Orlando, Newtown, Roseburg, Charleston and El Paso, but there are countless others. Each incident of violence affects all of us in our daily lives and work. Renew our resolve to pursue peace in our cities and towns and to respect the dignity of all human beings.
Together we pray.
All: God of Comfort, encourage our broken hearts.
Leader: We pray in remembrance of school teachers and administrators who put their students' needs ahead of their own safety. We pray for first responders who witness the horror of gun violence while in service to our communities, and we pray for all those with responsibility for law enforcement. We give thanks for their call to protect and serve and to seek justice, which is inspirational to others, and we pray that their emotional wounds will be healed.
Together we pray.
All: God of Courage, inspire our broken hearts.
Leader: We pray for those lives taken by gun violence through suicide, and through accidental shootings, especially when those shootings involve children. We pray for those who are impacted by gun violence through domestic violence during this time of pandemic. Console and strengthen those whose despair is great.
Together we pray.
All: God of Hope, comfort our broken hearts.
Leader: We pray in remembrance of all people impacted by gun violence, as gun violence knows no boundaries but can affect all nationalities, races, cultures, faiths, genders, and socioeconomic classes; it can affect us where we live, where we worship, where we work, where we study, and where we play.
Together we pray.
All: God of Love, transform our broken hearts.
Leader: We pray for those who have committed acts of gun violence and for their families. We remember those suffering from mental illness who have gone untreated, and those suffering from loneliness and isolation. We pray for those who use guns, power and violence rather than respect and dignity to reconcile differences. Grant us the strength to pursue justice with a voice of love.
Together we pray.
All: God of Forgiveness, enlighten our broken hearts.
Leader: We pray for all community leaders and elected officials. We pray especially for the young adult leaders of the gun violence prevention movement. Give them insight, wisdom, and courage to address the epidemic of gun violence. Pour forth your Spirit on all our neighborhoods and break the chains of violence that bind your people.
All: God of Power, strengthen our broken hearts.
Leader: We pray today for ourselves and for others in our lives who have been touched by gun violence.
During the silent pause, I invite you to offer the names (either silently or aloud) of those for whom you pray.
—————————-
Together we pray.
All: God of Astonishing Mercy, Compassion and Immeasurable Love, restore our broken hearts and enliven our confidence to find new ways to revive our world to become one of peace. Amen.
(Adapted from Moral Call: a Vermont Interfaith Prayer and Remembrance Vigil)
Sending Song "This America"
Following the vigil, those who wish may carry a sign to the intersection of Buford and Hay streets, either walking or by car.
Read, listen, or view this program using the links below: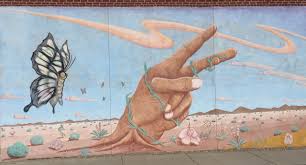 EPF's series of free, one-hour online presentations kicks off on August 1 at 4:00 pm Eastern with the Rev. Rosalind Hughes, priest in the Diocese of Ohio and author of "Whom Shall I Fear?" Register HERE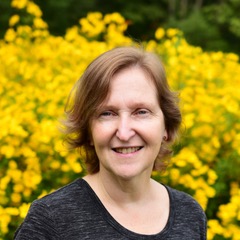 BEING THE CHURCH IN A FEARFUL TIME
Panic buttons, locked doors, security teams in the aisles. If we can't feel safe in Church, what does that say about our community? There may be more to the fear/violence connection than first meets the eye.The Rev. Rosalind C. Hughes, author of Whom Shall I Fear? will lead us in considering lessons from Scripture and experience as we reflect together on the fears that shape our lives today.
Rev. Hughes was naturalized as a US citizen and ordained an Episcopal priest on either shoulder of a busy weekend in January 2012. Both vocations have called upon her to work for peace, and particularly for an end to gun violence. Her latest book, Whom Shall I Fear? Urgent Questions for Christians in an Age of Violence, examines how the landscape of violence and fear affects our ability to proclaim the gospel of love and grounds itself in scripture to look for paths toward peace within and beyond the congregation.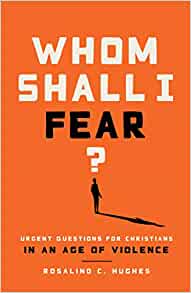 Whom Shall I Fear? Urgent Questions for Christians in an Age of Violence is designed to help church leaders open and guide gospel-based conversations in a fear-infested world. It assumes that, with God's help, we can do better than to accept the landscape of violence that surrounds us and build up barriers to protect ourselves. It takes seriously the advice of Paul: "Do not be conformed to this world, but be transformed by the renewing of your minds, so that you may discern what is the will of God – what is good and acceptable and perfect" (Romans 12:2).
In this presentation, Rosalind Hughes addresses the fear that would divide us and the Gospel that would unite us, and suggests a Bible-based approach to raising difficult and anxious topics in congregational-type settings to promote courageous conversation and build confidence in the possibilities of peacemaking in an unpeaceful world.

"No passion so effectually robs the mind of all its powers of acting and reasoning as fear." -- Edmund Burke
"There is no passion more contagious than fear . . . or doth furiously possess all parts of a (person)." --Michel de Mongaigne
"Ultimately, we have just one moral duty: to reclaim large areas of peace in ourselves, more and more peace, and to reflect it toward others. And the more peace there is in us, the more peace there will also be in our troubled world."
Richard Rohr

Please consider supporting EPF's Peacebuilding Online Project. Contribute HERE today!
Offered by Bob Lotz, Episcopal Peace Fellowship Gun Violence Prevention Action Group Convener and Secretary to the National Executive Committee

In April, 2019, I was with Episcopal Peace Fellowship in Denver to commemorate the 20th anniversary of the Columbine killings. At the events over that weekend, I heard from many advocates against gun violence, including the newly-elected Episcopal Bishop of Colorado, and Tom Mauser, whose son Daniel was a victim of the massacre. He still wears his son's sneakers when he advocates, so he is literally walking in Daniel's shoes. Another event featured a Lutheran minister who, after the murders, was asked by two members of his congregation to officiate a funeral for their son, who was one of the killers. He did, and for this he was dismissed from his pulpit. I was deeply moved by all of the testimony, and by the solemn memorial in the park behind the school.
Two months later, on Wear Orange Sabbath Weekend, I attended worship service in an Episcopal church near my home. I was one of only two people wearing orange, so at the passing of the peace I shook hands with the other man in an orange shirt and thanked him for wearing it. He asked me what I was talking about, and then yelled at me that he never would have worn that shirt if he had known -- he wanted nothing to do with "you gun grabbers!" He wouldn't bring his family to church if he couldn't carry his gun.
Even in the Episcopal Church one finds polar opposite views on how to address the epidemic of gun violence. This is what makes the Rev. Rosalind Hughes' new book, Whom Shall I Fear, so urgent. It is not prescriptive, but rather, as it is subtitled, offers "Urgent Questions for Christians in an Age of Violence." This is not a book to describe the best ways to keep safe from shooters in church, or to prevent such crises. With humanity and humility, Rev. Hughes describes the trauma she has witnessed and absorbed as a pastor, and challenges she and fellow clergy have faced. She takes us through scripture as well as current events and poses questions that help us to draw on our faith and to understand how the Gospel calls us.
Several Episcopal dioceses have adopted EPF's "No Guns In God's House" door signs, or produced their own. However, local churches around the country have often declined to post them, and have not had the difficult conversations they require. This book is a great study guide for churches wanting to face the issue openly, compassionately and with grace.
Join us on Sunday, August 1, 2021 at 4:00 pm for the first of our monthly Peacebuilding Online series. Video promotion, below.
The Dioceses of Eastern and Western Michigan, working together without a bishop diocesan between them, sent out a packet of resources for GVP sabbath, June 4-6. In the included sample sermon: "Rob Burgess of St. Augustine's, our litanist for this morning, is a member of the Episcopal Peace Fellowship through which the national Episcopal Gun Violence Prevention group is organized."
An American man has gone into a public place, this time a grocery store in Boulder, CO, and gunned down 10 people. This is not the first mass shooting of this young year. Nor is it the 10th. It is not even only the 100th, according to Gun Violence Archive. No one should be surprised that it has happened again.
We can say he is a lone wolf. In a hyper-individualized society of toxic masculinity and male entitlement, we raise all our boys to be lone wolves. In a society in which violence is normal and quotidian, in a society that tells us the only answer to a bad guy with a gun is further violence by a "good guy," we cannot pretend surprise. We live in a society that believes in violence, that in fact believes violence is redemptive. We see images of the Second Coming of Christ in which Jesus appears armed and warlike! Violence is the way our society maintains the order of things, from erasing indigenous cultures and peoples, maintaining the racial hierarchy, upholding the patriarchy: violence is normal and even necessary.
A man who was sworn to protect and serve the people of Minneapolis is now on trial for murder there. Fifty years ago this week, a constitutionally-sworn officer of the US Army led his platoon on a wanton rampage in My Lai, Vietnam. Fifty-six years ago this month, state police officers sworn to protect the people of Alabama attacked peaceful marchers on the Edmund Pettus Bridge. Across our history, are all these men – and so many, many others - so wildly abnormal? If so, why are incidents of gun violence so ordinary?
We need tighter restrictions on firearms, no doubt. But there are so many firearms already available, in our neighbors' hands, that we cannot simply rely on the passage and enforcement of new laws. Especially as many sworn law enforcement officers have said they will not uphold gun regulations.
The way forward is to create a new culture, a culture based on peace and solidarity. A transformation to create a world in which we can live on earth as it is in heaven. This is the task of the Church. That is why we must have a Christian voice in the movement against gun violence.
EPF is a part of this Christian voice, and we ask you to join with us. If you are interested in the Episcopal Peace Fellowship's initiatives on building peace in a violent world, please contact us.
Offered by Gun Violence Prevention Action Group Convener, Bob Lotz
The potential for political gun violence in the next days and perhaps weeks is palpable.
The EPF Gun Violence Prevention Group is usually witnessing, praying and advocating for an end to the violence that derives from the vast quantity of firearms sloshing around in this country, and for whatever sensible limits can be placed on the availability of these things.
Not this week, however. In the run-up to the election, we call on everyone to be prepared to oppose any attempt to stop the vote count or prematurely call the results. We may need to ask our congregations, friends and colleagues to speak and act to prevent armed militia groups from blocking access to the polis. We may need to pray and seek ways to prevent armed men from using their weapons to disrupt the nation and prevent a new President from taking office.
In Michigan last week, President Trump "joked" about a President-elect Biden being shot within 3 weeks To whom was he calling?
The police murder in Philadelphia this past weekend shows that law enforcement has learned nothing and changed not at all through this summer's protests against extrajudicial killings. We saw in Kenosha that the police were friendly to the armed right-wing men who came ready to kill, but violent toward the unarmed protesters. The Oath Keepers militia brags that their membership includes sworn law enforcement officers. We cannot rely on police to ensure a peaceful transition of power. We must pray now, and be prepared to witness, advocate and act in defense of democracy.
Our friends at Waging Nonviolence have prepared a plan, Seven Tactics to Stop a Coup. We offer it for your consideration. Another organization, which includes EPF participation, is organizing rallies for Nov. 4 to Protect the Results. Find an event near you.
Help us, O God, in the middle of our struggles for justice and peace, to confront without hatred or bitterness those who are intent upon violence. May we all see the vision of Your kingdom coming near, and cast aside our divisions. We pray this in the name and spirit of Jesus, who brought and still brings this vision among us.