Offered by Dana S. Grubb, Co-Convener of EPF's Anti-War/Conscientious Objector Action Group
Several early Christian leaders opposed Christian service in the Roman Army due to its very frequent use of pagan rites. A few also opposed such service for pacifist reasons. But as early as year 180, there were at least a few Christians in the Roman Army. By the end of the Fourth Century, large numbers of Christians were serving in the Army. This has continued to be the case throughout the ages.
The primary role of the Roman Army was to protect the Roman provinces from the frequent incursions by people the Romans saw as barbarians. Our military today seeks to protect us from enemy forces. Many Christians today routinely serve in our armed forces. Many of them make military service a career. However, there are some serious moral problems for Christians in our armed forces to consider.
When a person enlists or is commissioned into the armed forces, they are legally bound to obey any legal order given by their military superiors. For example, they cannot refuse to participate when there is a war that they believe is immoral. Nor can they refuse to obey an order that they see as immoral. Further, they cannot resign from the military as a person can do with a civilian job. They must continue their military service until they are allowed to leave or when their term of service is completed.
Refusal to obey a legal order is grounds for serious criminal penalties, including imprisonment. As the Marines are said to summarize, "Your soul belongs to God, but your ass belongs to the Marine Corps." However, this assumes that our souls are not responsible for what our bodies do. It assumes that we can lend our bodies to the military for its uses without being responsible before God. However, it is God who has created both our souls and our bodies. We are responsible for what our bodies do.
The burden of determining whether or not a war has a justifiable cause and is waged in a justifiable manor is on the federal government. The Congress can declare war and the Congress can fund a war. But that is not a guarantee that the war is justifiable. Nor is it a guarantee that the war will be waged in a moral manner. We are responsible to God for what we do.
Our military's legal acts in a war are specified by its "Rules of Engagement" (ROE), issued by the Executive branch of our government. These rules have sometimes been changed by different administrations (e.g., defining "water torture" as being a form of torture or not).
During Second World War, our president allowed the then Army Air Force to do massive fire-bombing of Tokyo with the intention of creating a huge ,self-sustaining fire storm that would kill enormous numbers of civilians. Soon thereafter, atomic bombs were dropped on two other Japanese cities.
In 1950, when I was a freshman at the University of Maryland, I was enrolled in Air Force ROTC. (Maryland was one of only two state universities that had Air Force ROTC, rather than Army ROTC, as its main ROTC program.) I enjoyed the very broad social focus of its courses compared with my basic engineering student courses.
The Korean War was going on and becoming a commissioned officer in the Air Force looked a lot better than being a private in the infantry carrying a rifle. Being near-sighted, I was unlikely to become a pilot and the Air Force wanted engineers. I signed up for advanced Air Force ROTC.
As an upper classman, I witnessed a demonstration of napalming a small shack on an otherwise barren landscape. The F-84 jet fighters repeatedly scorched the earth around the shack, but they never hit or burned the shack. So much for precision bombing!
Several of us got to ride as passengers in a B-29 strategic bomber as the crew flew a simulated bombing run on an American city. Before the flight, we got to talk with the pilot. I naively asked him whether, in the event of a war with Russa, did he have a target in Russia. He said that he had two (unnamed) Russian city targets. I even more naively asked him: Who gave him the right to kill a 100,000 people? He said "higher authority." I then asked him: Who gave them that right? He said that he did not know.
I got a bad review on this training, but was not expelled from the program. When I graduated (in electrical engineering), I was commissioned a Second Lieutenant in the Air Force.
I was assigned to a combined military installation. Electronic computers were just then getting into production. They used vacuum tubes with very poor reliability and lacked good diagnostic tools. I remember talking with a civilian employee. He told me that when he was in the Air Force during the Korean War, he had followed orders to use his light bomber to machine gun everyone along a particular road. This was because that road was being used to carry enemy ammunition to the war front. Once in a long while he would see an explosion from his tracer bullets. But most of the time he was just killing the many civilians going to and from markets. He expressed much sorrow over his action.
When I had completed two years of my three year active duty commitment, the Korean War had been over a while and the Air Force's budget had been cut by Congress. Since I was not interested in an Air Force career, I was offered an "easy out," which I gladly accepted.
Even people who join the armed forces because a war is initially seen by them as legitimate and as being fought within appropriate limits, may find out later that this is not true. Sometimes, newspapers will have been "war hawks" that hyped up the war. Sometimes our government has lied about the circumstances (e.g., in the Vietnam War). It has often been said that "truth is the first casualty of war."
Of course, the time to have such a concern is not in the midst of a battle. Success on the battle field is dependent on everyone's obedience to all legal orders. Similarly, if one's unit is in the midst of a military campaign, that is not a good time to decide to opt out of the war. Also, we should respect the members of our armed forces for following their understanding of what is right. How you practice good, responsible, moral citizenship is one's personal choice ultimately. Faithfully serving one's country and its peoples can take many forms under many difference circumstances.
*Cross Before Flag is an EPF publication that lists many of the EPF's resolutions that were adopted by previous Episcopal Church General Conventions.
https://www.scribd.com/document491979365/Cross-Before-Flag?secret password=BQStPg9UbfzsfQigkTzu

"That the 80th General Convention authorize the establishment of a Task Force on Pacifism and Just War to deepen understanding of the Church's pacifist and just war traditions, including the Anglican Communion's distinctive contributions to these traditions, among military chaplains, missionaries, seminarians, clergy, congregations, and others engaged in the Church's global mission, for application to contemporary war, peace and human rights issues". 
Details are in the Resolution itself and the Explanation (below). 
https://www.vbinder.net/resolutions/47?house=HD&lang=en
This is not yet scheduled with GC Committee #13, Committees and Resolutions. Those interested in testifying about this, watch this space for hearing date to be set.
Our hearts are crying for the people of Ukraine.
We are in the second grim month of the invasion of Ukraine by Russia under the leadership of President Putin. As of March 26, the U.N. estimates more than 1119 Ukrainian civilians (incl. 15 girls and 32 boys), men women and children, have been killed (although the actual toll is "considerably higher"). In just over a month, the carnage of dead soldiers on both sides of this conflict is horrific. Civilian targets in Ukraine, including schools, hospitals, theaters, apartments, government buildings, transportation facilities, and other public buildings have shattered the lives of many and the urban physical landscape. There is yet no sign of concrete progress towards peace, the current negotiations notwithstanding.
Humanitarian corridors have been shelled or fired upon, preventing safe passage of those refugees desperately fleeing the bombings. Many Ukrainian civilians have been forced to be transported against their will to Russian camps. Independent observers believe that multiple war crimes and crimes against humanity have been committed during the invasion.
Independent news outlets in Russia have been shuttered. Russian citizens are receiving the news of the invasion largely from outlets that are friendly with President Putin. Many international social media outlets are blocked in Russia, preventing Russian citizens from witnessing actions taken by their government. Peaceful protests by Russians are met harshly with lengthy incarcerations for many. Russian society is becoming disconnected socially and economically from the outside world, a dangerous situation.
The Episcopal Peace Fellowship, along with other faith communities, strongly condemns the actions taken by Russia under the leadership of President Putin. Invading a country by hostile military means is an uncivilized, destructive action and contrary to all historical measures of our global community and faith traditions.
All parties must focus on using all peaceful means available to prevent conflicts from ever reaching this level of hostilies.
We wish to assert, as many reaffirm, that war is never the answer. History shows that only by establishing a fair, negotiated solution by all parties to this conflict will there be a lasting peace in Ukraine.
There must be a protracted cease fire to allow all civilians in Ukraine to emerge from the firestorm of bombs steadily raining on their homes and businesses. Adherence to international codes of conduct in wartime must be honored by all parties.
All foreign military troops must leave Ukraine immediately to begin the healing peace process.
Along with North Atlantic Treaty Organization (NATO), both the United Nations (U.N.) and the Organization for Security and Co-operation in Europe (OSCE) must play a major role in bringing peace to this horrible conflict.
Let the rapprochement and recovery begin immediately!
"Send your spirit of hope upon your world
May we live into your vision of a future of justice and peace"
Source: Prayer for Peace in Ukraine, The World - Dominican Sisters (grdominicans.org)
From our friends with Fellowship of Reconciliation, more thoughtful ways to respond to the war in Ukraine:
A Service of Prayer and Lament for All Victims of War
Today the Church joins together in the name and spirit of St. Oscar Romero
March 24, 2022
Dear Siblings in Christ:
God commands us through Jesus Christ to love one another. In baptism, we promise to seek and serve Christ in all persons, loving our neighbors as ourselves and to strive for justice and peace, and respect the dignity of every human being. We are seeing daily the results of humanity's greed and desire for power. Having proclaimed ourselves to be wise, we have become fools and exchanged the truth of God for the lie. We have sown the wind and reaped a whirlwind, planted vanity and become vain. In this harvest of the fruits of wrath, let us lament and pray for the renewal of our commitments to peace. And so that we may honor our vows and pray for the people of Ukraine, Russia, and our own nation and all nations of the world, for wise and just leaders, and for all who suffer because of war and violence.
A reading from the prophet Isaiah
This is a vision that Isaiah son of Amoz saw concerning Judah and Jerusalem:
In the last days, the mountain of the LORD's house will be the highest of all—the most important place on earth.It will be raised above the other hills, and people from all over the world will stream there to worship. People from many nations will come and say, "Come, let us go up to the mountain of the LORD, to the house of Jacob's God. There he will teach us his ways, and we will walk in his paths."For the L ORD's teaching will go out from Zion; his word will go out from Jerusalem. The LORD will mediate between nations and will settle international disputes. They will hammer their swords into plowshares and their spears into pruning hooks. Nation will no longer fight against nation, nor train for war anymore.
Hear what the Spirit says to the Church
Thanks be to God
Responsive Reading of Psalm 88
A Song. A Psalm of the Korahites. To the leader: according to Mahalath Leannoth. A Maskil of Heman the Ezrahite.
1 O Lord, God of my salvation, when, at night, I cry out in your presence,
2 Let my prayer come before you; incline your ear to my cry.
3 For my soul is full of troubles, and my life draws near to Sheol.
4 I am counted among those who go down to the Pit; I am like those who have no help,
5 like those forsaken among the dead, like the slain that lie in the grave,
like those whom you remember no more, for they are cut off from your hand.
6 You have put me in the depths of the Pit, in the regions dark and deep.
7 Your wrath lies heavy upon me, and you overwhelm me with all your waves.Selah
8 You have caused my companions to shun me; you have made me a thing of horror to them. I am shut in so that I cannot escape;
9 my eye grows dim through sorrow. Every day I call on you, O Lord; I spread out my hands to you.
10 Do you work wonders for the dead? Do the shades rise up to praise you?Selah
11 Is your steadfast love declared in the grave, or your faithfulness in Abaddon?
12 Are your wonders known in the darkness, or your saving help in the land of forgetfulness?
13 But I, O Lord, cry out to you; in the morning my prayer comes before you.
14 O Lord, why do you cast me off? Why do you hide your face from me?
15 Wretched and close to death from my youth up, I suffer your terrors; I am desperate.[a]
16 Your wrath has swept over me; your dread assaults destroy me.
17 They surround me like a flood all day long; from all sides they close in on me.
18 You have caused friends and neighbors to shun me; my companions are in darkness.
Silence is kept
A reading from the Gospel of Matthew
"You have heard the law that says, 'Love your neighbor' and hate your enemy. But I
say, love your enemies! Pray for those who persecute you! In that way, you will be
acting as true children of your Father in heaven. For he gives his sunlight to both the
evil and the good, and he sends rain on the just and the unjust alike. If you love only
those who love you, what reward is there for that? Even corrupt tax collectors do that
much. If you are kind only to your friends, how are you different from anyone else?
Even pagans do that. But you are to be perfect, even as your Father in heaven is
perfect .
The Word of the Lord
Thanks be to God
A Short Reading from the Last Sermons of St. Oscar Romero:
This is the fundamental thought of my preaching: nothing is so important to me as human life. Taking life is something so serious, so grave–more than the violation of any other human right–because it is the life of God's children, and because bloodshed only negates love, awakens new hatreds, makes reconciliation and peace impossible.
Easter is itself now the cry of victory. No one can quench the life that Christ has resurrected. Neither death nor all the banners of death and hatred raised against him and against his church can prevail. He is the victorious one! Just as Christ will thrive in an unending Easter, so we must accompany him in a Lent and Holy Week of cross, sacrifice, martyrdom. As he said, blessed are they who are not scandalized by his cross.
Lent, thus, is a call to celebrate our redemption in that difficult combination of cross and victory. Our people are well prepared to do so these days: all that surrounds us proclaims the cross. But those who have Christian faith and hope know that behind this calvary of El Salvador lies our Easter, our resurrection. That is the Christian people's hope…
"God's reign is already present on our earth in mystery. When the Lord comes, it will be brought to perfection."
That is the hope that inspires Christians. We know that every effort to better society, especially when injustice and sin are so ingrained, is an effort that God blesses, that God wants, that God demands of us.
Silence is kept
A Litany
We pray for your guidance to all peacemakers, on leaders who value peace, and on everyone who promotes nonviolent solutions to conflict. We pray for a speedy end to all violence and conflict around the world. God of peace and gentleness, Hear our prayer.
We pray for the strength of heart and mind to look beyond ourselves and address the needs of our siblings, especially the women, children and men of the Ukraine who are caught in the shards of war, being battered under the waves of violence.
We pray for an end to the cycles of violence that threaten our future. God of generosity and compassion, Hear our prayer.
We pray for the Russian people, many who have stood up and protested the war and also those 'enemies of peace, who are causing such pain, that they may live in unity, peace, and concord; and that all people may know justice and enjoy the perfect freedom that only God can give.
We pray for those who have given their lives in our day and everyday and for those who will give their lives in the future to stand in solidarity with the oppressed of the world, God of liberty and freedom, Hear our prayer.
We pray that the Holy Spirit may embrace in Her life giving hands the most vulnerable members of society and teach us to do the same. We also lament the growing disparity between the rich and poor knowing that militarism, racism, and greed are the causes of most of our woes, the ruin of our common life.
We ask for the grace and courage to strive for economic justice for all. God of all gifts and blessings, Hear our prayer.
We pray for an end to militarism and war in our country and the world; that we will respect all people as precious children of God; and that the desire to dominate others wiill be forever banished from our hearts, our society, and our laws.
God of fellowship, solidarity and equality, Hear our prayer.
We pray for a reverence of creation; that we will have the tools and the will to conserve it; that we will use its bountiful resources in the service of others;
That we will become better stewards of all that has been entrusted to us. God of nature and the universe, Hear our prayer.
We pray for all immigrants, refugees, and pilgrims from around the world, especially those fleeing the Ukraine and for all countries offering hospitality to them,
That they may be welcomed in our midst and be treated with fairness, dignity, and respect. God of outcasts, wanderers, and cities of refuge, Hear our prayer.
We pray for all prisoners and captives; that a spirit of forgiveness may replace vengeance and retribution; and
That we, with all the destitute, lonely, and oppressed, may be restored to the fullness of God's grace. God of absolution and mercy, Hear our prayer.
We pray for the reconciliation of all people, and for the Church throughout the world, that it may be an instrument of your healing love.
God of outreach and restoration, Hear our prayer.
We pray for all who have died already as a result of violence, war, disease or famine, especially those who died because of human blindness, neglect, or hardness of heart.
God of eternal life and resurrecting love, Hear our prayer.
Silence is Kept
Song
We are one in the Spirit, we are one in the Lord
We are one in the Spirit, we are one in the Lord
And we pray that our unity will one day be restored
And they'll know we are Christians by our love, by our love
Yeah they'll know we are Christians by our love
We will work with each other, we will work side by side
We will work with each other, we will work side by side
And we'll guard each man's dignity and save each man's pride
And they'll know we are Christians by our love, by our love
Yeah, they'll know we are Christians by our love.
We are one in the Spirit, we are one in the Lord
We are one in the Spirit, we are one in the Lord
And we pray that our unity will one day be restored
And they'll know we are Christians by our love, by our love
Yeah they'll know we are Christians by our love
Almighty God, you have promised to hear what we ask in the name of your Son. Watch over our world now and in the days ahead, guide our leaders and all leaders, guide them in all knowledge and truth and make your ways known among all people. In the passion of protest and reform, give us all open and receptive spirits; in the complexities involved in true peace, give us courageous hearts. Accept and fulfill our petitions, we pray, not as we ask in our ignorance, nor as we deserve in our sinfulness, but as you know and love us in your Son Jesus Christ.
AMEN.
We know that all of you join us in praying for peace in Ukraine. A few resources, below:

The Episcopal Church held a recent vigil sponsored by OGR:
https://www.facebook.com/TheEPPN/videos/684470716135768/
A prayer by the Dominican Order in Michigan is moving: https://www.grdominicans.org/prayer-for-peace-in-ukraine-the-world/.
You can support Episcopal Relief and Development's effort to send humanitarian aid to Ukraine. https://support.episcopalrelief.org/ukraineresponse?ID=220301DP0DS0100&utm_medium=web&utm_campaign=fy22ukraine&utm_source=220301DP0DS0100
Here is the link to a moving orchestral piece "Pray for Ukraine" (1937) https://youtu.be/Ne0fmGBcXTQ
For those of you prayerfully contemplating your non-violent response to war:
https://www.mettacenter.org/nonviolencereport/resistance-to-war-in-ukraine-resource-list
We share in the deep concern with the rising tensions in Ukraine caused by Russian massing of troops and military hardware on their border. We offer the following as our statement on the current circumstances in Eastern Europe:
The Episcopal Church has stated in their recent Executive Resolution, in part:
"Resolved, That the Church urges the United States to respond wisely, condemning any violation of territorial integrity while holding armed intervention to be a last resort; and be it further Resolved, That the Executive Council gives thanks for Pope Francis's call for a day of prayer for peace" "… and urge all members of The Episcopal Church to continue to pray, individually and in their congregations in the coming days, with the hope of averting conflict."
According to the EPF Personal Commitment to Peace:
"In loyalty to the person, teaching, and Lordship of Jesus Christ, my conscience commits me to God's way of redemptive love: to pray, study and work for peace and justice, and to renounce, so far as possible, participation in war, militarism, and all other forms of violence.
"In fellowship with others of like mind, I will work to discover and create alternatives to violence and to build a culture of Peace. As a member of the Holy Catholic Church, I urge the Episcopal Church in accordance with our baptismal vows, "to renounce the evil powers of this world which corrupt and destroy the creatures of God," and to wage peace across all boundaries, calling upon people everywhere to repent, forgive, and to love."
The Episcopal Church in 2014 joined together in a joint statement, in part
"In the name of the churches we serve, we join our voices in solidarity with those of the All-Ukrainian Council of Churches in pleading for an end to military aggression in that land. We call on all of those involved — whether governments, movements, or individuals — to repent of aggression and violence, and turn instead to the way of peace through dialogue."
Bishops of Poland and Ukraine Call for Peace:
"Differences in interests must be resolved not by the use of arms, but through agreements. The international community should unite in solidarity and actively support endangered society in all possible ways."
Acts of Convention 2003
"The Episcopal Church, by resolution 2003-A033, calls for the use of centuries-old Just War Criteria "…in order to override the strong presumption against the use of force"
In conclusion:
We are deeply concerned that the United States and other countries have embarked on large-scale arming of Ukraine as a "deterrent" to an invasion by Russia. Other peaceful means of deterrence and diplomacy must continue unabated by all parties. A cautionary note that militarization as a professed deterrent may, in fact, operate in these volatile circumstances as a self-fulfilling prophecy, leading to hair-trigger military responses to a benign event or statement. Therefore we pray that, following the Prince of Peace, we do not engage in or call for armed intervention.
(As a side note, Germany has refused to send arms to Ukraine in order not to further disrupt any ongoing diplomacy. "The Russian government would be more impressed by the threat of heavy economic consequences than 2,000 anti-tank weapons," according to Marcel Dirsus, of the Institute for Security Policy at Kiel University (ISPK).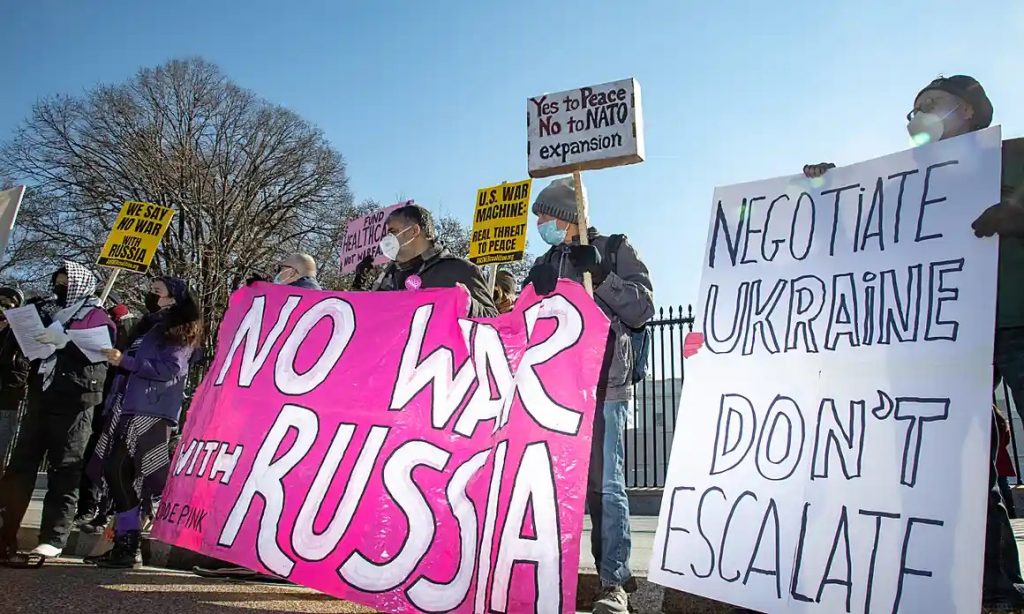 Read, listen, or view this program using the links below: