Episcopal Peace Fellowship's series of free, online presentations continues on Sunday, November 7 at 4:00 pm Eastern with the Metta Center for Nonviolence and Dr. Michael Nagler. This session will last an hour and a half, rather than our usual one hour.
Sunday, November 7 at 4:00 pm Eastern
THE THIRD HARMONY: NONVIOLENCE AND THE NEW STORY OF HUMAN NATURE
Presented by: Michael Nagler

Register HERE
In this session, we will view and discuss a film featuring diverse voices who dare to act on three hypotheses: 1. Everyone has a good core. 2. We are all connected. 3. Problems have solutions. Dr. Michael Nagler shows that, despite all that has gone tragically wrong, despite what we are told about ourselves, the human story is rooted in nonviolence which is the only way to be true to ourselves.

Michael Nagler, author of The Third Harmony: Nonviolence and the New Story of Human Nature, and multiple books on non-violence, is a former classics professor at Cal Berkeley. He is the founder of Metta Center for Nonviolence, https://mettacenter.org, which brings together the project of inner peace with action for justice and reconciliation, bringing to bear the insights of Eastern meditation practices.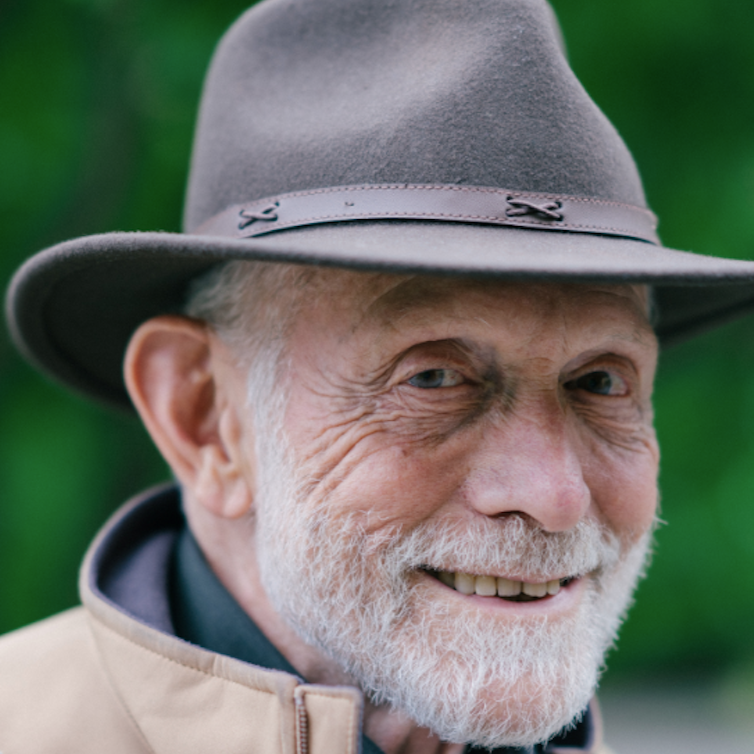 Members of EPF in Dallas, Texas, gather every month to write to elected officials concerning vital issues of the day. EPF National was able to drop in to work with them, virtually, on Sunday, October 10. Special thanks to Ron Damholt, convener of both the Chapter and the Peace Post, for pulling this information together. This effort is easy to replicate!
Below you'll find several paragraphs describing each of three topics about which you might choose to write this weekend.  The first two relate to specific, proposed legislation named in the paragraphs: human trafficking in the United States, and conditions faced by Palestinian children under Israeli occupation.   Concerns about these issues should be addressed to your members of Congress. The third, the increasing use of drones in warfare, relates directly to policies of the Administration, making President Biden the appropriate recipient of letters and/or emails.
Also below is a list of officials' physical addresses (along with electronic addresses when I could find them).  (I've also sneaked in a fourth writing suggestion in a P.S., below.)   And whether or not you join us on Sunday, I wish you good, concise writing, in our common effort to "strive for justice and peace among all people."
Ron Damholt

Human Trafficking
Human traffickers deny nearly 25 million people their fundamental right to freedom. The State Department reports that trafficking victims are regularly exploited for sex, labor, criminal activity, and forced marriages. . . In the U.S. in 2019 alone, the National Human Trafficking Hotline received 11,500 human trafficking reports and identified 22,326 victims and survivors. Furthermore, the State Department estimates that 14,500 to 17,500 foreign nationals are trafficked into the United States each year.
A recent United Nations report found that for every 10 trafficked individuals identified, seven are female, and about a third are children. In low-income countries, children account for half of trafficking survivors. The State Department notes that the pandemic has exacerbated marginalized communities' vulnerability to exploitation by traffickers - highlighting systemic racial and generational inequality in the United States and the world at large.
That's why we strongly support H.R. 5150, the Frederick Douglass Trafficking Victims Prevention and Protection Reauthorization Act of 2021. [This act] undergirds all federal efforts to prosecute and address human trafficking. The TVPA has been reauthorized five times in the last twenty years. Vital programs authorized through the TVPA will expire soon; now is the time to push Congress to reauthorize this critical bipartisan legislation.
As Episcopalians, we believe all victims of human trafficking must be protected and support legislation that uplifts these vulnerable children of God.
- excerpted from the online site of the Episcopal Public Policy Network
[And if you're interested in supporting some of those working with survivors of human trafficking in Texas, Yulise Waters recommends a gift to the Lone Star Justice Alliance, with whom she works. <lonestarjusticealliance.com>]
Palestinian Children Detained under Israeli Occupation
Israel's new government is in place and the Prime Minister, Neftali Bennett, visited President Biden in the White House late last month, attempting to reset Israeli-US relations. Bennett has voiced his opposition to the creation of a Palestinian state and his support for settlement expansion in the West Bank, both of which are in contradiction of international laws and conventions, and conflict with Biden's own approach.
Even so, Biden asserted the "unshakable" nature of the US-Israel relationship, and pledged that the "US will always be there for Israel." As Bennett and Biden seek to establish an amicable rapport, [neither leader seems] intent on engaging the core issues.
With next year's federal budget due, it is an opportune time to consider allocations to advance foreign policy priorities. President Biden has made clear that human rights, equality, and democracy are, for him, guiding principles in US foreign policy, and he has demonstrated some willingness to do so, holding up arms sales to Saudi Arabia and the United Arab Emirates over their involvement in the Yemen civil war. It is time to hold Israel accountable to human rights standards and adopt legislation that addresses Israeli violations as well.
In May, Rep Betty McCollum introduced HR 2590, the "Defending the Human Rights of Palestinian Children and Families Living Under Israeli Military Occupation." [This resolution] would prohibit Israeli use of US aid to detain, abuse, or ill-treat Palestinian children in Israeli detention; to seize or destroy Palestinian homes and property; and to annex Palestinian land and territory, all of which violate international humanitarian law. To date, the resolution has 29 co-sponsors in the House of Representatives.
In the first week of school in Bethlehem, four Palestinian youth were arrested in a night raid. Information was withheld about those detentions - in violation of Article 9 of the UN Convention on the Rights of the Child, to which Israel and the US are both signatories. Already in September, Israel has continued to demolish at least three Palestinian homes and properties in Silwan and in the Bethlehem area. And PM Bennett's intention to continue settlement expansion is the kind of de facto annexation of Palestinian land that Israel has undertaken for decades.
Israel must be held accountable for these human rights violations. And, the US has the leverage to do so given the Administration's stated commitment to human rights, existing US foreign assistance laws, and the aid that the US sends to Israel. Urge your Congressional representative to support H. R. 2590 to prevent using your taxes to support violations of international human rights law.
- excerpted from the online site of the Presbyterian Office of Public Witness
The Widespread Use of Drones, and their Indiscriminate Victims
Drones have a certain logical appeal. They allow for the long-term monitoring and precise targeting of enemy threats, while making war safer for both civilians and the drone's soldier-operators. Unfortunately, much of this "progress" in fighting via drones remains unrealized.
The very first U.S. drone strike in Afghanistan just weeks after 9/11 missed its intended target. And the record hasn't improved much since. The Bureau of Investigative Journalism analyzed more than 14,000 drone strikes from 2010-2020. They found hundreds of children killed in these strikes and perhaps as many as 2,200 civilians (the U.S. government's data on strikes often leaves people unidentified and sometimes attempts to redefine who counts as a civilian to downplay the number).
"Drone strikes have been sold to the American public on the claim that they're 'precise.' But they are only as precise as the intelligence that feeds them," Jennifer Gibson of Reprieve, an organization in the United Kingdom working to expose human rights abuses, told The Guardian in 2014 as the Obama administration utilized drone warfare. "There is nothing precise about intelligence that results in the deaths of 28 unknown people, including women and children, for every 'bad guy' the US goes after."
Reporting by The Intercept found that during a five-month period, "nearly 90 percent of the people killed in airstrikes were not the intended targets." The numerous civilian deaths led Amnesty International to denounce the U.S.'s drone strikes for having "resulted in unlawful killings that may constitute extrajudicial executions or war crimes."
Additionally, highlighting the PTSD and other health issues facing drone pilots, the New York Times referenced a study conducted by the U.S. Air Force detailing how drone operators are exposed to more "graphic violence," "destroyed homes," and "dead bodies" than deployed Special Forces units. The work of other journalists and scholars offer similar warnings.
Such psychological struggles are not surprising to Alan Ogle, an Air Force psychologist who told NPR's Sarah McCammon back in 2017: "[Drone operators] are going literally from combat to cul-de-sac in a short drive. Ten minutes, 15 minutes, [they] drive home. They've gone from being eyes, head in the fight, and making critical life and death decisions, to then being involved in all the normal ... responsibilities that we have, where they're a spouse, they're a parent."
As Vivek Wadhwa and Alex Salkever wrote in Foreign Policy, "The burgeoning availability and rapidly expanding capabilities of drones pose urgent challenges to all of humanity. First, unless we agree to halt their development and distribution, autonomous killer drones . . . will soon be affordable and operable by anyone — from rogue states all the way down to minor criminal gangs and individual psychopaths. Second, swarms of killer drones may, through sheer numbers, render irrelevant the defenses against terrorist threats deployed by technologically advanced nations."
We suspect most American Christians are largely unaware of these developments. The world is growing scarier, humans are assuming more power, the ability to take the life of another is getting easier, and few are talking about the moral conundrums. The distractions of our lives allow us to ignore these alarming developments as technology outpaces ethical debates.
- excerpted from Bryan Kaylor and Beau Underwood, "As War Drones On,", published online by A Public Witness
P.S. In the unlikely case that you need a fourth topic, you might consider urging both Congress and the Biden Administration to provide significant money in our 2022 budget to help provide vaccines to the world outside of our borders. For example, according to the BBC, only 4.4% of Africans have been fully vaccinated, and very few of their countries have the resources needed for widespread vaccination campaigns.
Below you'll find contact information, both physical addresses and (when available) email or web-based addresses, for selected government officials.  Letters, postcards, phone calls and other personal communications are widely considered more effective in reaching and influencing politicians than adding ones name to a large-group email – though when time's short, I too sometimes do the latter.
Federal Officials:
President of the United States President's comment line: 202.456.1111
President Joe Biden Web contact: whitehouse.gov
The White House
1600 Pennsylvania Avenue
Washington, DC 20500
Texas's two U.S. Senators:
The Honorable Senator John Cornyn Washington, DC office: 202.224.2934
517 Hart Senate Office Building Web contact: www.cornyn.senate.gov/contact
Washington, DC 20510
The Honorable Senator Ted Cruz Washington, DC office: 202.224.5922
404 Russell Senate Office Building Web contact: www.cruz.senate.gov
Washington, DC 20510
Representative from the 32nd congressional district, covering northeast Dallas:
The Honorable Colin Allred Washington, DC office: 202.224.2231
328 Cannon House Office Building Web contact: allred.house.gov
Washington, DC 20515
U.S. Secretary of State:
The Honorable Anthony Blinken Washington, DC office: 202.647.6575
2201 C St NW Web contact: register.state.gov
Washington, DC 20520
Administrator of the Environmental Protection Agency
The Honorable Michael S. Regan Washington, DC office: 202.564-4700
Environmental Protection Agency Email: Regan.Michael@epa.gov
1200 Pennsylvania Avenue, NW
Washington, DC 20460
Secretary of Defense
The Lloyd J. Austin III Web contact: www.defense.gov/contact/
1400 Defense
Pentagon
Washington, DC 20301
Acting Director of the US Customs and Immigration Services Agency
The Honorable Tracy Renaud
Acting Director, USCIS
5900 Capital Gateway Drive #2040
Camp Springs, MD 20746
Secretary of Homeland Security
The Honorable Alejandro Mayorkas Comment Line: 202.282.8495
Secretary of Homeland Security
Washington, DC 20528
State of Texas Officials:
Governor:
The Honorable Greg Abbott Comment Line: 512.463.1782
P.O. Box 12887 Web contact: gov.texas.gov
Austin TX 78711
Lieutenant Governor:
The Honorable Dan Patrick Office: 512.463.5342
P.O. Box 12068 Web contact: ltgov.state.tx.us
Austin, TX 78711
Representative for House District 102:
Representative Ana-Marie Ramos Office: 512.463.0454
P.O. Box 2910, Capitol Station
Austin, TX 78768
Senator for Senate District 16:
Senator Nathan Johnson Office: 512.463.0116
P.O. Box 12068, Capitol Station
Austin, TX 78711
City of Dallas Officials:
Mayor Eric Johnson, City Manager T.C. Broadnax & your local Council member receive mail at:
Dallas City Hall
1500 Marilla Street
Dallas, TX 75201
Note: The two websites USA.gov and advocacy.episcopalchurch.org both work well when searching contact information for elected officials at all levels. Please email rdamholt@att.net with corrections and/or suggested additions!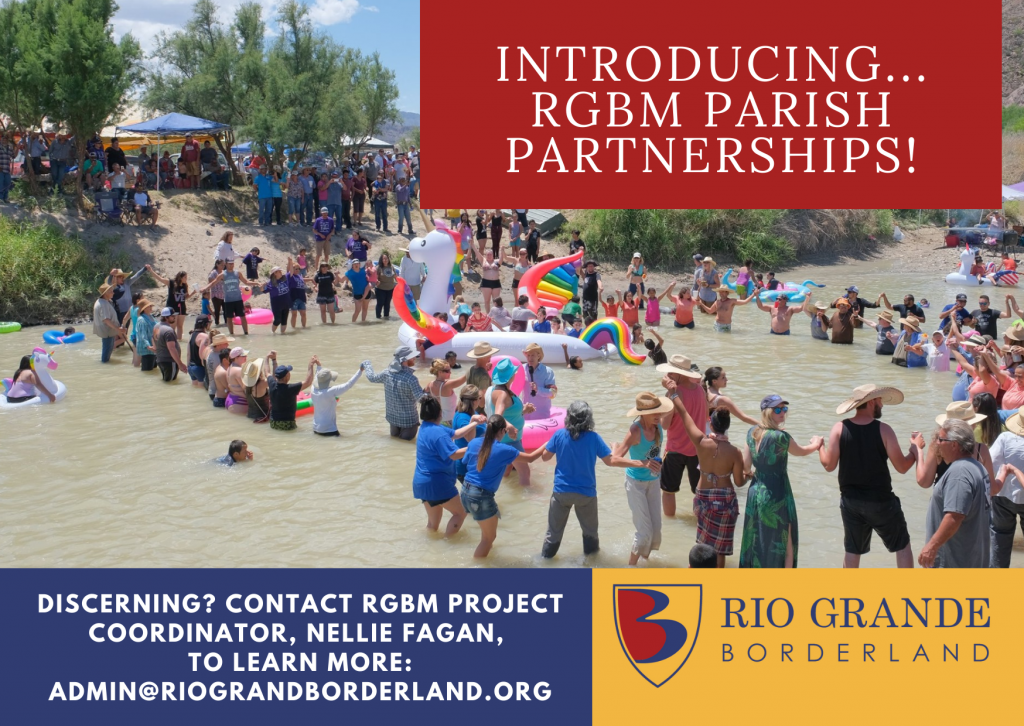 Rio Grande Borderland Ministries (RGBM) is a ministry of the Episcopal Diocese of the Rio Grande supporting vulnerable members of our border community. The above picture is from Voices from Both Sides, an annual event in the Rio Grande River in Far West Texas that RGBM participates in, where people of the borderland share in community with one another on the border. We have recently launched the RGBM partnership program with parishes and Dioceses. Partner parishes that walk alongside RGBM will have the opportunity to hear the true voices from both sides, experience life on the border, and support a ministry of #WelcomeWithDignity. Parish partners support the borderland community through three commitments: stewardship, time, and prayer. We are overjoyed to have parish communities walk alongside us in this work. Please consider sharing the Partnership Brief and Example Covenant with your church. Any questions or concerns? Contact EPF National Executive Committee member the Rev. Michael Wallens (michaelwallens@gmail.com) or Nellie Fagan (admin@riograndeborderland.org). We would be glad to set up a zoom conference for you to learn more and meet some of the leaders in this ministry. Shalom, Mike+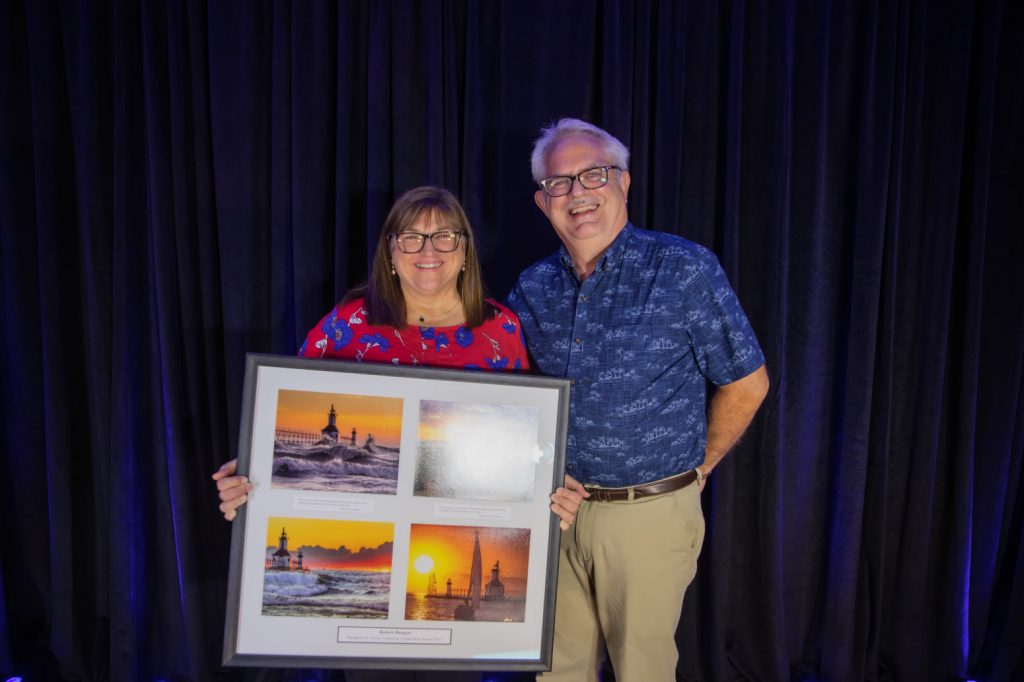 EPF National Treasurer, Rob Burgess, of Benton Harbor, MI, has been awarded the 2021 Margaret B. Upton Volunteer Leadership Award by United Way of Southwest Michigan. Among much else, Rob has generated $2.8 million in refunds for clients of the Volunteer Income Tax Assistance Program in his role as coordinator of those volunteers. With this lifetime achievement award came a cash prize, $1,500 of which Rob has pledged to the support of his beloved Episcopal Peace Fellowship. Congratulations, Rob! We are inspired by your selfless leadership, generosity and witness!!
Read, listen, or view this program using the links below:
Offered by Rob Burgess, Treasurer of the EPF NEC and Navy Veteran
As a young man growing up in the 1960s at a time of the Vietnam War, admittedly I was frightened by the prospect of being drafted once I turned 18 and sent off to Vietnam. Like Muhammad Ali who famously said: "I got no quarrel with them Vietcong," I didn't either. Partially as a result, as a teenager I had convinced myself that I would claim conscientious objector status if the military draft caught up with me.
But the draft had diminished by the year I turned 18 and far fewer draft lottery numbers were called to active duty. My draft number was in the 280s. I breathed a sigh of relief and never had to formally declare conscientious objector status. My wife, who is a couple years older and attended Kent State, tells the story that there were two kinds of young men on her campus after draft lottery day a few years earlier. Both were drunk. Some with a low draft number drank because they would be drafted, others with a higher number because they would not.
Some years later, a friend of mine thought I was crazy and naive when I told him I had enlisted. I had had to drop out of college because my church janitor father did not have the money to keep me in college and I did not have the grants to allow me to finish my degree in college. I was naïve. But by 1974, no other young men were being sent to Vietnam. I enlisted in 1974 to become a Navy Journalist and to obtain the G.I. Bill so that someday I would be able to go back to college. I ain't no war hero. I never carried a loaded gun once in my four years of active duty.
In the spring of 1975, I did witness thousands of Vietnamese refugees in an enormous tent city on Guam shortly after the fall of Saigon in April that year. I have never forgotten the young Viet woman who held up a picture to some of us from my ship driving through the refugee camp. She asked us if we knew the service man in the picture. I presume he had been her significant other in Saigon.
Perhaps, partially as a result of my experiences as a young man, I have mixed feelings about remembrances of September 11, 2001. There are other reasons I will attempt to explain.
Earlier this summer, my family travelled to New Jersey to visit relatives. Our first full day there, we took the subway into New York to the World Trade Center. I must admit to being very emotional as I first walked into that massive building realizing that I was on the ground where so many innocents had lost their lives on September 11 twenty years prior. Stopping at the Memorial Pool at that site was perhaps even more emotional as I closed my eyes to meditate and pray.
Thousands of innocent lives lost in a few brief moments of terror on 9/11. For those of us who watched on television that day, it was sorrowful and horrible. It is beyond my imagination to think what New Yorkers who were there must have felt. Surely, the innocent lives lost that day deserve our prayers. Let eternal light shine upon them. Also, the firemen and women and other first responders are also deserving of our prayers and continued support for what they experienced.
On September 11, 2001, my first-born child turned 15. For those of you who are parents, I am certain you remember how precious it was to hold your new born for the very first time. For me, it was certainly a powerful moment especially after my wife had had a long and difficult delivery climaxed with an emergency C-section to save the baby. So, September 11 was to me always a blessed day. My daughter died ten years ago a week shy of her 25th birthday from an opiate overdose. The horror of 2001 is now even more cemented to the blessing of the birth of my daughter. I miss her. I am sure loved ones of those who died in 2001 also miss their beloved ones as well.
I like to tell my friends that I kid my wife that if she held on a few hours longer our daughter would have shared a birthday with me.
On September 11, 2001, the United States was in the thoughts and prayers of millions around the world. But I think we have to also remember September 12. We changed. Our grief as a nation turned to anger and a quest for revenge. It must have been something like Americans felt on December 8, 1941 the day after the sneak attack on Pearl Harbor. America went to war after September 11, 2001 just as it had after December 7, 1941. We know how the latter war ended in Hiroshima and Nagasaki. We now know how the war in Afghanistan has ended with tens of thousands of Afghan refugees and a war-torn country. The TV images of Afghan women and children are for me vivid reminders of the Viet refugees on Guam decades ago.
Twenty years later, I wonder if there is anything more as a veteran I could have done to prevent our twenty-year war in Afghanistan.  Yes, we killed Osama Bin Laden.  Tens of thousands of innocent Afghan lives were lost in the process.  Aren't those lives valuable too? Shouldn't we pray for those lives also?
In the spring of 2003, we also attacked Iraq. Now, I for one certainly believe that the regime of Saddam Hussein was a despicable one. But I don't think he had anything to do with September 11 or Bin Laden. Tens of thousands of innocent Iraqis lost their lives as well. Again, aren't those lives valuable also? Aren't they too children of the same God?
Let us pray for those innocents who lost their lives on September 11, 2001. Let us also pray for those innocents who in the two decades since lost their lives also. Let us pray for all their loved ones who miss and mourn their loss to this very day.
Let us also pray for America. We need hope that we have learned a lesson. I will offer a prayer of optimism in the form of lyrics from an Islamic artist. Perhaps, it is my longing to be naïve again:
"Cause out on the edge of darkness
There ride the Peace Train
Oh, Peace Train take this country
Come take (us) home again.
Oh, I've been smiling lately
Thinking about the world as one
And I believe it could be
Someday it's going to come"
Yusuf Islam/Cat Stevens
Someday, Lord. Someday.
Join EPF for our monthly chapter support call on Friday, August 27 at 2:00 pm Eastern over Zoom for an hour of learning on the Doctrine of Discovery. Email epfactnow@gmail.com for the Zoom link.
Papal Bulls of the 15th century gave Christian explorers the right to claim lands they "discovered" and lay claim to those lands for their Christian Monarchs. Any land that was not inhabited by Christians was available to be "discovered," claimed, and exploited.  These Papal Bulls laid the groundwork for what we know today as international law, because they were generally accepted as legal rules that governed the conduct of monarchs (or nations), vis-à-vis other monarchs (or nations).

This Discovery Doctrine, or 'Doctrine of Discovery,' then became a notion of public international law proffered by the United States Supreme Court in a series of decisions, initially in Johnson v. M'Intosh in 1823.  Under it, title to newly discovered lands lay with the government whose subjects discovered new territory. The doctrine has been primarily used to support decisions invalidating or ignoring Indigenous possession of land in favor of colonial or post-colonial governments. The Doctrine of Discovery governs United States Indian Law today.  

Please join us for a presentation offered by the Rev. Deacon Chris Sabas, showcasing the doctrine's history and how it still impacts US jurisprudence today.  Prior to being ordained to the vocational diaconate, Deacon Chris was a licensed attorney, focusing on US immigration law.  After closing her practice, she joined Christian Peacemaker Teams and served within a variety of Indigenous communities where she focused on how the Doctrine of Discovery currently impacted the communities' claims to sovereignty.  She also is a member of the Episcopal Peace Fellowship's National Executive Council.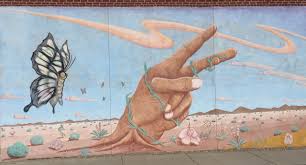 EPF's series of free, one-hour online presentations kicks off on August 1 at 4:00 pm Eastern with the Rev. Rosalind Hughes, priest in the Diocese of Ohio and author of "Whom Shall I Fear?" Register HERE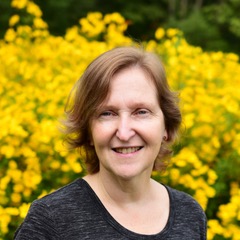 BEING THE CHURCH IN A FEARFUL TIME
Panic buttons, locked doors, security teams in the aisles. If we can't feel safe in Church, what does that say about our community? There may be more to the fear/violence connection than first meets the eye.The Rev. Rosalind C. Hughes, author of Whom Shall I Fear? will lead us in considering lessons from Scripture and experience as we reflect together on the fears that shape our lives today.
Rev. Hughes was naturalized as a US citizen and ordained an Episcopal priest on either shoulder of a busy weekend in January 2012. Both vocations have called upon her to work for peace, and particularly for an end to gun violence. Her latest book, Whom Shall I Fear? Urgent Questions for Christians in an Age of Violence, examines how the landscape of violence and fear affects our ability to proclaim the gospel of love and grounds itself in scripture to look for paths toward peace within and beyond the congregation.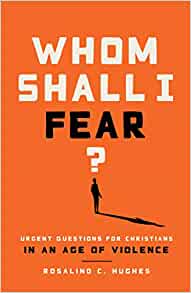 Whom Shall I Fear? Urgent Questions for Christians in an Age of Violence is designed to help church leaders open and guide gospel-based conversations in a fear-infested world. It assumes that, with God's help, we can do better than to accept the landscape of violence that surrounds us and build up barriers to protect ourselves. It takes seriously the advice of Paul: "Do not be conformed to this world, but be transformed by the renewing of your minds, so that you may discern what is the will of God – what is good and acceptable and perfect" (Romans 12:2).
In this presentation, Rosalind Hughes addresses the fear that would divide us and the Gospel that would unite us, and suggests a Bible-based approach to raising difficult and anxious topics in congregational-type settings to promote courageous conversation and build confidence in the possibilities of peacemaking in an unpeaceful world.

"No passion so effectually robs the mind of all its powers of acting and reasoning as fear." -- Edmund Burke
"There is no passion more contagious than fear . . . or doth furiously possess all parts of a (person)." --Michel de Mongaigne
"Ultimately, we have just one moral duty: to reclaim large areas of peace in ourselves, more and more peace, and to reflect it toward others. And the more peace there is in us, the more peace there will also be in our troubled world."
Richard Rohr

Please consider supporting EPF's Peacebuilding Online Project. Contribute HERE today!
Former Episcopal Peace Fellowship National Chair, Janet Chisholm, interviewed National Chair, the Rt. Rev. Dan Edwards, concerning his vision for EPF and the upcoming Peacebuilding Online Series, which begins on Sunday, August 1.
Congratulations, Bishop Dan, as you assume the role of Chair for the Episcopal Peace Fellowship! (And, as a former EPF Chair myself, I will pray for you daily.)
I personally celebrate you as the new EPF Chair. I had heard how supportive you were of activists in Las Vegas, my hometown. And I recall meeting you there briefly when you were Bishop of Nevada as I was again visiting family and participating in the peace witness at the nearby nuclear test site. So, we have Nevada connections! I celebrate you as the new EPF Chair for what your experience brings to EPF. Your tenure as a Bishop means that you have a good understanding of the structure and processes in the Episcopal Church --- and how to build and support an organization. This will aid EPF in our mission to promote justice, peace, and reconciliation.
JC: Bishop Dan, when did you join EPF? And why?
BD: In the 1980s. EPF was the Episcopal voice challenging United States involvement in Nicaragua, El Salvador, Guatemala, and throughout Central America. The Administration was mixed up in dark ops with questionable characters to say the least. Eventually, some of that came to light in the Iran/Contra Scandal, but EPF was way ahead of that because EPF was already focused on the fundamental moral issues of violence and oppression of the poor.

JC. What contributions has EPF been making in the life of the Episcopal Church?
BD. In recent years, EPF has focused on General Convention resolutions and pastoral statements. That has kept some justice issues on the Church's radar screen. Even when the Church has not adopted EPF's specific proposals, the questions have been raised and that helps the Church examine its conscience. Like Socrates' gadfly questions, EPF issues are sometimes uncomfortable for all of us. But growth is usually uncomfortable. I hope in coming years EPF can become more of a voice to those beyond the Church walls.
JC. EPF history has included public witness for justice and peace, advocating legislation, offering spiritual and educational resources, and building coalitions. Now, in these times, what do you think EPF can bring to Episcopalians and communities?
BD. Violence has macro and micro causes. Macro would be historical, social, economic, and political structures. Micro would begin with our own inner conflicts in which we despise parts of ourselves, project those parts on to others, clothe our hostility in righteous indignation, and add to the spirit of violence. Effective work for peace requires a balanced working with the macro and micro causes of violence. To effectively engage structural oppression and injustice, we need to simultaneously cultivate inner peace, learn how to practice compassion in our congregations, and then take that compassion out into the world.
Three destructive spirits are loose in the world these days. The first is FEAR. It was already driving a lot of violence, but then came Covid. At the same time we rushed into panic buying of toilet tissue, Americans began gunning up. We bought a record 500,000 firearms in 2020 and 20% of those folks were getting guns for the first time. Homicides increased by 36% over 28 major cities. Fear produces violence which creates more fear which leads to more violence. Especially today, we have to learn ways to deal with our fear. That's why our first Peacebuilding Online presentation will be on Fear in Church. https://www.eventbrite.com/e/episcopal-peace-fellowship-peacebuilding-online-project-fear-in-church-tickets-154100248993?aff=ebdssbeac
Second, we are experiencing a pandemic of DESPAIR. There were 24,000 gun suicides in 2020 and despair underlies violent political extremism. In American Fascist, Journalist Chris Hedges says, "Stories of rage are first stories of despair." He quotes Fritz Stern's book on the rise of fascism in 1930s Europe.
"Theirs was a resentment of loneliness. Their one desire was for a new faith, a new community of believers, a world of fixed standards and no doubts, a new national religion that would bind all Germans together."
Despair and loneliness underly today's extremism as it did German extremism then.
Certainly, extremists must be restrained in their violence, sedition, and crimes. But condemning them as ignorant deplorables only make things worse. The antidote to despair is hope. Hope is the Christian stance in the world. Many people understand the present times as a collapse of Western Civilization. But another image to describe our time is travail. Paul said the world is in labor, groaning, giving birth to the Kingdom of God. Our mission includes spreading Christian Hope in this despairing world.
The third spirit is LONELINESS. Michele Goldberg's recent New York Times editorial examined the lives of the January 6 insurrection and found Loneliness to be a key factor.
            "There are many causes for the overlapping dysfunctions that make contemporary    American life feel so dystopian, but loneliness is a big one. Even before Covid,   Americans were becoming more isolated. . . . Lonely people are drawn to totalitarian ideologies. The chief characteristic of the mass man is not brutality and backwardness, but his isolation and lack of normal social relationships, (In a recent poll) 17 percent of Americans said they had not a single person in their 'core social network.'"
New York Times journalist Charlie Walzer has studied internet radicalization. Conspiracy theorists are usually lonely people who feel disrespected. They buy into QAnon in a desperate attempt to connect with somebody. Rep. Jim Clyburn recently told a group of our Bishops the story of a veteran who missed the comradery of military life, so he joined The Proud Boys, not because he was a White Supremacist, but because he was lonely. Nonviolence includes our ability to form relationships with people, especially the outcasts.
JC. What is your vision for EPF going forward?
BD. Creating a vision is a relational, collaborative process that EPF has been doing and will continue doing moving forward. The catechism statement of the Church's mission is to reconcile all people to God and each other in Christ. That's where we start.
JC. You have created a new Peacebuilding monthly, on-line series, utilizing authors of key books and leading voices as presenters. What do you hope will be the result of the series? Can it build local groups that share the experiences, discern their calls, and then plan action?
BD. Peacebuilding Online is a free, online, 1-hour, first Sundays series from a diverse array of presenters on topics relating to the spirituality and skills of Peacebuilding. I hope people will check it out by going to Eventbrite.com and searching Episcopal Peace Fellowship. I don't expect anyone to attend all of them – just the ones that strike a chord. There are two goals: 1) to impart the value of caring relationships across all the divides including race, religion, gender identities, and political ideologies. We, Episcopalians, like to think of ourselves as inclusive, but a closer examination shows that we are all inclined to be a bit selective in our inclusion; 2) to introduce people to diverse resources where they may choose to go deeper into the spirituality and skills of Peacebuilding. Local groups who engage these resources can make all the difference.
JC. How might EPF support and extend the national church's work on racial reckoning and repair?
BD. Our Peacebuilding mission is part and parcel of what Bishop Curry beautifully calls The Way of Love. I hope EPF can support Building the Beloved Community and all The Episcopal Church's mission for racial reconciliation. Our third Peacebuilding Online presentation will promote the Sacred Ground curriculum. https://www.eventbrite.com/e/episcopal-peace-fellowship-peacebuilding-online-project-sacred-ground-tickets-154287390739?aff=ebdssbeac In January, Dr. Catherine Meeks of the Absalom Jones Center will teach us about the depth psychology of racial healing. Racism expresses itself in politics and economics, but it runs so much deeper! It's spiritual.
We continue to advocate for reparations. Racism is America's original sin. We built it over centuries. It will take time and persistence to dismantle it, both in its social structures and in our own hearts and minds. For decades, I thought of myself as enlightened about race. But recently, I have been amazed to learn how much I don't know about the experience of people of other races. So many crimes have been perpetrated that were left out of the story I was told. Those crimes have left traumas. We desperately need to learn how to hold our own traumas so that we can lift the trauma veil through which we see the world, and then see each other's traumas with healing compassion. Racism is the core of our national trauma.
We want to work hand in hand with OGR/EPPN and all the projects of The Episcopal Church for justice and peace, two sides of the same coin, especially on issues of race.
JC. How can EPF help individuals and communities develop their skills for community building in these divided times? And reduce the climate of "othering" those who may seem different or even opposed? Do you recommend offering churches as a public space for discussion of local community issues?
BD. Community building requires two key practices: First, self-awareness so that we can approach each other with sufficient inner peace to be open. Second, empathy, what Martha Nussbaum, in her book, The New Religious Intolerance, calls participatory imagination, the ability to see the world through someone else's eyes. That takes discipline and practice. After that foundation is laid, we can engage the skills and practices of broad-based community organizing to work together for the common good. Churches are the ideal place for that project.
Forming relationships instead of "othering those who seem different or even opposed" is a central concern. We will offer a Peacebuilding Online presentation in December on intentionally crossing those divides through the Braver Angels program. https://www.eventbrite.com/e/episcopal-peace-fellowship-peacebuilding-online-project-braver-angels-tickets-155123276897?aff=ebdsoporgprofile Most of us have friends, family, or neighbors with whom we don't see eye to eye. How do we establish human, dare I say Christian, connection across those divides? If we find a way to connect, while remaining true to ourselves, we become larger people and can do more for the world.
JC. On-line by-stander training is being offered by some groups – would EPF consider making it available?
BD. Definitely. That's a priority. We have already lined up Hollaback (the largest bystander training program) https://www.eventbrite.com/e/episcopal-peace-fellowship-peacebuilding-online-project-hollaback-tickets-163061997825?aff=ebdssbeac and Stopping Hate In Public Spaces to offer Peacebuilding Online presentations next year. Go to Eventbrite.com and search for Episcopal Peace Fellowship. You'll find our first programs. We hope some of the people who attend and learn a little will go on to take the full Hollaback training. The idea of intervening in hostile situations sounds a little scary to those who don't know the program. But the practice is not so out of reach for ordinary people. Overt violence is often the culmination of years of built-up anger from being marginalized in subtle ways. If bystanders intervene in those subtler acts of marginalization, the slow violence of paper cuts to someone's self-esteem, it can stop violence before it reaches the boiling point.
JC. How might EPF provide resources to support members' and groups' local projects and actions? Personally, I have been a proponent of less top-down direction from a central board to local groups and supportive of more local-group-driven action. In the active nonviolence trainings, I always ended with a section for "action planning" where participants reviewed what they thought needed to change and then created a local strategy or action plan to address it. And will EPF encourage building local coalitions with other justice/peace groups, especially other faith-based groups?
BD. You are 100% right. All politics is local. The heart of Peacebuilding is one-on-one conversations, leading to small groups sharing stories, and letting issues arise from those stories. Then people can develop pragmatic, as opposed to ideological, ways to work together for the common good of their community. In Nevada, we saw people crossing ideological divides to get things done.
As for partnering "with other justice/peace groups," EPF began at a time when the Episcopal Church was rather less engaged in justice and peace than it is today. We partnered then with the "peace churches" in the United States and with the Anglican Pacifist Fellowship. Since then we have had close ties to the Fellowship of Reconciliation which you directed and other peace groups. But I hope we can do more. Some of our old partners have moved farther into the spirituality of peacebuilding than we have. We can learn from both old partners and new ones. That's why we are engaging with The Metta Center, the Newbigin Fellowship, Lombard Mennonite Peace Center, Minnesota Peacebuilding Leadership Institute, the Absalom Jones Center for Racial Healing, the Center for Justice and Peace at Eastern Mennonite University, and the Institute for Culture, Religion, and Politics at Iliff to name just a few. We need all the friends we can get.

JC. We say we don't want to segregate by race, culture, or ethnicity. But we constantly segregate by age in our culture. Intergenerational groups are scarce, so we miss out on practices that have enriched so many other cultures. My own experience training groups including 14 year olds to 90 year olds, convinced me that these are the richest experiences! We can share stories of experiences, our visions, our fears, and bond and gain energy from each other. Might EPF encourage such local intergenerational group sharing and bonding?
BD. One Bishop told us recently EPF needs to move into the 21st Century. Another told us we needed some members under 70. We have taken that to heart. We have a newly active young adults working group that is growing and infusing fresh energy and new ideas into our mission. We have to move past our old ways to find new ways to build peace in a very different world from the one where I grew up.
JC. Some of the current issues of our times:
Voting rights / making voting and vote counts harder
Providing a living wage
Need for more local, civic engagement
Racial/gender equity
Addressing climate change
Reducing social solutions via the military, over-policing and imprisonment
BD. We are called to engage these crucial issues, especially voting rights. I would include the violence we are perpetrating against the earth. I'll just go into specifics on one issue: police violence. In my community, Denver, the police department realized just last year that when a situation is on the brink of violence, the arrival of an armed policeman tends to escalate the violence. They formed a special response team of one social worker and one EMT to respond to many 911 calls. They responded to 1,000 volatile situations the first year and resolved every one of them without violence or arrests.
An excellent documentary on American gun culture, American Totem https://www.americantotem.com shows how we live in a gun violence narrative. It's the American expression of what Walter Wink called the myth of redemptive violence. We counter threats of violence with our own violence. Peacebuilding requires liberation from that dark myth to find the Way of Love instead.